Trading card games make inroads among anime-obsessed kids
Share - WeChat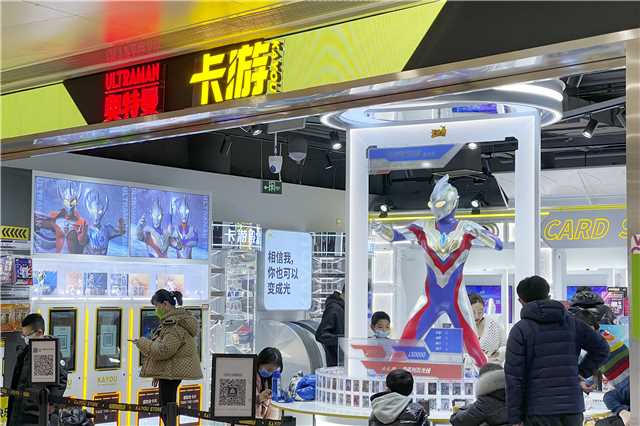 Children's social lives and a multibillion dollar industry-that's what makes up a trading card game.
A few days ago, the topic of parents spending over 2 million yuan ($292,432) to buy Ultraman cards for their kids sparked a heated discussion on Weibo, a Chinese social media platform. Quite a number of parents commented that although they were shocked by the amount of money spent on the cards, they were not surprised to see how the cards were appealing to their kids.
Ultraman cards are a series of cards printed with an Ultraman or other characters from the Ultraman series of cartoons, and are marked with different figures and letters that denote their power and scarcity.
Ultraman cards are among the bestsellers in trading card games. Users of trading card games need to build up their own library of cards through purchase or trading with other players, and play against each other using different cards and strategies. On the contrary, other types of card games, such as poker or tarot cards, usually do not require card collection and trading.
Cheap to buy, simple to learn and useful in developing relationships with other kids, trading card games are enjoying increasing popularity among children and buoying numerous businesses.
Founded in 2018, Kayou-a company located in Zhejiang province and Shanghai that produces anime intellectual property derivatives-reportedly earned 4 billion yuan last year through the production and sales of Ultraman cards.
Wahlap Technology, a Shenzhen-listed indoor entertainment products maker, reported revenue of nearly 41.7 million yuan just from selling cards with Ultraman IP in 2020, while from 2018 to 2020, the company reportedly sold 14.96 million, 23.34 million and 22.77 million cards using different IPs, respectively.
Last year, Wahlap's revenue reached 627 million yuan, up 47.55 percent year-on-year. Its profit grew 14 percent on a yearly basis to 52.5 million yuan.
Saka Saka Holdings, another game company producing products under well-known IPs including Pokemon, applied for an initial public offering on the Hong Kong stock market twice in the past two years to further business development. For the first nine months last year, about 36.2 percent of the company's revenue came from selling trading cards.
According to a report by the Huajing Industrial Research Institute, the global trading card game market size reached $11.13 billion in 2020, and the market size is expected to expand to $31.26 billion in 2027, with a compound annual growth rate of 15.9 percent from 2021 to 2027.
China's development of trading card games started late compared to other countries like Japan, but it has ushered in a period of rapid development spurred by a surging number of anime fans and the enhancement of the operational capability of intellectual properties' derivatives, according to Newsijie Industrial Research Center.
The sales boom of trading cards also largely depends on the consumer attractiveness of different IPs. Jiang Xi, a 40-year-old doctor in Beijing, also mother to a 10-year-old boy, said her kid's love of the Ultraman and Pokemon series was the primary reason that he went to the card store.
"I never understood how many figures there are in card series, or their different levels of fighting power. It also baffles me how the figures' fighting skills can be combined and who defeats whom. Surprisingly, my 10-year-old son understands," Jiang said.
"Moreover, the cards are sold in blind boxes, and you never know what figures you will get until you buy the card pack and open it. The sense of surprise prompts kids to buy until they get the figures they want," she said.
Jiang said she was once against continuing to buy her son cards. "Although a pack of cards only costs about 10 yuan, it can be costly as the company keeps launching new cards and my son wants to collect them all. However, I yielded after finding that playing cards is an effective way to make friends at school."