Roundup
Share - WeChat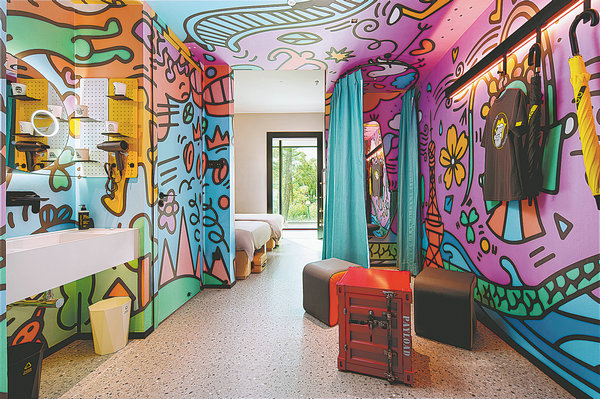 Meteorological services
China will reinforce its meteorological services for tourism during the peak travel season, the China Meteorological Administration said on Monday. Numbers of tourists at natural mountain and water attractions have seen an uptick this summer. Natural disasters could affect such sites during the flood season, according to a circular issued by the administration. Monitoring and early warning systems for sudden meteorological disasters should be strengthened, the circular said. Public awareness of meteorological disaster prevention should be improved among tourists, and disaster prevention and relief training for staff at natural attractions should also be advanced, the circular said.
Summer travel rush
China has been beefing up rail and air travel services in the summer travel rush to ensure safe trips for passengers. About 309 million railway passenger trips were made between July 1 to Aug 11, with the average number of daily trips reaching around 7.37 million, according to China State Railway Group. To meet growing travel demand, more trains have been put into service between tourist cities during the travel rush, while some new airline routes have also been added. This year's summer travel rush will last for 62 days from July 1 to Aug 31.
nucleic rules canceled
Starting from last week, all travelers coming to Taiwan will no longer be required to present a negative nucleic acid test result effective within two days ahead of the flight, according to the island's disease monitoring agency. The inbound travelers will subsequently have three days of isolation and four days of self-prevention after landing in Taiwan, said the agency in a statement.
Industry riding wave
China will accelerate the development of the cruise and yacht equipment sector to enhance the country's modern service industry and bolster the growth of its marine economy, according to a circular jointly released by the Ministry of Industry and Information Technology and other related government organs on Thursday. The country aims to build the coastal resort city of Sanya, Hainan province, into an international cruise home port and other coastal cities including Shanghai, Tianjin and Guangdong province's Shenzhen into top-notch cruising destinations, the circular said.
Shanghai e-coupons
Shanghai will for the first time issue e-coupons to boost consumption, with the campaign running from late August to late November, the municipal commission of commerce said on Wednesday. The coupon program, totaling 1 billion yuan ($147.4 million), will be launched in three batches over the three-month period, the commission said. Consumers in Shanghai aged 18 or older can apply for the vouchers, which can be used online or offline for dining, retail, or cultural and tourism consumption.
Strategic partnership
Accor, Ennismore and Funyard have forged a strategic partnership to develop the international life--style brand, JO&JOE, across China. New JO&JOE destinations are underway in progressive communities within the key urban centers of Guangzhou, Shenzhen, Changsha, Xiamen, Chongqing, Zhangjiajie and Xian, according to the partnering companies. The agreement between the hospitality leaders was signed in April 2022, establishing Funyard as Accor and Ennismore's exclusive strategic partner of the JO&JOE brand in China, with a plan to develop more than 1,300 properties.