Self-driving vehicles on verge of becoming common
Share - WeChat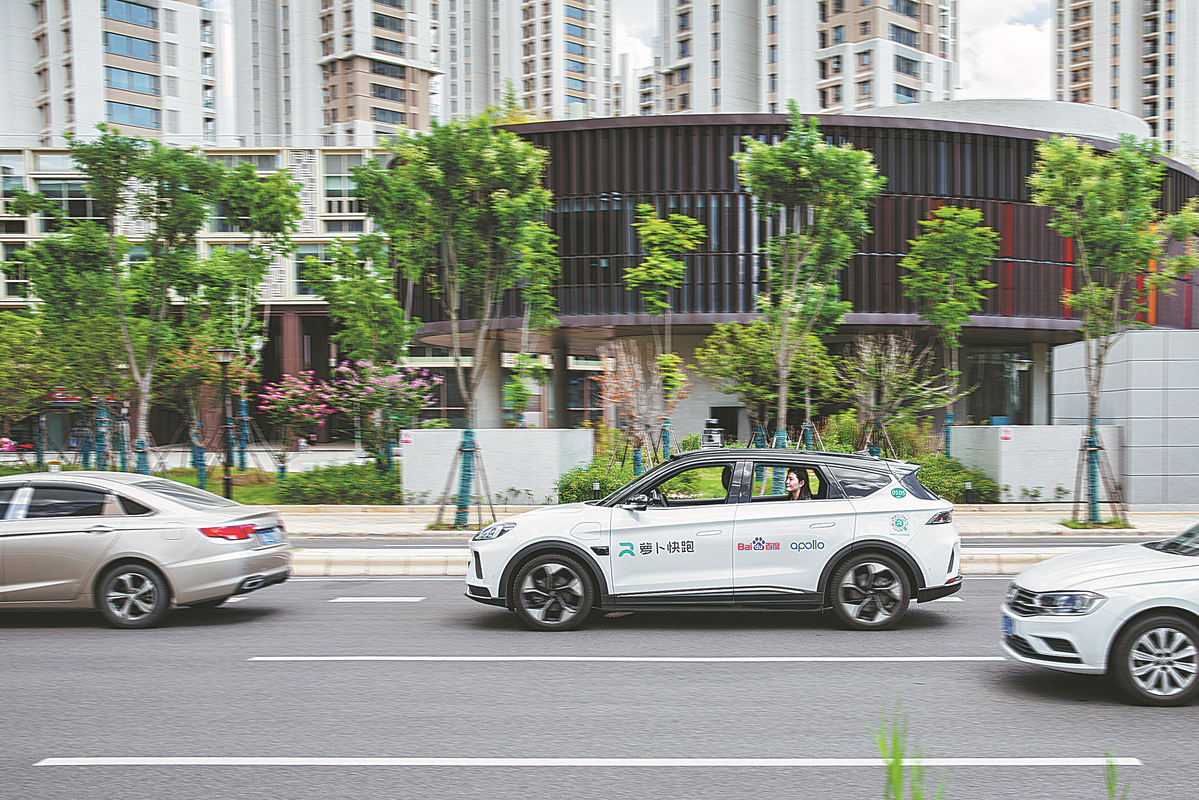 Wider use allowed in cities as technology advances quickly
Zhang Xinlei, a 28-year-old software engineer from Yizhuang, a Beijing suburb, often hails a driverless robotaxi by using ride-hailing apps on his mobile phone for trips such as a night out with friends.
He said all he needs to do is input the pick-up and drop-off points and the number of passengers. A few minutes later, a self-driving taxi approaches-with no need for a human operator behind the steering wheel, but a safety operator sits in the front passenger seat to ensure safety in case of emergency.
"The vehicle runs smoothly with no shaking or sudden braking. It can identify stop signs and traffic lights, automatically slow down and finally come to a halt," Zhang said. "I never thought I would experience self-driving vehicles myself. It's very convenient and safe."
Large-scale commercialization of self-driving technology could become a reality sooner than expected. Technology companies in China have accelerated steps to conduct commercial operations of autonomous, so-called robotaxi services, given that policies have become more favorable in some cities, industry experts said.
Tech giant Baidu recently announced that it has obtained the country's first permits to offer commercial, fully driverless robotaxi services to the public on open roads.
Apollo Go, Baidu's autonomous ride-hailing service arm, has been authorized to charge fares for robotaxi services-without human drivers and safety operators in the car-in some areas, with the latest being Wuhan, capital of Hubei province, and Chongqing.
The new permits, which were granted by authorities in Wuhan and in Yongchuan district, Chongqing, will allow Baidu to provide paid services for fully driverless robotaxis in designated areas in the two megacities, with five self-driving vehicles operating in each city.
Experts said China is taking the lead in the research and development as well as the application of self-driving technologies, and it is the first country to allow fully driverless paid robotaxi operations.
"This is a tremendous qualitative change," said Wei Dong, vice-president and chief safety operation officer of Baidu's Intelligent Driving Group, adding that the permits are a key milestone on the path to the turning point when the industry can finally roll out fully autonomous driving services at scale.
To receive the permits, Baidu's robotaxis have undergone multiple steps of testing and licensing, starting from tests carried out with a safety operator in the driver's seat to a safety operator in the passenger seat, before finally receiving authorization to operate autonomous vehicles with no human drivers or operators in the vehicle, the company said.
Wei said Baidu is concentrating on expanding its commercial robotaxi pilot services in first and second-tier cities at an early stage, and will try to offer such services in urban scenic areas across the nation.
Apollo Go has robotaxis operating in 10 cities-Beijing; Shanghai; Chongqing; Wuhan; Guangzhou and Shenzhen in Guangdong province; Changsha, capital of Hunan province; Chengdu, capital of Sichuan province; Yangquan in Shanxi province; and Wuzhen of Tongxiang city in Zhejiang province. It has received more than 1 million orders, making Baidu the world's largest autonomous mobility services provider. But it only charges fares or conducts commercial operations in Beijing, Chongqing, Wuhan and Yangquan.
Officials have high hopes for the market as China has recently released the first national draft guideline on the use of self-driving vehicles for public transport, a key move in accelerating the large-scale commercialization of autonomous driving technology and encouraging local authorities to formulate relevant management policies, experts added.
The country will encourage the use of autonomous vehicles such as buses in an enclosed Bus Rapid Transit system. Such systems are designed to have better capacity and reliability than conventional bus systems through such features as roadways dedicated to buses. It also will encourage autonomous vehicles to offer taxi services under simple and relatively controllable scenarios, according to draft rules published by the Ministry of Transport on Aug 8. Authorities are soliciting public opinion on the guideline through Sept 7.
Local authorities have also rolled out a series of supportive policies to promote the commercialization of autonomous driving technology in recent years. For instance, Shenzhen started allowing fully autonomous vehicles, without human drivers, to run on certain roads starting Aug 1, when a local regulation on smart and internet-connected vehicles went into effect.
The regulation also sets rules for liability in car accidents that involve autonomous vehicles with or without drivers.
In July, Beijing launched China's first pilot area for commercial autonomous driving vehicle services. Baidu and self-driving startup Pony.ai are the first enterprises granted permission to offer paid services.