As foldables evolve and fly, phone market recovery hopes rise
Share - WeChat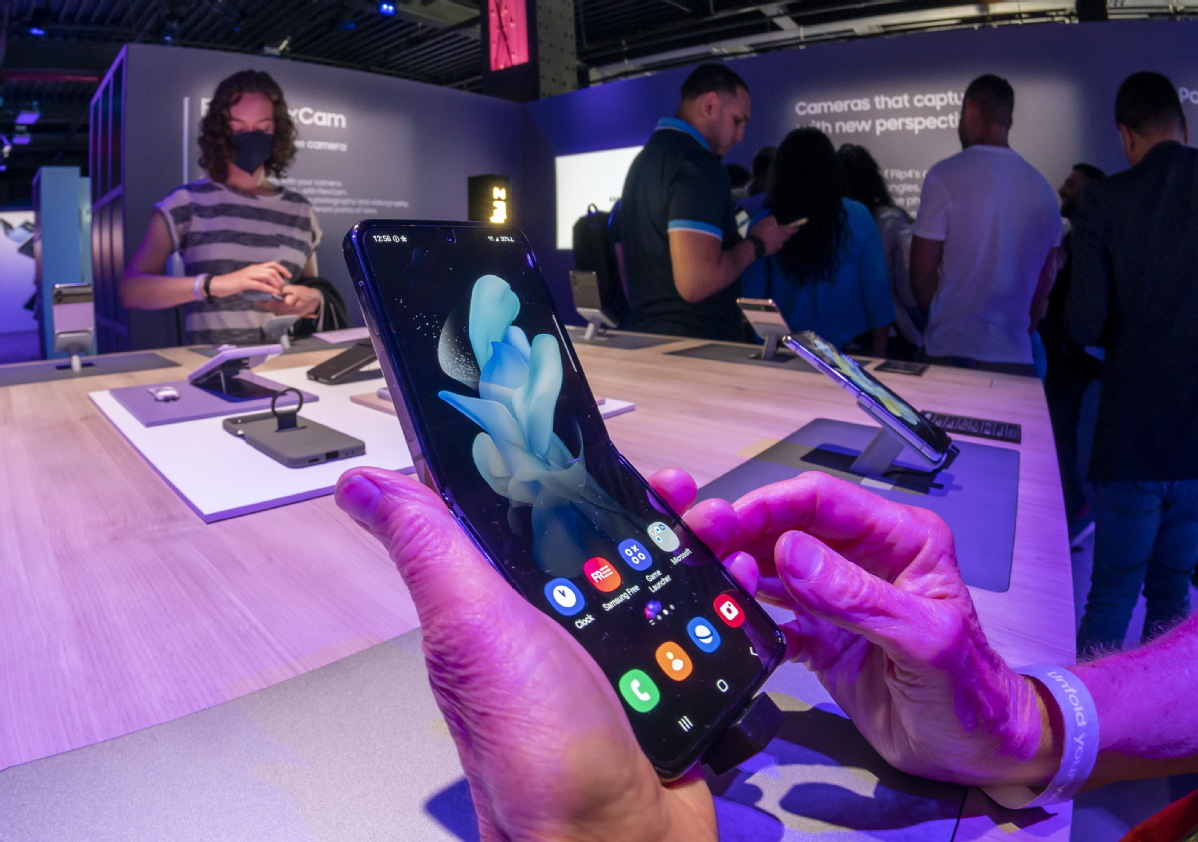 Foldable smartphones, which have witnessed rapid growth among all handsets during the COVID-19 pandemic, are expected to continue their rise in the coming years, industry analysts said on Tuesday.
Major smartphone makers, they said, are ramping up efforts to expand their presence in the burgeoning foldables segment, in an effort to revive the larger smartphone market that has been mired in a sales slump since the pandemic broke out.
Global foldable smartphone shipments this year will likely grow 73 percent year-on-year from 9 million units in 2021 to 16 million units, and are expected to continue to see robust growth next year. The figure is projected to rise to 26 million units in 2023, according to a new report from market research company Counterpoint Research.
Global consultancy International Data Corp said worldwide smartphone shipments dropped 8.7 percent year-on-year to 286 million units in the second quarter, marking the fourth consecutive quarter of decline.
In 2021, smartphone shipments worldwide reached 1.35 billion units, up 5.7 percent year-on-year.
Foldable smartphones are still the fastest-growing smartphone product category this year, and the strong growth defies current economic headwinds as the high-end phone market shows resilience and steady demand, said the Counterpoint report.
South Korean technology giant Samsung Electronics took the dominant position in the global foldable smartphone segment in the first half. Its market share stood at 62 percent, followed by Huawei Technologies Co (16 percent) and Oppo (3 percent).
A string of smartphone manufacturers have accelerated steps to roll out foldable phones in a bid to grab a bigger slice of the highly competitive smartphone market. On Aug 10, Samsung Electronics unveiled two new foldable mobile phones, the Galaxy Z Flip4 and the Galaxy Z Fold4.
Motorola launched its premium 5G-powered foldable smartphone moto razr 2022 on Thursday. Priced 5,999 yuan ($883.4), the handset can fold to the size of a wallet and fit in pockets or bags.
For its part, Xiaomi Corp rolled out the Mix Fold 2, its latest foldable smartphone, which features ultra-slim design, and serves as a tablet when fully opened and as a phone when closed.
"Samsung has led the market since the beginning, and we think its dominance will continue for some time. Huawei, Oppo, Xiaomi and Vivo are all introducing new foldables but they are mostly limited to the Chinese market. Motorola may be the only contender in markets like the United States for now," said Jene Park, senior analyst at Counterpoint Research.
Park estimated that with the launch of the new Galaxy Z Fold4 and the Galaxy Z Flip4, Samsung is expected to see its share of the global foldable smartphone market jump to 80 percent in the second half. The foldables, he said, not only bring fresh design to smartphones but also more screen space. "This is growing in importance with smartphone use cases expanding, especially across media, entertainment and work."
Global foldable smartphone shipments are forecast to increase by an annual growth rate of 53 percent between 2021 and 2024, and expected to exceed 30 million units in 2024, market research firm Canalys said in a report.
"Major smartphone vendors are getting ready to compete in the foldable category, which will become a vital part of their high-end strategies and corporate branding," said Amber Liu, a research analyst with Canalys, adding that the supply chain ecosystem for foldable devices has developed rapidly over the last few years.
Liu noted that while there are an increasing number of suppliers for foldable displays, hinges and other key components, device vendors are also highlighting innovative engineering solutions and product designs for a better user experience while constantly pushing down prices.
She said she expects to see many new foldable device launches this year as vendors continue reducing thickness, weight and prices, which will be vital for mass-market adoption.