Roundup
Share - WeChat Improved services
China will further facilitate village residents' access to everyday services such as mail and telecommunications, accelerate rural road construction, toilet renovation and sewage treatment, and improve the rural living environment, the Ministry of Civil Affairs announced in late July. The MCA and other authorities have released a guideline on enriching and improving comprehensive services at the village level. The guideline specifies efforts to advance the standardization of village clinics, and improve public health and basic medical care services. It also guides villagers and private entities to develop the rural service industry, ranging from retail, catering and hotels to hairdressing.
PML maglev line

China completed the construction of the country's first independently developed trial line using rare earth permanent magnetic levitation technology on Tuesday. Dubbed "Rainbow", the maglev line, about 800 meters long, was built in Xingguo county, East China's Jiangxi province. The trial line can be applied to bear air trains with medium and low speed and volume. With a designed maximum speed of 80 kilometers per hour, the rail system can serve a two-carriage maglev train with a carrying capacity of 88 people. The transit system is equipped with the Beidou Navigation Satellite System, 5G and intelligent sensing technologies.
Three gorges museum

The Three Gorges Project Museum was fully opened to the public for the first time last week in Yichang, Central China's Hubei province. The new establishment, about 1 kilometer away from the Three Gorges Dam, covers a total area of 150,000 square meters. In the museum, three exhibition halls showcase the history and comprehensive benefits of the Three Gorges Project, as well as the country's hydropower technology and its development.
Children's program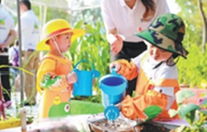 International hospitality group Hilton has launched a children's passport program, inviting kids to explore tourist destinations and engage in a diverse array of fun activities. The program where children can collect a stamp after they visit a Hilton property aims to create high-quality parent-child interactive experiences from the perspectives of nature, culture, sports and intellectual property-featured novel experiences, said an executive of the hotel group.
New openings

Central Green Tennis Hotel in Beijing has begun trial operation. The new hotel, converted from an industrial heritage site, is near the Central Green Forest Park and about a 15-minute drive from Universal Beijing Resort. It has 89 guest rooms and features an outdoor tennis center, which covers some 8,000 square meters and is capable of meeting the needs for competitions, training and coaching. Another 5,000 sq m lawn with tents is in the pipeline, set to satisfy the demand for wedding ceremonies and camping activities, according to the hotel.

Courtyard Foshan Gaoming opened its doors on Tuesday in Foshan, Guangdong province. Located in the heart of the city's Gaoming district, the hotel is about 2 kilometers away from Gaoming Passenger Terminal. It has 245 guest rooms, each equipped with a convenient working area, access to a high-speed internet network, a high-definition television and an ergonomic sofa.