'Red Rail' pilot line with full independent IPR completed
Share - WeChat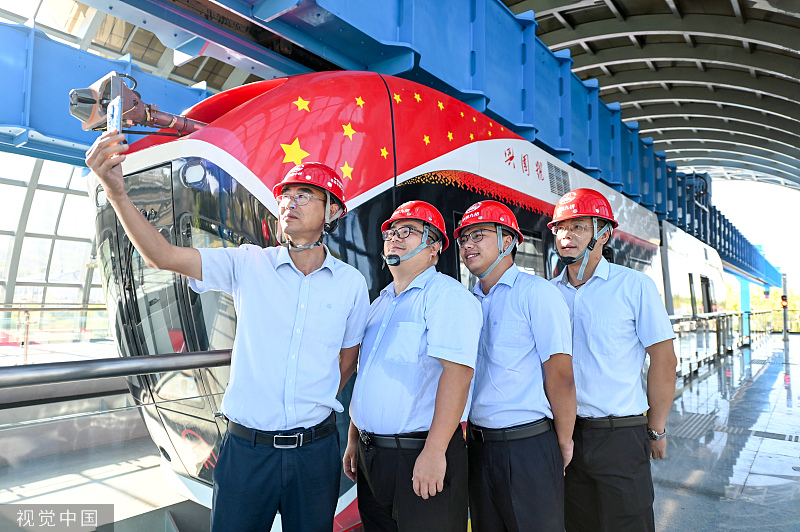 China's first permanent magnet maglev rail transportation project pilot line "Red Rail" has been completed in Ganzhou, East China's Jiangxi province, China News reported on Tuesday.
The "Red Rail" is a project that China has full independent intellectual property rights to and it is expected to become a high-quality, individualized and intelligent transportation system which is cost-effective, said Yang Bin, chief technology expert of "Red Rail".
"Red Rail" is the third maglev technology system after the normal conduction magnetic suspension technology and superconducting suspension technology.
It is the integrated innovation of permanent magnetic suspension technology and suspended monorail technology, using permanent magnetic materials to realize heavy-duty permanent magnetic suspension with zero power consumption.
The technology system has the remarkable characteristics of being green, intelligent, safe and economic, said Gan Yong, an academician of the Chinese Academy of Engineering.
It took nine years for the research and development for the system of "Red Rail". The completed test line starts from Yongfeng Station in the South (Xingguo West Station of high-speed railway), and the length of the main line is about 800 meters, all of which are steel structure elevated lines.
The maglev train is arranged in two units, capable of holding 32 seats and 88 passengers. The maximum designed operating speed can reach 80km/h.
Around 10 projects with a total investment of 11.43 billion yuan ($1.69 billion) on design, construction and operation of Xingguo Red Rail Maglev Phase II were signed at the "Red Rail" industry investment promotion conference.