Helping hands enable seniors to embrace digital age
Share - WeChat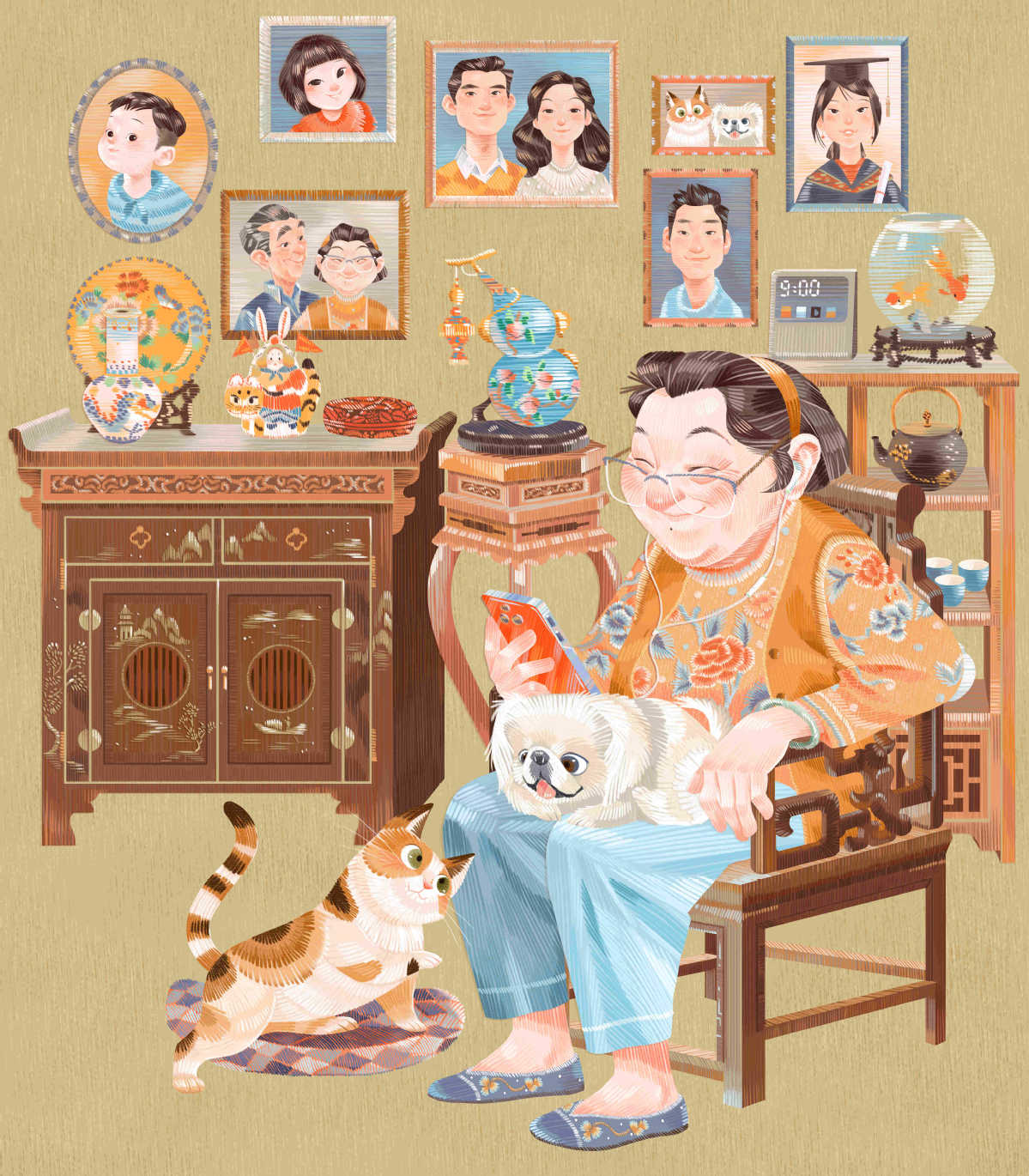 Younger generation provides wealth of technological assistance
Members of the younger generation have no problem using their phones for a wide variety of tasks-from scanning QR health codes, to making appointments with service providers, or simply paying for groceries.
However, many older people find using such technology difficult, prompting their tech-savvy offspring to come to their aid in the internet age.
In late March, Qiu Dachuan, who is in his mid-30s, was using a computer at his construction building materials shop in Nanchong, Sichuan province, when his mother called him from Jiaxing, Zhejiang province.
"She was alone, desperately trying to find a drugstore, and there was no one around to help," Qiu said, adding that his mother, who cannot read, has been doing odd jobs in Jiaxing with his stepfather for years.
"She lives in an area surrounded by construction sites. When she rang me, work at the sites had been halted due to a resurgence of COVID-19 cases. I was the only one she could turn to," he said.
Qiu asked his mother to share her real-time location via WeChat, before using his phone to locate a drugstore that was just 200 meters away from her. He then called his mother back and guided her to the store by giving her instructions over the phone.
"It was a difficult experience. She couldn't read any road signs, and I could only tell her to turn right or left," Qiu said, adding that his mother's problems made him determined to devise a mini app.
"My goal was simple-to help older people find public venues in that area, such as the bus station, toilets, hardware shops, or drugstores. The principle for the app was: 'the simpler, the better'," he said.
Helping users
To develop the app, Qiu called on the nine years' experience he gained while working in Zhongguancun, an internet technology hub in Beijing, and the knowhow he acquired while running his small business after he returned home to Nanchong in 2013.
It took him a month to develop a prototype for a map that lists a shop's name, its distance from the person using the app, and a contact number for the business. He named the app Find Nearby Place.
"I wanted to save users the trouble of fumbling on the screen, typing, or zooming in on the map," Qiu said.
He also attached a small speaker icon to each site on the app so that those who cannot read, such as his mother, could find what they were looking for.
After receiving a positive response from his mother, Qiu shared his work on the popular review site Douban. "Many Douban users have recognized my work and have encouraged me since I posted news of it online," he said.
Meanwhile, more than 20,000 Douban users, most of them in their 20s and 30s, have got together to offer help as new technology constantly evolves.
The users share news of their inventions, such as nail clippers with a magnifying lens, special bathroom handrails, and other home adaptations that make life more convenient for their parents.
Training material
Last year, Liu Liya, 26, who comes from Henan province, compiled training material in the form of a robot floating on the screen to help seniors use mobile phones.
By clicking on the robot, users are provided with step-by-step instructions.
"It is more like an entry test for the elderly who have just started to use smartphones," Liu said.
She had long wanted to give her parents such help, especially after she had to leave home in 2015 to study at college in Wuhan, capital of Hubei province.
She bought them smartphones in 2017, when her father had a brain aneurysm and was hospitalized for a month.
Liu wanted to teach her parents to use smartphones so that they could communicate more easily, but her father had no patience. "He gave me a hard time after I had taught him for just five minutes," she said.
The idea of an online tutoring program occurred to Liu after she found that her parents had to wait in high temperatures for more than 30 minutes, as they were unable to scan a QR code during their visit to a hospital in summer last year.
"I cannot be with them all the time, and I can't stand the thought of them being abandoned by modern technology," she said.
Liu initially converted training content into pictures and text, but her parents lost interest after flipping through a few pages. She then presented the content through short videos, but her mother and father said they struggled to remember the instructions.
After these setbacks, Liu came up with the idea for the robot program, which enables seniors to learn at their own pace.
Seniors she knew responded positively to her program, so she decided to start a business with six of her friends, with the aim of making life easier for the elderly in the digital world.
Liu and her team have developed more than 3,000 operations for popular smartphone apps.
In October, Liu set up a group on Douban to teach senior parents to use smartphones-gathering like-minded people and promoting cellphone use among the elderly. In just one month, more than 6,000 people had joined the group, and the number has since grown to over 10,000.
Members of the group want to find the right way for their parents to use phones.
Liu said, "Our mobile tutorials and tips for more than 100 commonly used pieces of software were compiled with the help of volunteers (from the group), including instructions on downloading WeChat and how to register with and log on to the railway booking system."
The volunteers have also forwarded new training content developed by Liu and her team to seniors they know.
Good sense
Yang Hui, a college student from Jiangxi province, who has signed up as a volunteer for Liu, said: "It makes good sense to focus on the elderly, who are easily ignored in the internet era. I don't want them to be left behind by the times, so I volunteered to see if I could help with anything."
When Liu's app is opened, a robotic voice sounds, alerting users to the app's operations.
Ye Ziming, product manager for Liu's team, said this function was suggested by the volunteers. "Audio teaching gives the elderly a sense of intimacy-it's as if their children are with them and are teaching them to use mobile phones," Ye said.
Mini-program development involves continuously discarding and improving testing ideas, and the large number of volunteers has greatly contributed to this process, Ye said.
"It's impossible to achieve success by relying on just a few people," Ye said, adding that his team members were not as familiar with the problems facing the elderly as they initially thought.
"When it came to product design, various problems were found. For example, some seniors failed to log on to the app because they didn't tick the user agreement, and thought that their phone was broken," he added.
Difficulties highlighted
The COVID-19 pandemic has further highlighted older people's difficulties, as digital technologies play a significant role in battling the coronavirus.
Technological innovation is running at full throttle-from the widespread use of health codes, to ordering restaurant meals on WeChat, to booming e-commerce platforms.
To help seniors better grasp use of social media and gain improved internet access, the central government has taken numerous measures to create the right conditions for them to take to life online.
In December, the State Council, China's Cabinet, issued a national plan to develop a service system for the elderly during the 14th Five-Year Plan (2021-25) period, with the aim of helping them become familiar with information technology, the internet, big data, artificial intelligence and 5G.
In February last year, the Ministry of Industry and Information Technology issued a notice designed to tackle difficulties seniors face in using technology. Two months later, the ministry released specifications for the general design of websites and apps that are more senior-friendly.
Tech giants, including food delivery platform Meituan, Alipay and Douyin have put the ministry's directives into practice. WeChat, for example, launched its "care mode" for elderly and visually impaired users last year. This mode uses larger typographical fonts, buttons and denser colors.
Zhao Zhiguo, a spokesman for the ministry, said more products designed for seniors are on the way.
Enterprises will be encouraged to develop simple and easy-to-use smart devices for seniors' healthcare, including wristwatches and other wearable devices that can enable one-button emergency calls, Zhao said.
Zhang Shengjun, a professor at Beijing Normal University's School of Government, suggested that seniors should be encouraged to play a major part in content production and developing their own internet culture.
"In an internet environment dominated by young users, it is the social responsibility of the younger generation to figure out how to help the elderly effectively understand, integrate with and promote intergenerational communications," Zhang said.
Content producers should present information that is readily accessible to the elderly, he added.
Qiu, from Nanchong, thinks that app developers act as bridges connecting elderly users who are trying to keep abreast of the times amid rapidly increasing digital services nationwide.
During his spare time, he works on suggestions from online users for his mini program. One of the most frequent proposals concerns installing auto navigation.
Qiu said he had been thinking about this, but his attempts at such installation have resulted in complications.
"The navigation system usually points the way through street names, which may be confusing to the elderly," he said.
Qiu, who is also working on compatibility of different dialects and accents, said, "I envisage that the first time users open this program it will ask them where they come from, and point them in the right direction after receiving their audio reply."
He said many seniors visit his shop, and he also sees them going about day-to-day life worrying about matters such as house decorations, as their children are working away from home.
"I think that regardless of the pace of social development, we cannot marginalize the elderly, because they are our own future," Qiu said.