'Fish dads' help repopulate Yangtze River
Share - WeChat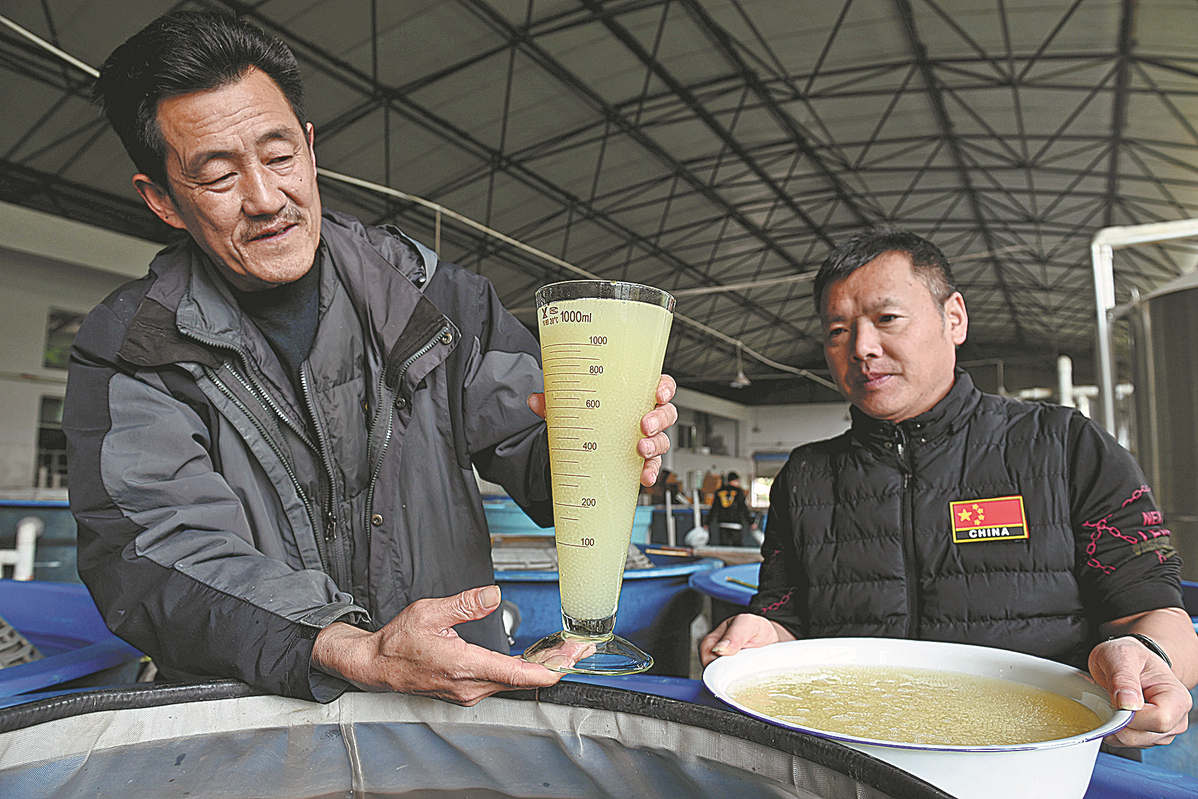 Technicians try to prevent species from going extinct through artificial breeding
A group of male technicians, nicknamed "fish dads", from Chongqing's Wanzhou Fisheries Research Institute have made indispensable contributions to replenishing the biodiversity of the Yangtze River by breeding rare fish-about 70 million rare fish including Yangtze sturgeon and Chinese suckers that they've bred and released into the Three Gorges Reservoir area in the past decade.
In the breeding workshop for rare fish at the Shuanghekou base in Chongqing's Wanzhou district, one of the four breeding bases at the institute, 10 technicians are carefully inspecting the parent fish. Their main job is to help induce ovulation and then complete artificial insemination of various rare fish including Chinese suckers, Yangtze sturgeon, Yanyuan carp, Onychostoma angustistomata and Percocypris pingi.
Shuanghekou, located on a tributary 3 kilometers from the Yangtze, has abundant good water sources and flat terrain, which are ideal for breeding the rare fish. Local species from the Yangtze have high requirements for the environment, according to the institute.
"Our work is physically exhausting," said 39-year-old "fish dad" Wang Fei, who has been working at the institute for 16 years, mostly in Shuanghekou. He said the technicians deal with fish that can grow up to 30 kilograms, and they often have to work night shifts in the wild. "So gradually our team became all males and we are now called 'fish dads'."
The group of 23, who mostly majored in aquaculture, range in ages from 37 to 58.
"It's technical work that requires a lot of experience as well," said Wang.
He cited the Yangtze sturgeon, which is an ancient species but for which the sexual development of the male and female fish is not synchronized. So they have to judge whether the fish is mature enough for captive breeding by observing their growth cycle. Then they choose mature male fish and start the breeding.
He said the biggest technical difficulty lies in inducing ovulation. They once failed nearly 40 times before successfully figuring out how many injections of oxytocic were needed to collect the female Chinese sucker's eggs.
"It takes about five years for normal fish to sexually mature, while the spans for Chinese suckers and Yangtze sturgeons are 10 years and eight years respectively," said Wang, adding that the breeding window is short-the Spinibarbus sinensis has the shortest breeding window at a mere 10 days.
"Any mistake can largely bring down the quantity of fish fry the next year."
As early as 1976, the institute took the lead in captive breeding of the Chinese sucker, which has been under second-class State protection in China since 1989, according to the director of the institute Liu Benxiang.