Classic brands left behind by new players
Share - WeChat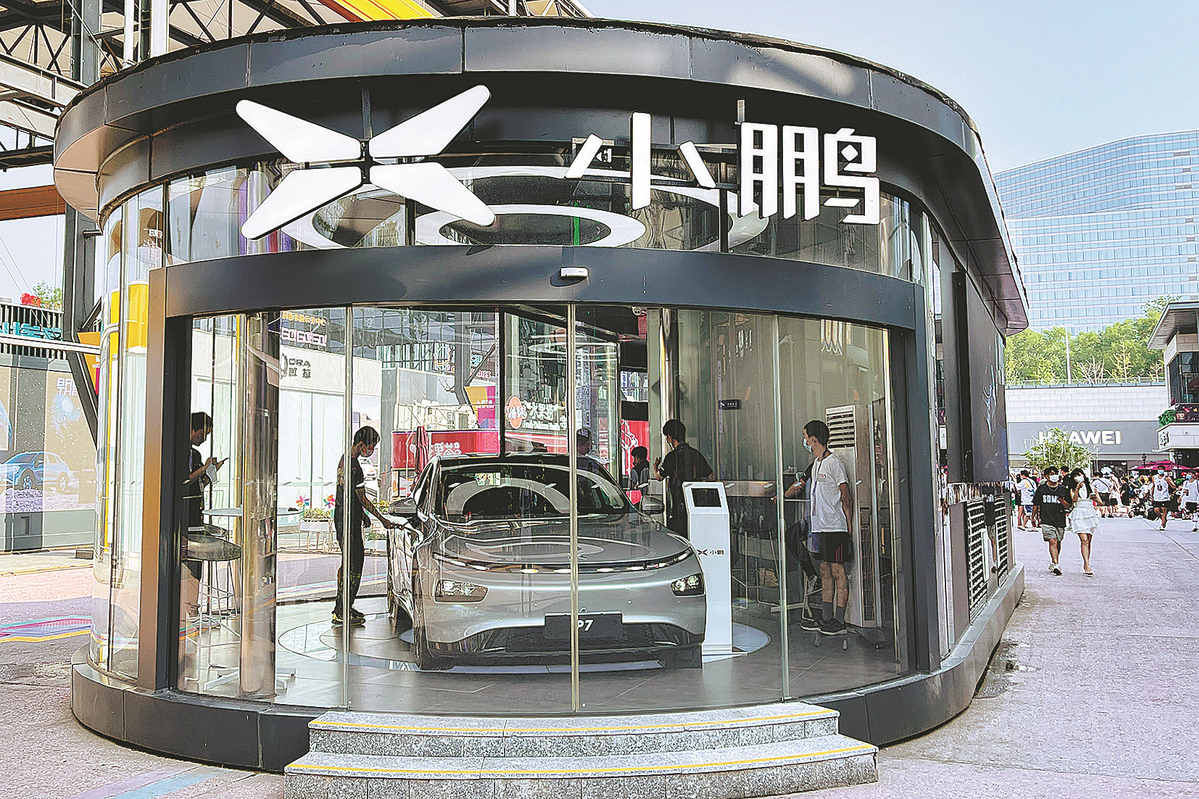 Chinese startups ahead of the competition and winning over consumers, says study
Smart functions, ranging from digital keys to gesture control, are becoming increasingly important factors for car buyers in China, according to a J.D. Power China survey.
The finding helps explain the surging popularity of local Chinese electric car startups, which are quicker to introduce new technologies into their models.
"The intelligent vehicle-related field has been the most important battlefield for more and more automakers," said Elvis Yang, general manager of auto product practice at J.D. Power China.
Yang made the remarks after it released a survey last week of 35,277 gasoline vehicle owners and 5,686 new energy vehicle owners who had purchased their vehicles between June 2021 and March 2022 across 70 major Chinese cities.
The results show Chinese electric car startups such as Nio and Xpeng did a better job than both local established carmakers and international automotive groups.
On a 1,000-point scale, startups scored an average of 242 in the availability of 29 advanced functions and 13 basic functions and 831 on average in respondents' evaluation of their experiences.
Local established carmakers including Geely and Great Wall Motors scored 112 and 828 respectively and international carmakers ranked third, scoring 118 and 829.
This helps explain why such startup electric vehicle brands are often the first choice among Chinese car buyers.
Xpeng sold more than 80,000 vehicles from January to July, more than twice the figure in the same period of 2021. Hozon delivered more than 77,000 units in the first seven months this year, up 184.6 percent year-on-year.
"Centering on user demand and user experience to undertake research and development is critical, as well as on user education, which is also very important for all automakers," said Yang.
He said consumers' acceptance of advanced technologies has improved, which prompts carmakers to step up innovation and will promote transformation throughout the industry.
The survey found that respondents have different ratings of functions. For example, they are most satisfied with smart onboard functions, like infotainment, saying they are easy to use. But smart driving has yet to provide the same level of satisfaction for usefulness and effectiveness.
Luxury brand owners are most satisfied with phone-based digital keys while interior gesture control is one of the least satisfying features in terms of functionality and reliability.
For volume brand owners, ground view cameras received the highest satisfaction but facial ID received low satisfaction because of functionality and privacy concerns.
A separate J.D. Power China study, which was released last week, shows that Chinese startups are making better quality vehicles than established carmakers locally and internationally.
The annual study, first published in 2019, measures new vehicle quality by examining issues experienced by NEV owners in China within the first two to six months of ownership.
The 2022 study shows that the average number of quality issues of NEVs made by China startup automakers is 149 problems per 100 vehicles.
In comparison, that is lower than 152 issues per 100 vehicles at established Chinese carmakers and 153 issues per 100 vehicles at international brands.
The study is based on responses from 5,672 NEV owners who purchased their vehicles between September 2021 and March 2022 across 56 major cities in China, involving 65 models from 36 brands.
"In the increasingly complex market environment, the China NEV market has achieved more rapid development than expected. The high rate of growth is driven not only by the promotion of technological innovation but by the improvement in product quality," said Yang.
He said potential buyers may be attracted by design and technological features but the decisive factor is quality. "Automakers should create value for NEV owners with innovation and emphasize product quality," said Yang.
Statistics from the China Association of Automobile Manufacturers show that more than 2.6 million electric cars and plug-in hybrids were sold in China in the first half, up 120 percent year-on-year.
The association expects the figure will rise to 5.5 million for the whole year.