Nation to fuel up consumer interest in NEV purchases
Share - WeChat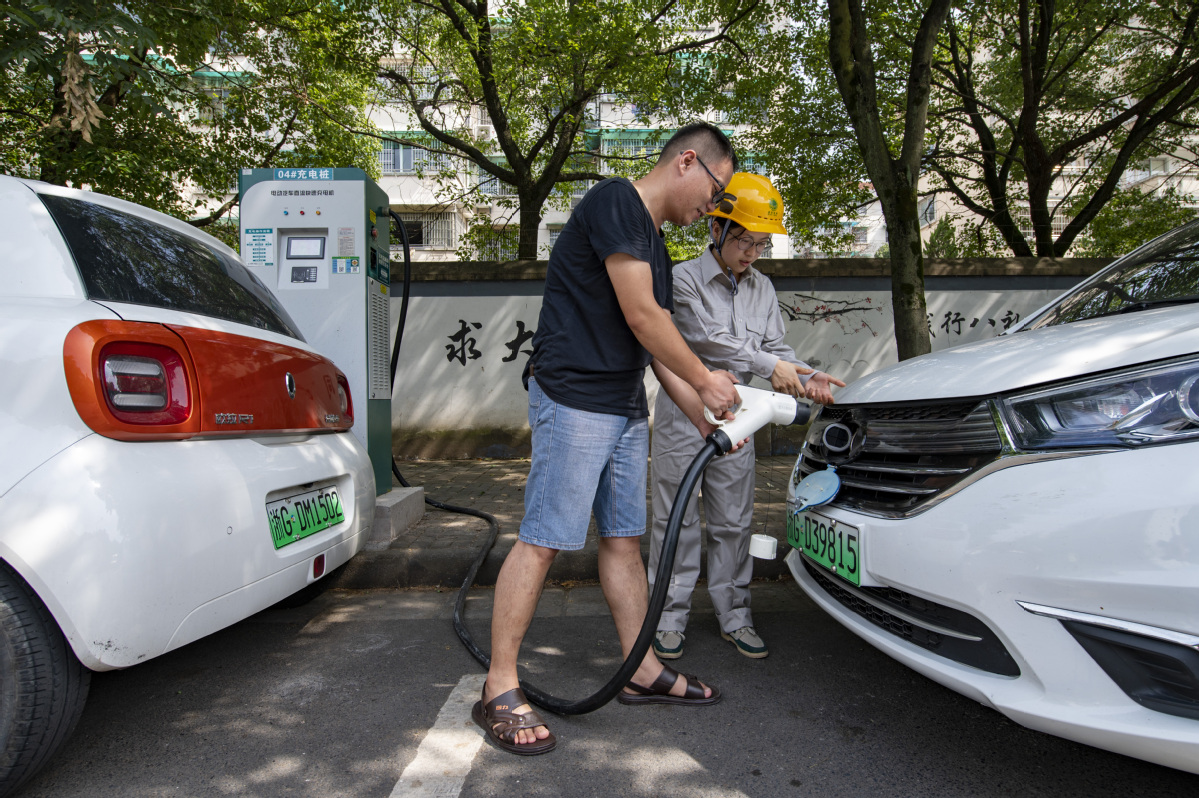 Industry sees rise in battery charging, swapping infrastructure across country
Carmakers and battery manufacturers in China are speeding up to expand charging and battery-swapping facilities, which are expected to further fuel car buyers' interest in new energy vehicles.
China has the world's largest charging network, according to the China Electric Vehicle Charging Infrastructure Promotion Alliance.
It said that by the end of June, there were 3.9 million public and private charging pillars in the country, a year-on-year increase of 101.2 percent.
This has been driven by the fast rise in the number of NEVs in the country, said the alliance.
Over 2.6 million electric vehicles and plug-in hybrids were sold in the first half, up 120 percent year-on-year, according to the China Association of Automobile Manufacturers. They accounted for 21.6 percent of all vehicles sold in the same period, said the association.
This brought the total number of NEVs in China to surpass 10 million through June, accounting for 3.23 percent of the total number of vehicles on roads.
As the growth of NEVs was higher than industry expectations, construction of charging piles will see a new boom in the second half of this year, said Guolian Securities analysts in a research note.
In July, 17 ministries and commissions issued a joint notice saying that China will implement a new wave of measures to spur car consumption.
Measures mentioned in the notice include speeding up the construction of charging facilities and guiding charging pile operators to appropriately lower charging service fees.
Jason Wong, executive chairman of Shell Companies in China, said Shell has been stepping up its business in the country's fast-expanding NEV sector.
"China is the leader in electric vehicle manufacturing and adoption globally. The new infrastructure of EV charging will be much-needed," said Wong.
The company inked a deal in March with China's BYD to develop the EV charging network. They will first operate a network of 10,000 charging pillars in Shenzhen, Guangdong province, where BYD is headquartered, and later expand the network to more locations nationwide.
BYD Chairman and President Wang Chuanfu said the automotive industry is undergoing significant changes, and it will seize the opportunities with Shell to boost NEV consumption.
Chinese electric carmaker GAC Aion launched its first supercharging center in Guangzhou, Guangdong province, in April. The 480-kilowatt super charging piles at the center can extend vehicle distance by over 200 kilometers in five minutes, it said.
"Building more super-charging and power exchange centers will help promote the wide use of NEVs," said Gu Huinan, general manager of GAC Aion.
Some companies are exploring the battery-swapping segment, eyeing it as an alternative to charging.
Getting electric vehicles fully charged usually takes hours, but empty batteries can be swapped for full ones in just minutes. Dozens of models, from carmakers including Nio, BAIC and FAW, are now capable of battery-swapping.
Their combined sales in the first four months of this year reached 42,000 units, up 54 percent year-on-year, according to battery website GG-LB.
Chongqing-based Livan Automotive is planning to launch at least six EV battery-swapping stations in three years. The carmaker already has two such models on the market.
Lou Yuanfa, Livan's chairman and CEO, said, "Battery-swapping technologies hold the key to the future of the EV segment."
By the end of this year, Livan is expected to have over 200 battery-swapping stations in the country.
Nio, a New York-listed EV startup, has built more than 1,000 stations for EV battery-swapping. Guo Dongqiang, a Nio ES6 owner in Beijing, said he has yet to charge his vehicle since buying it in late 2020.
"There is a power station near my apartment where I usually swap batteries. It is a pretty fast process," Guo said.
Nio expects its battery-swapping stations to reach 1,300 by the end of this year. It said it will add 600 more stations annually between 2022 and 2025 in China.
Unlike Nio, BAIC's battery-swapping models are mostly taxis. They spend most of the time on the road, so charging is not an optimum choice, the carmaker said.
Chinese battery giant CATL is exploring the market as well. Its battery-swapping service, called Evogo, became available in Hefei, Anhui province, in June.
There will be three fast battery-swapping stations in Hefei at first, and it is estimated to reach 20 by the end of this year, the company said.
Evogo's arrival in Hefei came within two months of the company's first four stations' opening in Xiamen, Fujian province. A total of 30 such stations are expected to be available in the coastal city.
Carmakers including FAW Bestune have launched models capable of swapping batteries at Evogo stations.
Chen Weifeng, president of CATL's charging operations, said the new solution will solve a range of anxieties as well as the inconvenience of recharging.
Analysts at Founder Securities estimate that there will be 3.2 million battery-swapping EVs across the country by 2025, with more than 28,000 battery-swapping stations.
There were 1,582 such stations by the end of June, according to the China Electric Vehicle Charging Infrastructure Promotion Alliance.