38 infections detected in Zhejiang city
Share - WeChat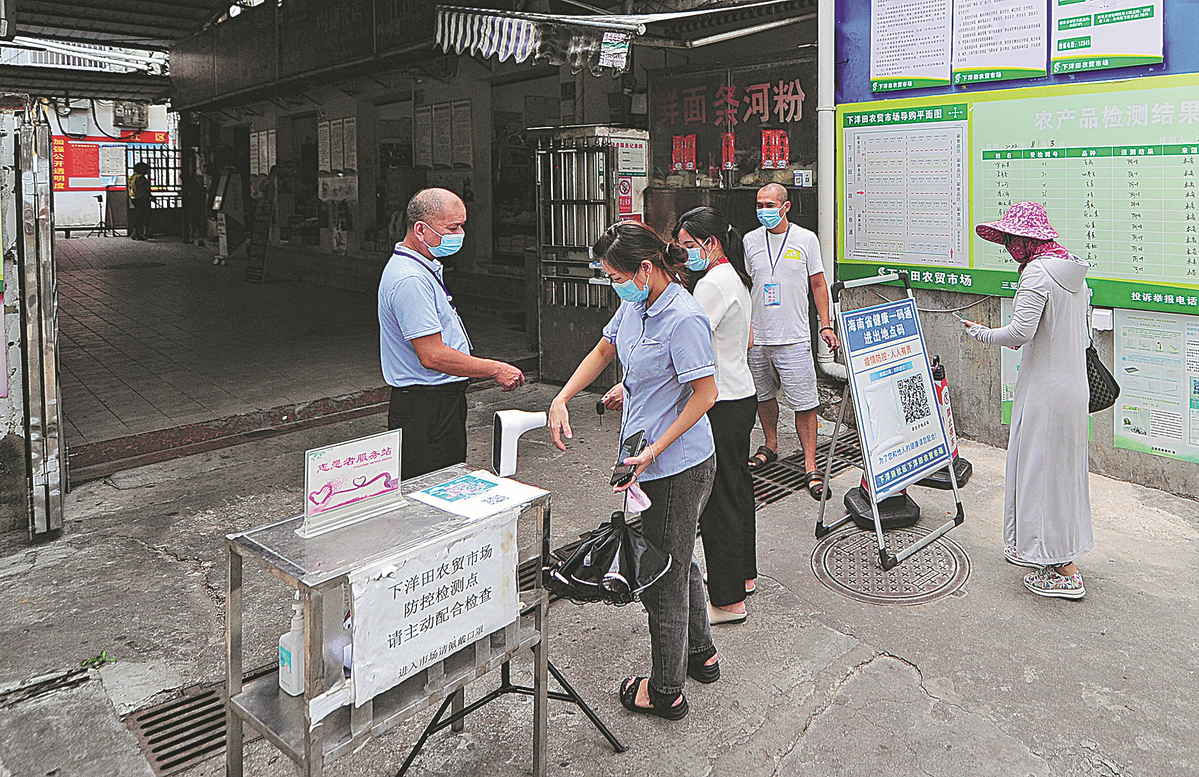 Yiwu quarantines close contacts and tightens epidemic control measures
Yiwu, a small commodity production hub in Jinhua, Zhejiang province, reported nine locally transmitted confirmed cases of COVID-19 and 29 asymptomatic infections as of 9 pm Wednesday, health authorities said.
As of 9 am Wednesday, 772 close contacts and 368 secondary close contacts had been traced and put under quarantine to curb the spread of the virus.
The city, home to 1.9 million people, has tightened its epidemic-control measures. On Wednesday, schools, kindergartens and off-campus training institutions suspended teaching activities. Gatherings, including meetings, forums, training sessions, performances, exams and exhibitions have all been suspended, along with dine-in services at restaurants.
A 48-hour negative nucleic acid test certificate is required for people using public transportation.
Supermarkets in the city have sufficient inventory to meet demand, and the city provides smooth purchase channels, Yang Zhonghong, director of the Yiwu city bureau of commerce, said on Wednesday.
The existing stock of rice and noodles in the grain market is more than 16,000 metric tons, ensuring a stable supply of daily necessities for 19 days, he said.
Sporadic cases were also reported in other places.
South China's Hainan province reported 13 confirmed locally transmitted cases and one asymptomatic infection in the first two days of August, with 12 of them confirmed on Tuesday. All the cases were confirmed in Sanya, a coastal city at the southern tip of Hainan island and a popular tourist destination, and have been sent to designated hospitals for treatment, according to the Hainan Provincial Health Commission.
Conditions of the patients are stable and the virus gene was sequenced to be Omicron BA.5.1.3, local officials said at a news conference in Sanya on Tuesday afternoon.
As of 11 am Wednesday, 597 close contacts and 219 secondary close contacts of the cases have been traced and put under quarantine, officials said on Wednesday afternoon.
On Tuesday, local authorities designated three high-risk areas and two medium-risk areas, all located in Yazhou district, western Sanya. Nucleic acid tests were carried out for 814,000 residents across the city and results are yet to be released. Sanya has a permanent population of 1.03 million.
Local officials said Sanya has set up a special work team to conduct investigations, especially among fishermen and seafood market dealers, as one of the confirmed cases is a fish vendor.
Meanwhile, starting Wednesday, a 48-hour nucleic acid test negative certificate is required from passengers at the airport, railway station or ports before they leave the island, said a notice from the Haikou COVID-19 prevention and control authority.
Today's Top News
Editor's picks
Most Viewed