Iraqi cleric supporters storm parliament again amid political row
Share - WeChat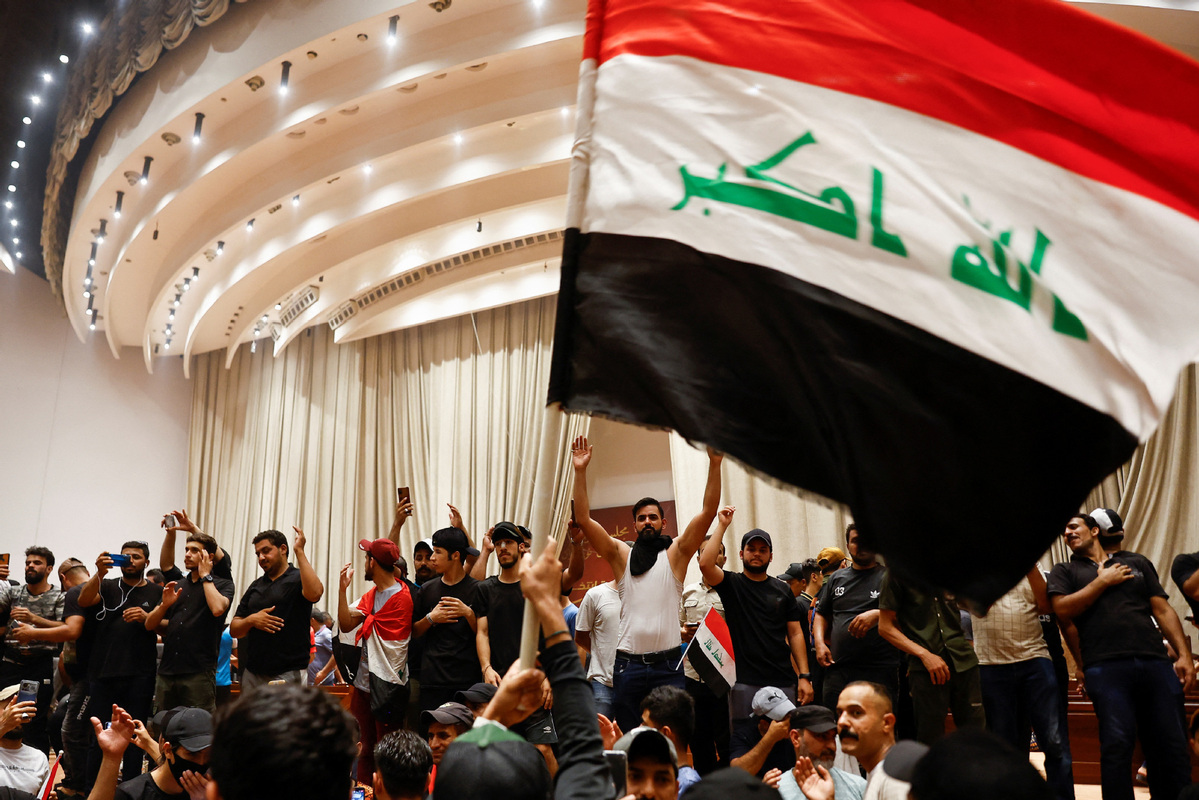 BAGHDAD - Hundreds of followers of Shiite cleric Moqtada al-Sadr on Saturday broke into the Iraqi parliament building in central Baghdad for the second time in three days, amid a political row that paralyzed the political process in the country.
A source from Baghdad Operations Command told local media that nine security members and 23 demonstrators were injured as a result of the stampede when security forces tried to prevent the demonstrators from entering the Green Zone, which houses the main government headquarters, residencies of some top political leaders, and some foreign embassies.
The Health Ministry said in a statement that about 60 injured people, some in critical condition, were admitted to Baghdad hospitals.
Many videos aired by TV channels and social media showed dozens of demonstrators inside the parliament building waving Iraqi flags and hailing their leader Moqtada al-Sadr.
Iraqi Prime Minister Mustafa al-Kadhimi urged in a statement the security forces to protect the demonstrators, and called for peaceful protest, stressing that "the security forces have a duty to protect official institutions", and the need to take all legal measures to maintain order.
Al-Kadhimi warned that "the continuation of the political escalation increases tension in the street and does not serve the public interests".
On Wednesday, hundreds of al-Sadr followers broke into the parliament building after the Coordination Framework, an umbrella group of Shiite parliamentary parties, nominated Mohammed Shia' al-Sudani on Monday for the post of prime minister.
The Coordination Framework became the largest alliance in the Iraqi parliament after al-Sadr ordered his followers in the Sadrist Movement, the biggest winner in the elections held on Oct 10, 2021, with 73 seats, to withdraw from the parliament.
During the past months, the continued disputes among the Shiite parties have hampered the formation of a new Iraqi government, as the parliament has been unable to elect a new president by a two-thirds majority of the 329-seat parliament under the constitution.
If elected, the president will appoint the prime minister nominated by the largest alliance in the parliament, the Coordination Framework, to form a new government that would rule the country for the coming four years.