China calls for lifting unreasonable sanctions on Afghanistan
Share - WeChat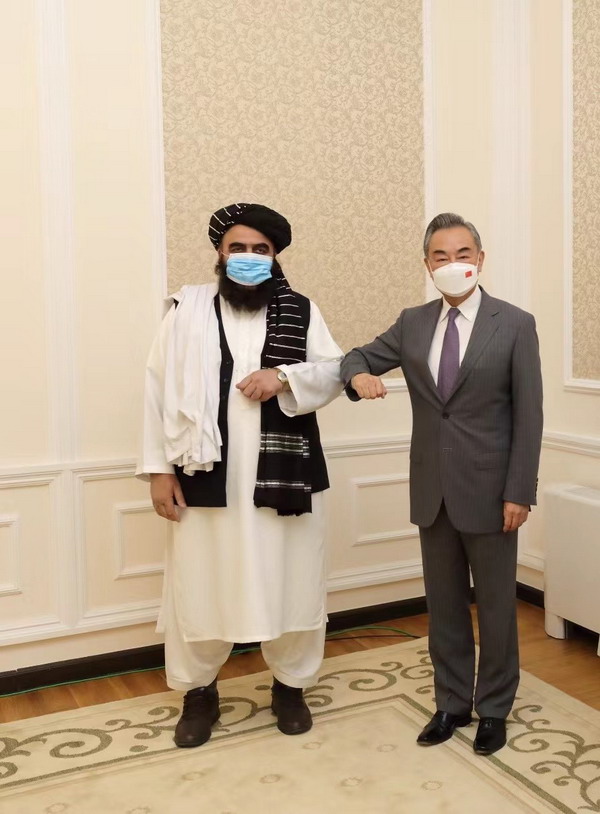 State Councilor and Foreign Minister Wang Yi, who is visiting Tashkent, Uzbekistan, has renewed calls for the United States and other Western countries to lift unreasonable sanctions imposed on Afghanistan. He also pledged China's continued support for Afghanistan's reconstruction and development.
Wang made the remarks on Thursday while meeting Afghanistan's Acting Foreign Minister Amir Khan Muttaqi on the sidelines of the meeting of the Council of Foreign Ministers of the Shanghai Cooperation Organization in Tashkent.
The comments come at a time the US has frozen billions of dollars in Afghan overseas assets since the withdrawal of troops in August last year. Wang urged the US and the West to undertake primary responsibilities for the war-torn nation's economic reconstruction.
Recalling that this was his fourth face-to-face interaction with Muttaqi, Wang said it showed traditional friendship between the two peoples.
China is willing to share its development opportunities with Afghanistan, Wang said, adding that Beijing would like to promote alignment of the Belt and Road Initiative with Kabul's national development strategies and support the extension of the China-Pakistan Economic Corridor to Afghanistan.
Wang said China would give zero-tariff treatment to 98 per cent export of Afghan goods to China and stand ready to import more Afghan quality featured products.
While expressing the country's appreciation for Afghanistan's resolute attitude on drug control, Wang noted that China is willing to help Afghanistan develop substitute plantation. He also announced that China would resume issuing visas to Afghan citizens from Aug 1.
It is hoped that Afghanistan can build an inclusive government and exercise prudent policies to maintain domestic stability and ethnic harmony, Wang said.
Wang also called on Afghanistan to combat terrorist forces including the East Turkestan Islamic Movement and proactively respond to concerns of the international community to strive for more understanding and recognition.
On his part, Muttaqi thanked China for providing emergency relief assistance to Afghanistan in a timely manner.
While pledging the country's commitment to the one-China principle, Muttaqi said Afghanistan would never allow use of its territory for anti-China activities.
He also said his country looked forward to learning from China's development experience and advanced agricultural technologies while hoping China render more support to Afghanistan to improve its infrastructure and gain international recognition.