China-Laos Railway improves more than just travel time
Share - WeChat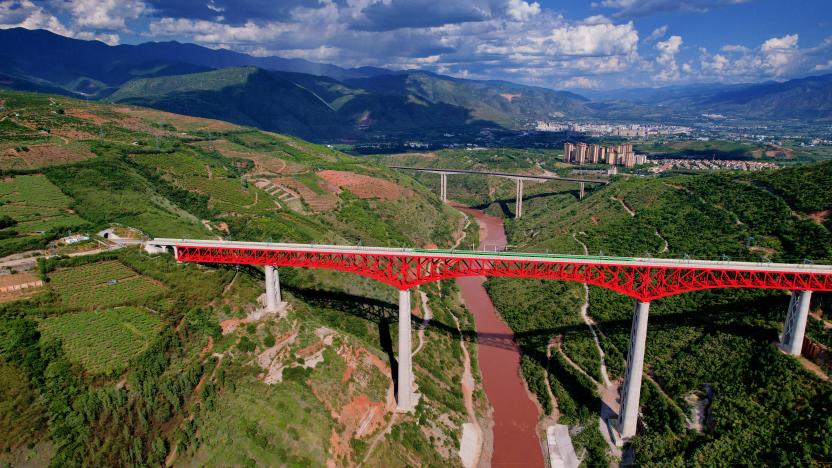 The China-Laos Railway, connecting China's Kunming in Yunnan province and Laos's capital city Vientiane, has built up an efficient transportation channel between China and ASEAN countries, with logistics costs greatly reduced and regional economy further boosted.
The 1,035-kilometer line opened on Dec 3 of last year and the average speed can reach up to 200 kilometers per hour. Communication equipment, daily necessities, fresh flowers and vegetables are exported from China to Southeast Asia through the line, with agricultural products, rubber, potash fertilizer and iron ore sent back.
Apart from traditional international freight trains, the China-Laos Railway introduced the upgraded Lancang-Mekong Express with cold chain service, to meet the diversified demands in cross-border transportation.
"Running at about 120 kilometers per hour, the Express takes only 26 hours from Kunming directly to Vientiane," said Xu Jiefeng, an official of the China Railway Kunming Group Co Ltd, adding that the line has already become the first choice of goods with higher time limit requirements in transportation, such as fruits, vegetables and flowers.
As of July 26, the Lancang-Mekong Express had handled 75 trips in total and the types of goods delivered expanded from basic agricultural products to electronics, photovoltaic devices and vehicles, covering nearly 10 countries and regions such as Thailand, Myanmar, Laos, Malaysia and Cambodia.
"The official opening of China-Laos Railway is seen as a new driving force to boost our company's development," said Chen Xi, general manager of a warehousing and logistics company in Yunnan province.
"Before the railway went into operation, our main businesses were focused on trucking transportation, which was not only time-consuming, but costly, with lots of uncontrollable factors. Nowadays, the logistic efficiency has improved substantially, and the value of goods delivered reached 430 million yuan ($63.79 million) in six months," Chen said.
As of July 26, the China-Laos Railway had transported 5.8 million tons of cargo and a total of 5.2 million passenger trips were made, according to the statistics by China Railway Kunming Group Co Ltd.
Local residents, most of which are ethnic minorities, find it easier than before to go outside by railway, instead of taking a long-distance bus.
"There are more and more people taking the China-Laos Railway to travel around Yunnan, especially during summer vacation," said Zhao Yingjing, conductor of the train, who can speak three foreign languages - Lao, Thai and English - to serve different international passengers.
Yi Bofeng, a 24 year-old train attendant of the Dai nationality, has joined the crew after graduating from the university, where she majored in Lao.
"Due to the COVID-19 pandemic, the cross-border passenger transportation of the railway has not started operation," Yi said, "but most of the attendants are trained bilingually to improve their services."