Country to further tap into offshore wind resources
Share - WeChat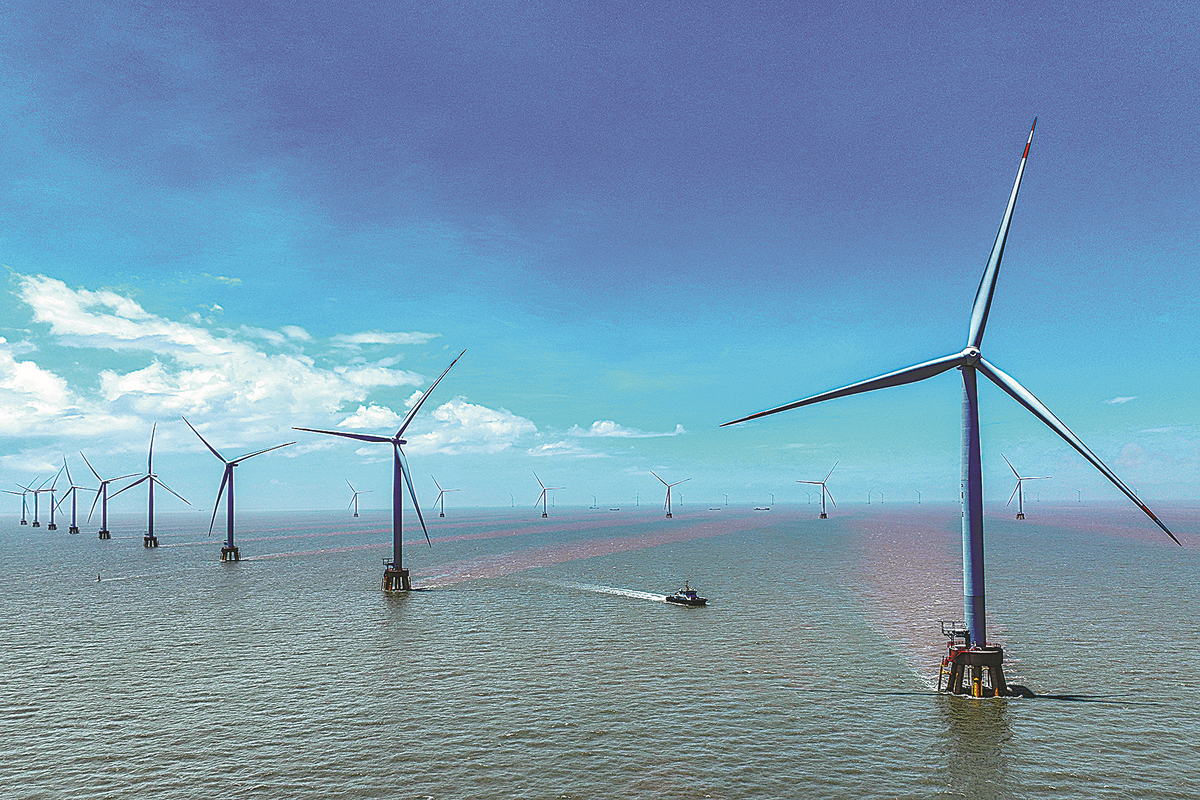 China's offshore wind power development is on the rise as the country prioritizes new energy capacity to support its green transition, experts said.
"China's offshore wind power is embracing a window of opportunity for development. With an estimated reduction of cost from 1,000 yuan ($148) to 2,000 yuan per kilowatt during the 14th Five-Year Plan period (2021-25), a more mature industrial chain and an improved power transmission network, the industry will see further growth," said Hu Xiaofeng, director of the new energy department of the China Renewable Energy Engineering Institute (CREEI).
Hu said the industry has seen rapid development in the past decade, thanks to technology innovation to reduce production costs and improve equipment performance, as well as enhanced policies and regulations.
China commissioned 16.9 million kW of offshore wind power capacity last year, which accounted for over 80 percent of the world's total and pushed China's total installed capacity to 26.93 million kW, according to a report by the institute.
The surge in installed capacity of offshore wind power has attracted a total of 320 billion yuan of investment in the same year. With a total of 26.93 million kW installed capacity, China surpassed the United Kingdom and led the world's ranking last year, according to the report.
"China has abundant offshore wind resources thanks to its 18,000-kilometer-long mainland coastline, the movement of tropical cyclones in summer and winter, and the movement of cold air from the north in winter and spring, which makes offshore wind power an area of great potential for development under the country's green commitment," said Yi Yuechun, deputy director-general of the CREEI.
"Power transmission could be challenging for many renewable sources. As China's coastal cities are also the areas in most demand of electricity, offshore wind power transmission is no longer a big concern for the industry," Hu said.
"The offshore wind power's rapid development is also beneficial for coastal cities to increase the proportion of clean energy in its energy structure, achieve carbon goals and accelerate their transition to a greener economy."
According to the report, coastal provinces including Jiangsu, Guangdong, Fujian, Zhejiang and Liaoning achieved a million-kW of installed capacity of offshore wind power by the end of 2021. The newly increased installed capacity of offshore wind power from Jiangsu and Guangdong accounted for 69 percent of the country's total.
To support the industry's development, some coastal provinces rolled out supportive policies including offering subsidies.
According to the report, the offshore wind power industry has seen more innovation in the past decade. The 11-megawatt turbines, a type of large capacity turbine produced by the Shanghai Electric Group, have successfully been installed in Shantou, Guangdong recently.
"The launch of large capacity turbines helps reduce overall costs of offshore wind power projects and improves the use efficiency of land, ocean, and wind resources," Yi said.
Wind turbine manufacturer Mingyang Smart Energy Group Co Ltd has cooperated with China State Shipbuilding Corp Ltd's offshore wind power unit and jointly launched 16-MW turbines last year.
The industry has also seen longer wind turbine blades which are able to capture more wind and raise power generation efficiency, the report said.
The Shanghai Electric Group has recently announced its 112-meter-long blades have rolled out of the production line, which broke a record in the length of China's offshore wind blades.
According to the report, the industry has also seen a more mature industrial chain. Six offshore wind power companies have made it onto the list of top 10 offshore wind turbine manufacturers in terms of grid-connected capacities. Production capacity of equipment such as submarine communication cables is steadily improving. The industry also saw improvement in installation facilities and more professionals in inspection and project design.