Graduates conquer series of tough challenges
Share - WeChat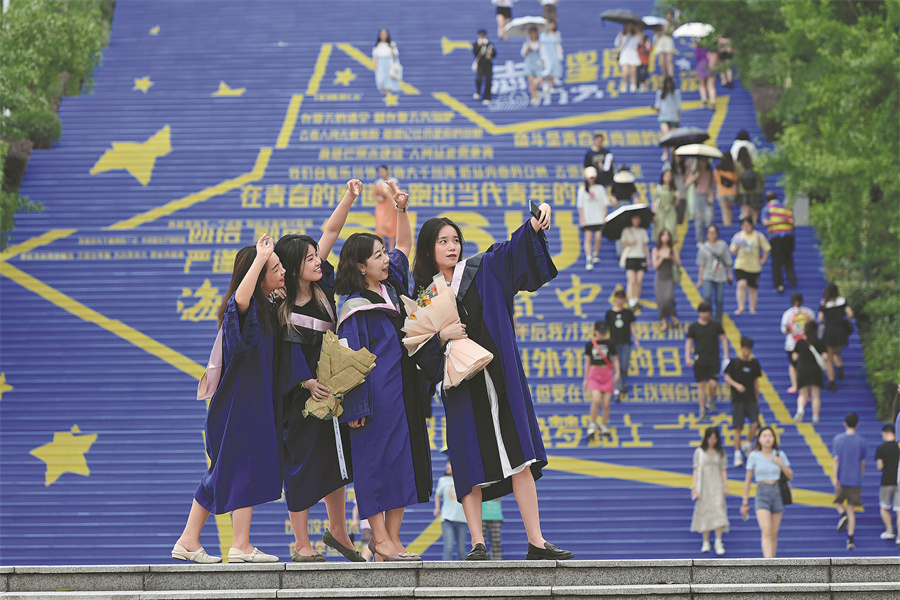 Members of post-2000 generation map out career paths despite difficulties posed by COVID-19
The first group of university graduates from the post-2000 generation are determinedly mapping out their futures as they benefit from a stable economy.
For 22-year-old Chen Ze, who graduated from Shanghai Jiao Tong University this summer after studying industrial design, "growing up "are the keywords that sum up his four years at the institution, where he will begin postgraduate studies after the summer vacation.
"The post-2000 generation is no longer a symbol of immature young people, but of adults entering society while facing pressure to continue studying, look for jobs, settle down in big cities, and even get married," Chen said.
Four years ago, he decided to study industrial design for his major, as it is related to science and engineering, subjects that he is interested in. However, Chen started his first year by enrolling in courses in design, which he had never studied before.
"Learning from my failures has had the most impact on me at university. I had the courage to try harder and learn from others' strengths to enhance my own weaknesses," Chen said.
While he was in the second year, he opted to continue later with postgraduate studies. He worked extremely hard, sometimes studying throughout the night to gain high marks. He also took part in a variety of activities, such as being a volunteer for the 2021 China International Import Expo in order to qualify for a postgraduate recommendation.
"Many of my classmates chose to look for jobs, but they found it extremely difficult to land work. I don't think I am ready to face such fierce competition yet, as I haven't acquired enough knowledge, experience and ability to reach my goal of changing people's lives with my expertise," Chen said.
Choosing design for his major after winning prizes in design competitions over the past four years, Chen added that he aims to use his professional skills to design innovative products by combining technology and art.
This year's graduates experienced a hard time, as they had to take online courses due to the COVID-19 pandemic. In Shanghai, Chen found life particularly difficult.
Due to outbreaks of the disease in the city, university students were confined to their campuses for two months, while local residents were not allowed to leave their neighborhoods.
Chen said, "On the positive side, I managed to arrange my study time properly and get everything well organized by taking online courses, but I regret there was no graduation ceremony at the university for millennials." He said this meant that he did not have the chance to say a "proper goodbye" to his undergraduate studies.