China launches Wentian space lab
Share - WeChat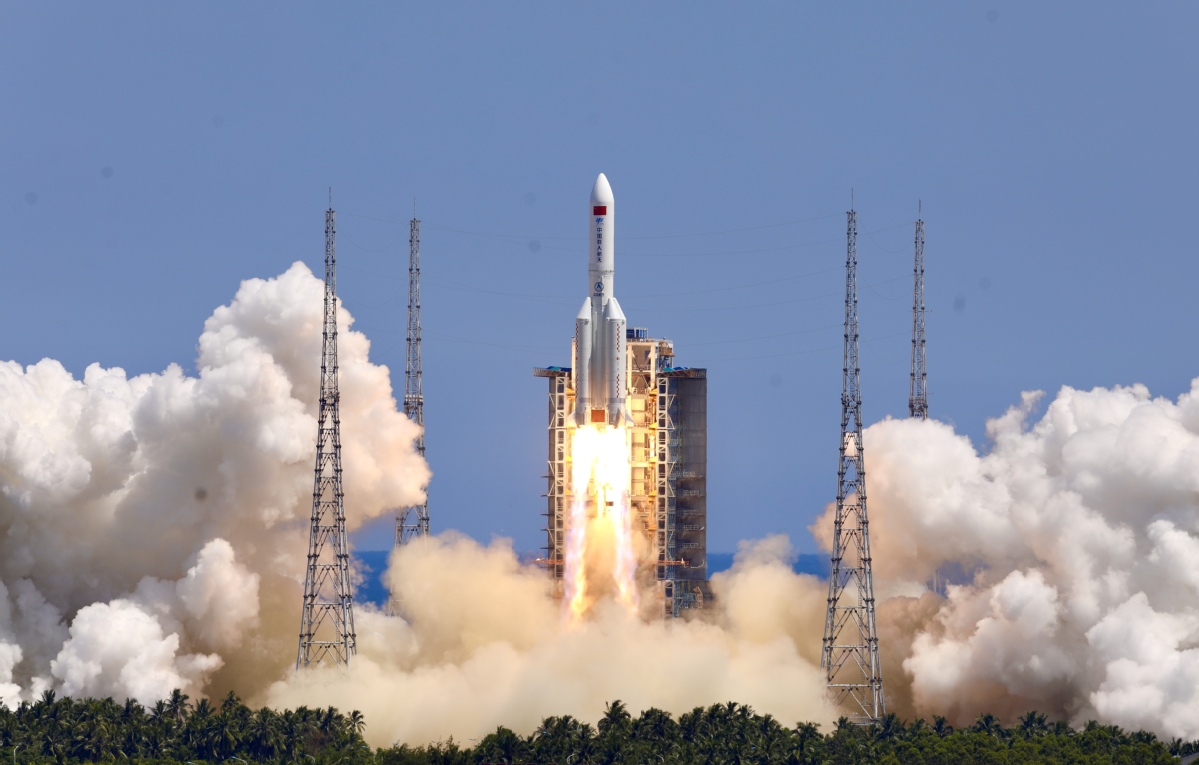 China launched its Wentian space laboratory on Sunday afternoon, sending the country's largest-ever spacecraft to Earth's orbit to become part of the Tiangong space station.
Encased in a 20.5-meter-long payload fairing, the space lab was carried by a Long March 5B rocket that blasted off at 2:22 pm from a coastal service tower in the Wenchang Space Launch Center in Hainan province.
After an eight-minute flight, the rocket placed the craft into a low-Earth orbit nearly 400 kilometers above the ground in which Tiangong is travelling.
In the next couple of hours, the Wentian will rendezvous and then dock with the Tiangong station's Tianhe core module, according to the China Manned Space Agency.
After that, the Shenzhou XIV mission crew now flying with Tiangong — mission commander Senior Colonel Chen Dong, Senior Colonel Liu Yang and Senior Colonel Cai Xuzhe — will enter the lab module to check its condition and internal equipment, it said.
In coming weeks, Wentian will be repositioned by a robotic apparatus from the forward docking port to a lateral port, where it will remain and be prepared for long-term operation, the agency noted.
To prepare for the Wentian's arrival, the Tianzhou 3 cargo spacecraft departed from the Tiangong station on July 17 to leave its docking hatch for the coming lab. The cargo ship, which was launched in September and had remained connected to Tiangong since then, will be guided by ground controllers to fall back to Earth in due course.
Currently, Tiangong consists of the Tianhe module, the Tianzhou 4 cargo ship and the Shenzhou XIV spacecraft.
Assembled at a manufacturing and testing complex in the northern coastal municipality of Tianjin, Wentian was transported by ship and arrived in Wenchang in late April. It underwent function and prelaunch checks over the past three months at the launch center.
The first lab component of the Tiangong station, Wentian features cutting-edge technologies, strong capabilities, sophisticated design and represents a new milestone in China's space industry. It incorporates the wisdom, dedication and hard work of numerous scientists, engineers and technicians, according to the China Academy of Space Technology that designed and made the craft.
The vehicle consists of three major parts – a crew working compartment, an airlock cabin and an unpressurized service module.