Shell to further tap China's green industry
Share - WeChat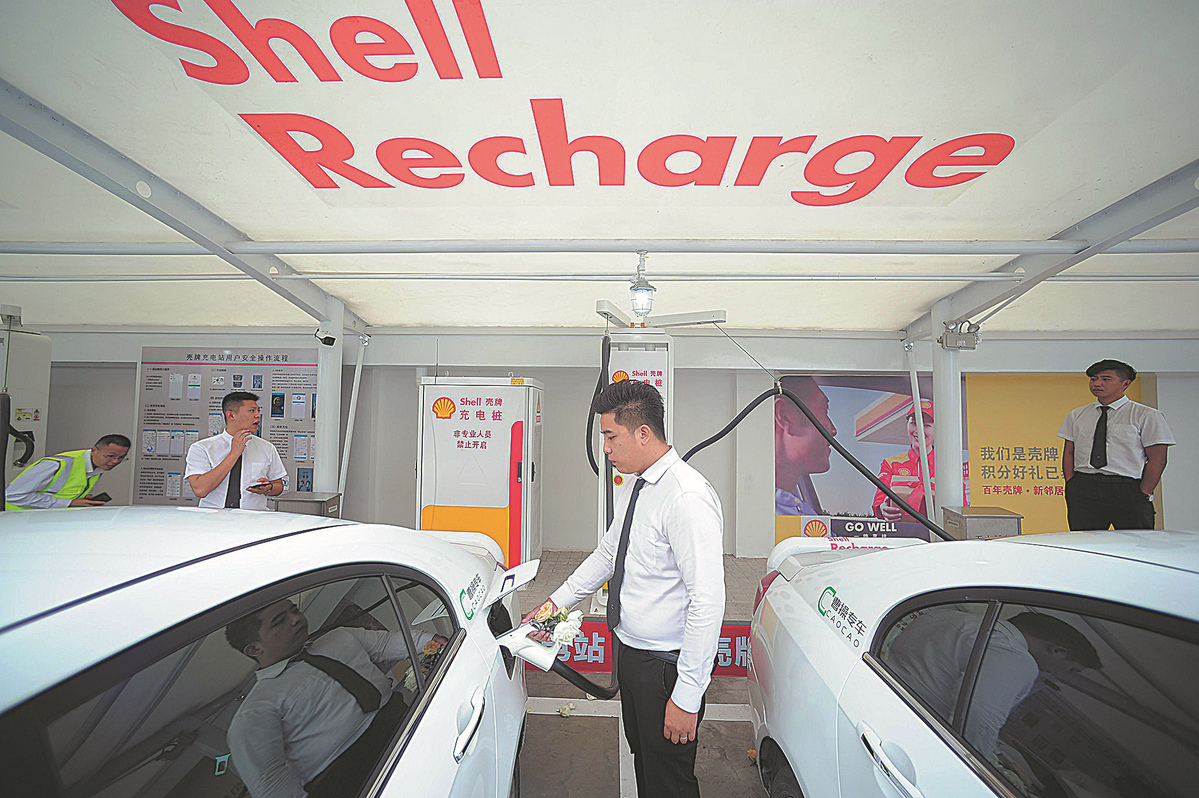 Energy MNC vows more investment in NEVs, CCUS for bigger market presence
Eyeing the rapidly growing momentum and potential of China's renewable energy sector, Shell Plc vows to further expand its presence in the country through investments in hydrogen, electric vehicle charging as well as carbon capture, utilization and storage (CCUS) to get a larger piece of the energy pie.
Shell is anticipating more growth, investment and local partnership opportunities in China where it has had a presence for 128 years, a top company official said.
China is massively important for Shell as the country goes full throttle on its green energy transition with the aim of becoming carbon neutral by 2060, which is expected to provide massive opportunities for global energy corporations like Shell, said Jason Wong, executive chairman of Shell Companies in China, during an interview in Beijing on Thursday.
"The government recently approved a plan to implement employment-for-grant programs with a key focus on fields including energy, especially power, oil and gas pipelines and renewable energy. This plan provides Shell with massive opportunities as we are also looking for more chances to expand in renewable energy power generation as well as electric vehicle charging services in the country."
Wong said the companies have been stepping up the fast-expanding new energy vehicle sector in China for years, from hundreds of charging points last year to more than 3,000 charging points today.
The company will form a joint venture with BYD to develop EV charging networks in China, with the initial plan to operate a network of more than 10,000 charging points in Shenzhen, Guangdong province, in the near future and further expand the network to more locations nationwide.
Shell will also help improve the charging experience of BYD customers who use battery-powered electric vehicles and plug-in hybrids in China while the partnership expands from China and Europe and extends to other regions.
Wong said the company will also tap into the CCUS sector in China considering its massive market potential.
"For China to achieve carbon neutrality by 2060, we believe more than 1.3 gigatons of carbon dioxide per year will need to be captured and permanently stored by then, which means CCUS capacity will need to increase more than 400-fold in the next four decades," said Wong.
The company signed a memorandum of cooperation with State-owned oil and gas giant China National Offshore Oil Corp, the Guangdong Provincial Development and Reform Commission and ExxonMobil in June to explore the feasibility of developing a carbon capture and storage (CCS) hub in the Daya Bay National Economic and Technological Development Zone in Huizhou, Guangdong province.
This will be China's first offshore large-scale CCS hub that is capable of capturing up to 10 million tons of carbon dioxide per year, helping reduce significant carbon dioxide emissions from the zone and serve the decarbonization needs of enterprises in the area, said the company.
Luo Zuoxian, head of intelligence and research at the Sinopec Economics and Development Research Institute, said CCUS offers a way to reduce emissions from sectors that are hard to decarbonize and Shell's commitment confirms China's massive potential in the CCUS sector, which is also attracting more international players.
For oil companies, CCUS will not only expand their own business but also help them become sustainable in the long run, he said.
According to Shell, China has an estimated 2,400 Gt in storage capacity and significant geological potential for storing carbon, second only to the United States.
It currently has more than 40 carbon capture, utilization and storage pilot projects with a total capacity of 3 million tons. However, many of these projects are still small developments.
China, as the largest domestic and outbound investor in renewable energy, has made impressive progress in developing renewable energy supported by years of research and development, preferential policies and its scale of economy.
"While China's carbon exchange market is not as mature as developed countries, we believe it's a good start and we plan ahead, as we believe CCS is an essential part of the solution for China to achieve a carbon peak by 2030 and carbon neutrality by 2060," said Wong.