Xi Jinping's inspection tour of Xinjiang
Share - WeChat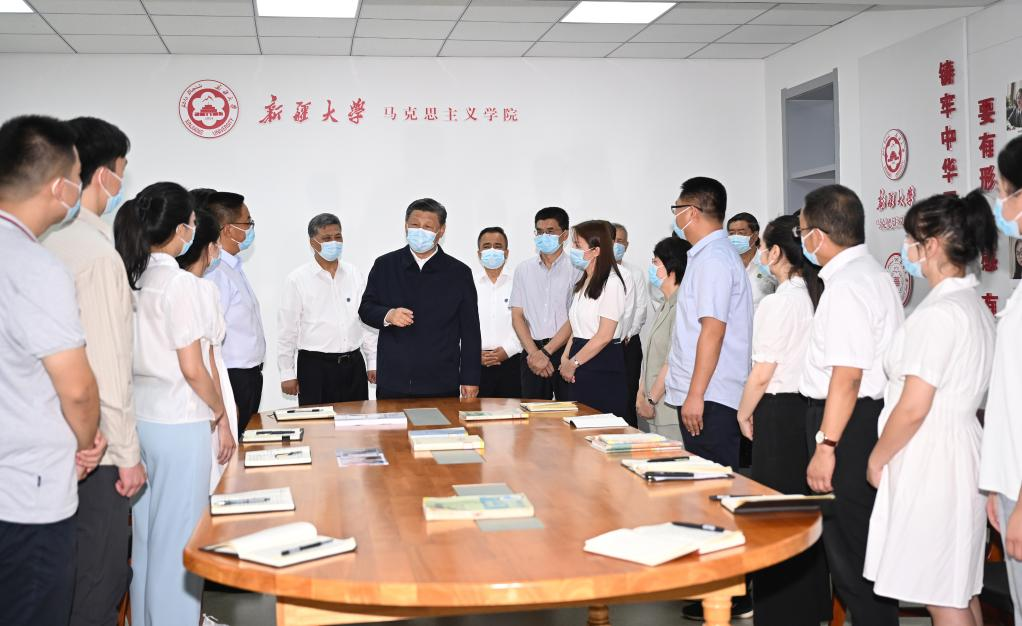 Chinese President Xi Jinping, also general secretary of the Communist Party of China (CPC) Central Committee and chairman of the Central Military Commission, recently inspected the Xinjiang Uygur autonomous region in northwestern China and visited officials and the general public of different ethnic groups.
Xi stressed efforts to resolutely implement the CPC Central Committee's decisions, and fully and faithfully carry out the plans and the policies of the CPC for the governance of Xinjiang in the new era. Focusing on the overarching goal of ensuring lasting social stability, security and enduring prosperity, we should seek steady progress in our work, further extend reform and opening up in all respects, promote high-quality development, coordinate COVID-19 response with economic and social development, and balance development and security imperatives. On our journey in the new era, we will endeavor to build Xinjiang into a beautiful place that is united, harmonious, and prosperous, with an advanced culture, a happy life for all and sound ecological environment.
From Tuesday to Friday, Xi's itinerary included Urumqi, Shihezi, and Turpan cities, and he made fact-finding trips to a university, an international land port area, a residential community, a museum, a village, and the Xinjiang Production and Construction Corps (XPCC), among other sites. During his trips, Xi was accompanied by Ma Xingrui, secretary of the Xinjiang Uygur Autonomous Regional Committee of the CPC, and Erkin Tuniyaz, chairman of Xinjiang regional government.
On Tuesday afternoon, Xi went to Xinjiang University, his first stop. He visited the museum on the university history and the center for fostering a strong sense of community for the Chinese nation to learn about the university's history and development and its efforts in cultivating capable personnel and promoting the exchange and communication between people of different ethnic groups. He was also briefed by the students returning from field studies on what they had learned.
Our country is a unified multiethnic country, with the Chinese people of all ethnic groups united in diversity being a salient feature, Xi noted. Creatively adapting Marxist ethnic theory to China's specific realities, we have formulated ethnic theories and policies characterized by ethnic equality and unity, regional ethnic autonomy, and shared development and prosperity, so that all ethnic groups have enjoyed equality, unity and progress in real sense under the socialist system.
Our ethnic theories and policies are sound and effective. We should stay committed to the correct and Chinese way to address ethnic issues, continue to enrich and develop the Party's ethnic theories for the new era, advancing research on the fundamental issues concerning the community for the Chinese nation. China, a country with ethnic unity, is invincible and will have a bright future, and our Second Centenary Goal is bound to be achieved and so is the rejuvenation of the Chinese nation, Xi said.
Xi stressed that the fundamental task of education is to foster virtue. He urged the university to uphold the socialist direction of education and nurture a new generation of capable young people with moral grounding, intellectual ability, physical vigor, aesthetic sensibility and work skills for the socialist cause. The university should highlight its unique strengths, foster high-calibre faculty, enhance its innovative capacity in scientific researches and make more progress in making itself a world-class university and developing world-class disciplines. He also expected students of the university to strive for the future of socialism with Chinese characteristics and the Chinese nation.
Xi's next stop was the Urumqi International Land Port Area where he was provided with relevant information and through real-time video link watched how the Urumqi China-Europe Railway Express Hub, the land ports at the Alataw Pass and Horgos operated. He also chatted with people working at the freight train service desk and other on-site staff.
Xi stressed that with the country opening wider to the world, the western region being further developed, and the Belt and Road Initiative being materialized, Xinjiang has changed from a relatively closed inland region to a frontier of opening up. The region should develop the core area along the Silk Road Economic Belt, incorporate its regional opening-up strategy into the overall layout of the country's westward opening up, innovate the system for an open economy, speed up the construction of major opening-up corridors, so that it can make better use of international and domestic markets and resources and actively serve and integrate itself into the country's new pattern of development. He also urged local leading officials to continue to prevent both inbound cases and domestic resurgences of COVID-19, uphold a dynamic zero-COVID policy and try their best to adopt targeted response measures and reduce inconvenience in people's everyday life.
On Wednesday morning, Xi visited the community of Guyuanxiang in the Tianshan district of Urumqi where more than 95 percent of the residents were ethnic minorities. He walked into the public service center, the community service center, the dance room and the children's reading room, and chatted with residents there. Having watched a traditional cultural performance by local children with keen interest, he noted that the education of China's fine traditional culture should start with children and be sustained so that it will be developed as part of people's life in an imperceptible and formative manner. Such education will contribute to building a firm foundation for passing on China's fine traditional culture through generations, he said.
Shown around the living room, bedrooms and kitchen at the home of Ablet Tursun, a Uygur resident, Xi sat down with his family for a friendly conversation. He stressed that ethnic unity is the lifeline for people of all ethnic groups in China and all ethnic groups in Xinjiang are inseparable members of the family of the Chinese nation. We should value the current stability and unity in China with all 56 ethnic groups standing together, maintaining firm resolve, making pragmatic and concerted efforts for achieving the Second Centenary Goal under the Party's leadership.