Resilient German ties seen holding up
Share - WeChat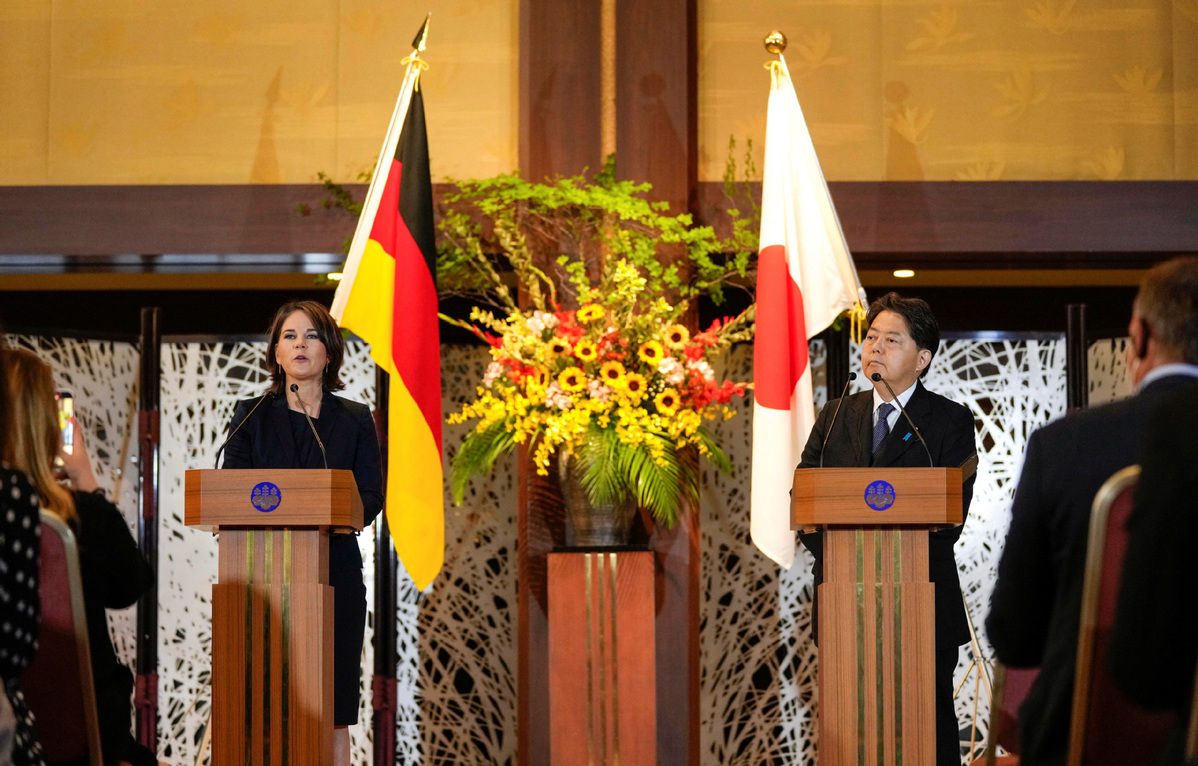 In the wake of criticism leveled at China by Germany's top diplomat, analysts point to the resilience of the bilateral ties as ensuring that their overall direction remains on track.
In remarks in Tokyo on Monday, German Foreign Minister Annalena Baerbock spoke of "China's self-confident and robust behavior" as "a global challenge".
However, Tian Dewen, a researcher on European studies at the Chinese Academy of Social Sciences in Beijing, sees ground for optimism that practical cooperation between the trade partners will prevail over any political differences that may arise.
"Unlike Japan, whose diplomatic ties with China are affected by the United States, Germany's China policy has been relatively independent. Germany has developed practical cooperation with China based on its national interests," Tian said on Wednesday. "In this way, it has avoided political differences that could disrupt the overall economic and trade cooperation."
Wang Qi, a researcher of East Asian studies at the CASS, said: "As a Green party politician, Baerbock tries to distant herself from the former German government by emphasizing that Berlin and Beijing are at odds over their roles in the Asia-Pacific region and also by highlighting a different approach to China.
"It is only a matter of time before she realizes that the main pillar of the China-Germany strategic partnership is their economic relations and a stable political connection is needed."
Since Germany's coalition government took over in December, the world has been watching how the leaders of Europe's largest economy deal with China, where one out of three German cars are sold. Olaf Scholz, of the center-left Social Democratic Party, heads the government as chancellor and has to balance diverse interests in a coalition with the Greens and the pro-business Free Democratic Party.
The Greens are regarded as the most critical party toward China. Before taking up her post, Baerbock had spoken of her plans to take a tougher line on China. From Tian's perspective, this is not a wise choice.
"Germany, the engine of the European Union's economic development, has seen a worsening economy this year, and it is not wise to shift to a negative policy toward China," said Tian, referring to fears that the world's fourth-largest economy may slip into recession.
Given that this year marks the 50th anniversary of diplomatic relations between China and Germany, Chinese State Councilor and Foreign Minister Wang Yi told Baerbock during a meeting on the sidelines of a G20 foreign ministers' meeting on Friday that Beijing and Berlin should learn from past experience that has enabled "China-Germany relations to grow from a small seedling into a giant tree".
"The China-Germany relationship has come to a mature stage of knowing what it is and learning why it is. China is willing to sum up the experience with Germany, and plan for cooperation in the next 50 years, so as to inject new momentum into the development of bilateral relations," Wang said.