PM contenders woo party colleagues
Share - WeChat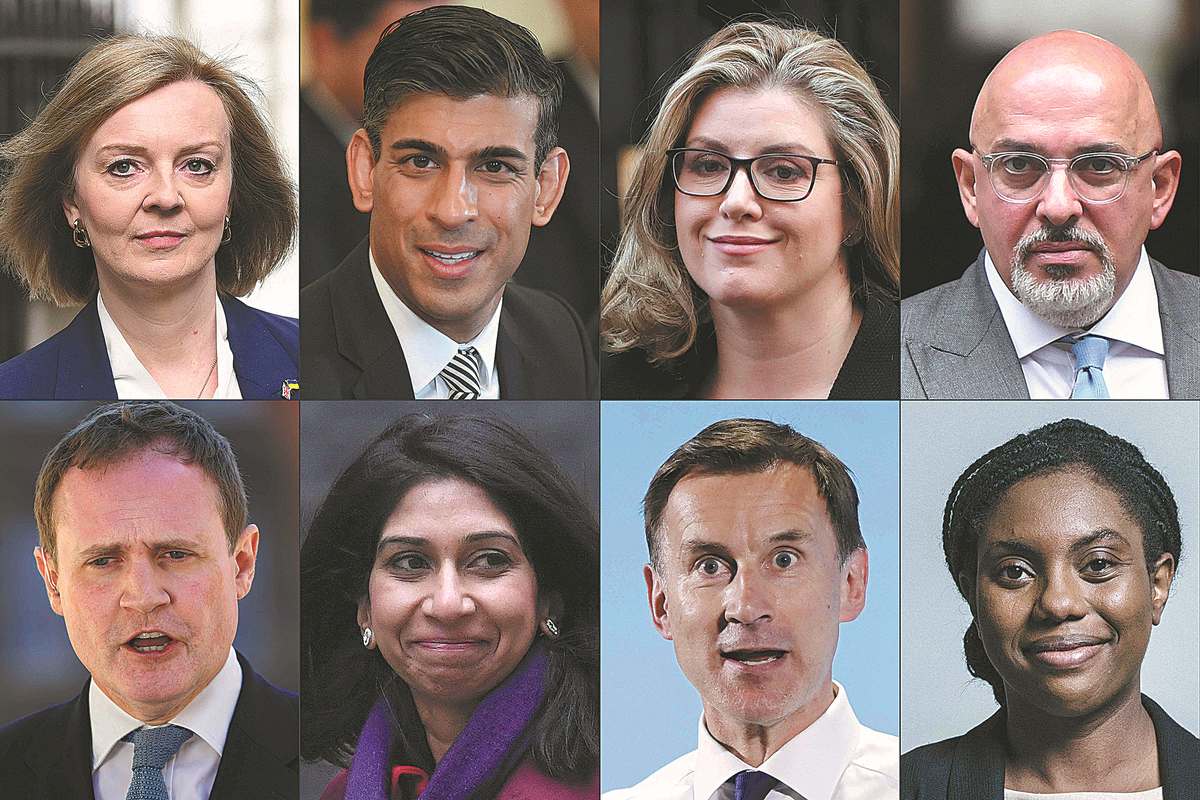 The eight remaining candidates competing to be the next leader of Britain's governing Conservative Party and prime minister spent Wednesday trying to win the backing of their Parliamentary colleagues, as the first round of voting to replace Boris Johnson took place.
There were originally 11 candidates, but three pulled out on Tuesday-rank outsider Rehman Chishti, Transport Secretary Grant Shapps and former health secretary Sajid Javid, whose resignation from the Cabinet set in motion the turning of the mood against former prime minister Johnson, leading to his stepping down.
Penny Mordaunt, Kemi Badenoch, Suella Braverman, Jeremy Hunt, Rishi Sunak, Liz Truss, Tom Tugendhat and Nadhim Zahawi will now take part in a number of secret ballots of Conservative members of Parliament, before the party's wider membership gets to choose between the last two remaining candidates.
Last week, Johnson announced that he would be leaving Downing Street, but said he would continue in a caretaker role until his replacement was announced at the start of September. He has not yet formally tendered his resignation.
Former chancellor Sunak has emerged as the early leading candidate, with the strongest public backing from his colleagues, including the support of Cabinet ministers Shapps and Dominic Raab.
Tax cut
Foreign Secretary Truss, who bided her time before entering the race, is seen by many as being the closest thing to a continuity candidate for supporters of Johnson, and has won the endorsement of two of his most loyal fans, Jacob Rees-Mogg and Nadine Dorries.
All candidates have promised to bring in instant tax cuts if they win, except for Sunak, who said there should be no changes to tax until inflation has come down.
Sunak, who with his wife was placed 222nd in the Sunday Times' Rich List of Britain's wealthiest people this year, said he would return to the economic approach of Margaret Thatcher, Britain's prime minister from 1979 to 1990, whose political impact and legacy on the UK remain deeply divisive to this day.
"If you read her speeches … her approach to these things was to make sure that as a nation, you have to earn what you spend," Sunak told The Daily Telegraph.
"She talked about the person at home with their family budget. She talked about that really powerfully. That resonated with me, because that's how I was brought up."
Invoking her spirit would no doubt prove a vote winner with many Conservative members who are taking part in this vote, but would be far more contentious with the wider electorate at a future general election.