Company breaks foreign brands' dominance
Share - WeChat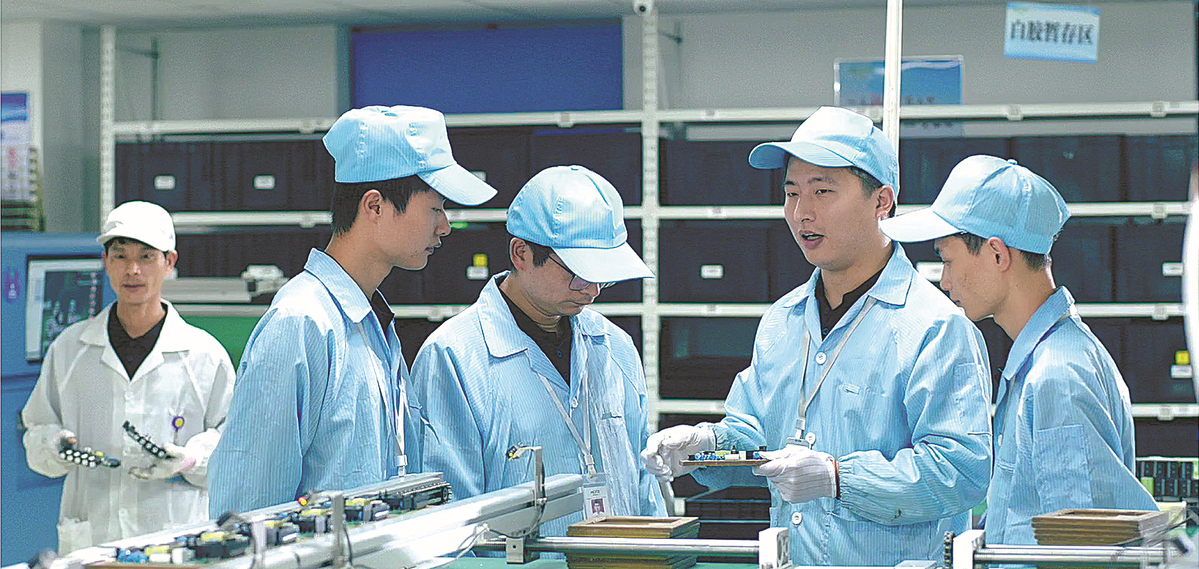 Chen from Fortune Capital, which invested in Hechuan in 2017, said the company has not only strong patent portfolios but also a deep understanding of industrial processing technologies and downstream industry applications, which helps it quickly adapt to complex and specific industry needs. Hechuan has expanded its R&D team to more than 400 people, enabling it to quickly respond to the specific demands of customers from a variety of sectors.
"Hechuan is an emerging industrial automation control company with the most potential to grow into a high-level industry-customized overall solution provider," Chen said.
While servo systems account for about 90 percent of Hechuan's revenue, the company is working to expand its presence along the upstream and downstream segments of industrial chains with such products as industrial control chips, sensors and high-end numerical control machine tools.
The company decided to start developing proprietary industrial control chips in 2018, after it became clear that general-purpose chips were unable to handle specific applications in different industries.
"Unlike chips used in consumer-oriented products, many of which require advanced manufacturing, industrial chips focus more on reliability," Wang said, adding that the company's proprietary chip system has gone from the drawing board into production, and 90 percent of its new-generation products will use its in-house chips.
To boost its R&D, Hechuan has acquired a Canadian-Chinese chip design team and set up a semiconductor unit in Hangzhou, Zhejiang.
"Our industry is technology-focused, and talent is the key to our development," Wang said, adding that Hechuan has adopted two approaches to recruit the talent it wants.
"For R&D talent, we set up research institutes where they are. For instance, we have R&D centers in Hangzhou, Shenzhen and Dalian, where a lot of talent are located," Wang said.
But for the manufacturing talent closely linked to industrial craftsmanship, it is best for them to be far from big cities, Wang said. "In the future, high-tech companies will have more plants in the countryside, because it takes years to accumulate advanced industrial manufacturing processing techniques. In rural areas, people find it easier to settle down and don't have to worry too much about housing prices and children's education," Wang said, "That is exactly why Japanese industrial giants Fanuc and Yaskawa are based in small counties."
This also helps explain why Hechuan is based in rural Longyou county. Wang said the first group of Hechuan's workers came from Guangdong province, and later, the company started cultivating local people. The third step happened when local migrant workers who had been employed at high-end factories in southern China for years returned home, bringing new vitality to Hechuan.
Wang said the company is building a digital smart manufacturing plant. Once finished, the company's revenue is expected to more than sextuple to 4 to 5 billion yuan.
"We want to build the plant into a model for small and medium-sized enterprises in eastern China. There are a few million SMEs in Jiangsu and Zhejiang provinces, and they don't have the capital to buy large-scale digitalization services. We want to create a model for them," Wang said.
As a technology-intensive industry, industrial automation control has always been a battleground for advanced manufacturing at home and abroad. The Ministry of Industry and Information Technology, the nation's top industry regulator, has placed great emphasis on developing high-end homegrown industrial automation technologies.
The market size of industrial automation control products and technical services in China is expected to exceed 200 billion yuan in 2022 from 186.5 billion yuan in 2019, according to Chinese industrial website Gongkong.com.
Wang said domestic industrial automation control products are facing a strategic opportunity amid the growing emphasis on supply chain security.
Chen from Fortune Capital said: "As the product portfolios and technical levels of local industrial control product manufacturers are further developed, they can better adapt to demand from industries such as lithium batteries, photovoltaics and robots. This is also a great opportunity for domestic servo system manufacturers to have leapfrog development."