A legacy to appreciate
Share - WeChat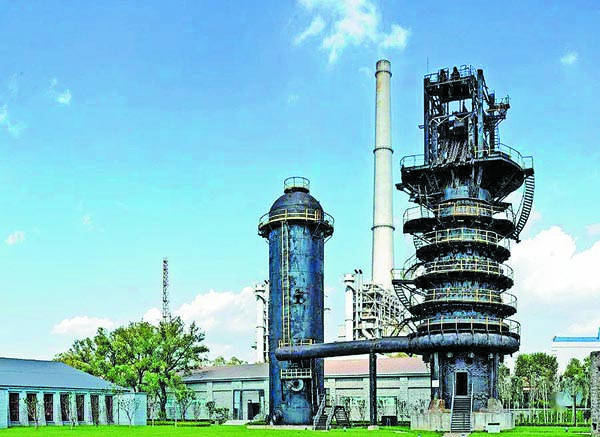 Former industrial sites in Shanxi today serve as heritage museums, report Yang Feiyue in Beijing and Sun Ruisheng in Taiyuan.
Jiang Quanxi often gets nostalgic when walking past Tisco Museum. Many of what he refers to as his "old friends", furnaces, chimneys, the very symbols of prowess, tell their own tales to visitors who seek to know more about the past industrial glory of Taiyuan, capital of North China's Shanxi province.
The exhibits range from a blast furnace that had been in service for more than 60 years to a steam engine that is 21 meters long, from the 1960s. This engine stopped functioning in 2003 at the old site of Taiyuan Iron and Steel (Group) Co.
"I've worked in the company since graduation in 1987, and had worked with the blast furnace for 19 years," Jiang says. "It was hard going at work."
Jiang recalls that he was often soaked in sweat after a day's work, and even in winter, he needed to wear a single blue unlined garment, because of the high temperature.
"The blast furnace is a reminder (of the history) and an inheritance," Jiang says. "I feel it is very close to my heart when I see it now."
Along with the giant machine and equipment, about 120 historical archives and industrial items have been preserved in the museum that was built by the company in 2014. The company was founded in 1937 and has played an important role in the nation's industrial development.
China's first stainless steel was produced by Tisco in 1952, and the company has evolved into a major force in engineering machinery, aerospace and military development.
"We have archived the development history in Tisco Museum's exhibition hall, and tell visitors stories about the company," says Feng Yaoyu, director of the museum.
One can read steel-themed journals from 1951 and study the country's first operation manual for electrosmelting of steel. A hangar built in 1923 and a watch tower erected to protect the plant are among the highlights at the museum.
"We open to the public on a regular basis," says Shang Qing, a guide at the museum's exhibition hall.
Many company personnel, parents and students have visited to learn about the industrial history. "We've received more than 10,000 visitors since 2010," says Shang.
In Shanxi, many industrial sites like Tisco Museum have been given a new lease of life and become a learning place for the public.
Most Popular