Marcos viewed as lifting China ties
Share - WeChat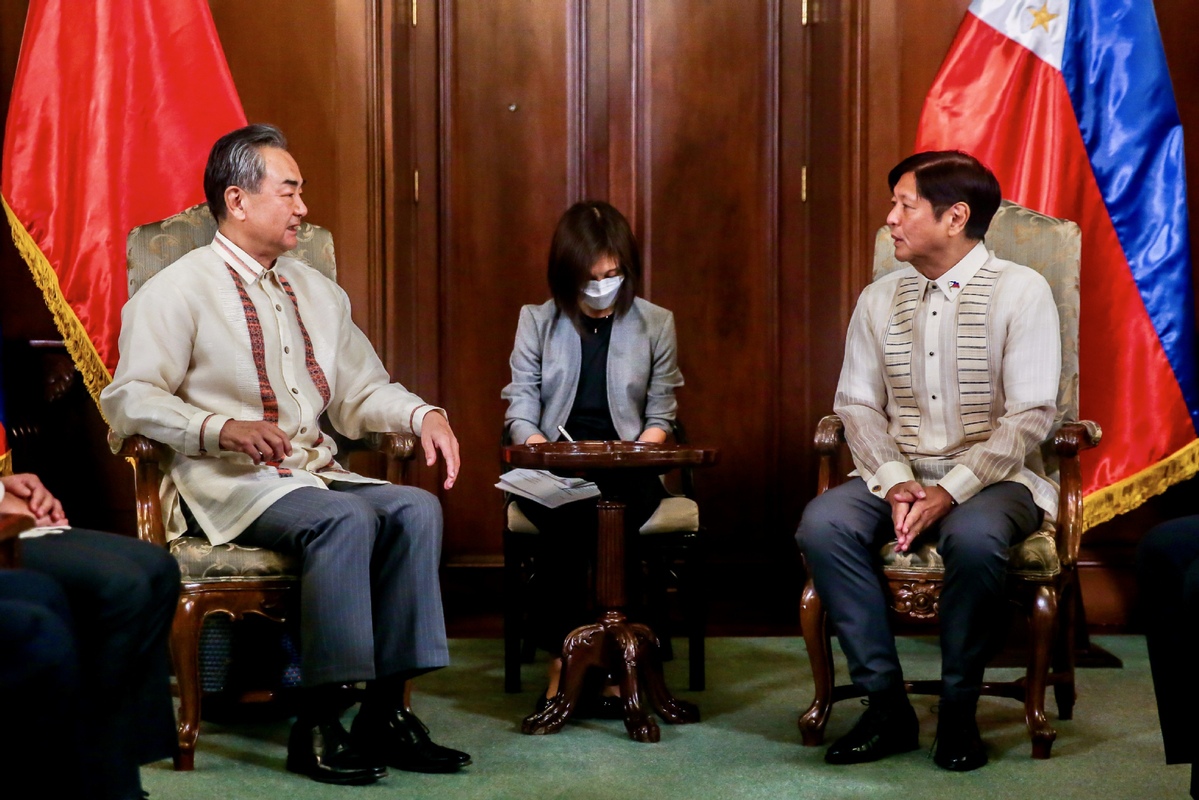 The Philippines is expected to enhance its partnership with China under the leadership of President Ferdinand Marcos Jr, with the prospect of increased investment and trade resulting from strengthened bilateral cooperation, analysts said.
The two sides can "have cultural exchanges, educational exchanges, even military (exchanges) if that will be useful", Marcos said in a news briefing last week. He held talks with Chinese State Councilor and Foreign Minister Wang Yi during Wang's official visit to the Philippine capital on July 5 and 6.
The Chinese diplomat conveyed President Xi Jinping's cordial greetings to Marcos in which he stated his expectations that the two heads of state will chart a course together and provide strategic guidance for bilateral relations.
Philippine Press Secretary Rose Beatrix Cruz-Angeles told the media last week that Marcos has accepted Xi's invitation to visit China. She said the date of the visit is yet to be set.
Marcos, who was elected president in May, said China-Philippines relations are not confined to the South China Sea issue. He was alluding to the territorial issue that once strained bilateral relations.
His predecessor, Rodrigo Duterte, had also chosen to deepen trade and diplomatic relations with China instead. Analysts expect Marcos to continue Duterte's policy.
"Marcos will likely build on the friendly and productive bilateral relations that his predecessor fostered with China," said Lucio Blanco Pitlo III, a research fellow at the Asia-Pacific Pathways to Progress Foundation, a think tank in Manila.
Pitlo said that under Marcos, the Philippines is likely to expand exchanges with China. More Chinese investments, aid, infrastructure finance and tourists can also help with the economy's recovery from the pandemic's impact.
"Marcos recognizes the territorial and maritime disputes between both sides, but will not make it the front and center of (bilateral) ties," he said.
Enrico Gloria, assistant professor of international relations at the University of the Philippines, said: "Marcos would definitely not veer away from the position adopted by former president (Duterte) toward China." He sees Marcos emphasizing the significance of China in Philippine foreign policy, focusing more on bilateral cooperation and development assistance.
Wang's trip to Manila symbolized China's commitment to bilateral relations, Gloria said.
During his meeting with Wang, Marcos said China is not only a neighbor but also a partner and friend of the Philippines.
Austin Ong, an analyst at the Integrated Development Studies Institute, a think tank, said Wang is the second senior Chinese official to visit the Philippines under the Marcos presidency. Chinese Vice-President Wang Qishan attended Marcos' inauguration on June 30.
"This shows the vital importance China places on the Philippines and the high regard they have (for Marcos)," Ong said.
China's offer of friendship and solidarity reinforces Marcos' statement that China is a "dependable friend" of the Philippines, he said.
For Pitlo, Wang's official visit signifies China's "investment in neighborhood diplomacy and its desire to sustain gains from warm ties in the last six years under Duterte's watch".