Ready meals cooking up success for retailers
Share - WeChat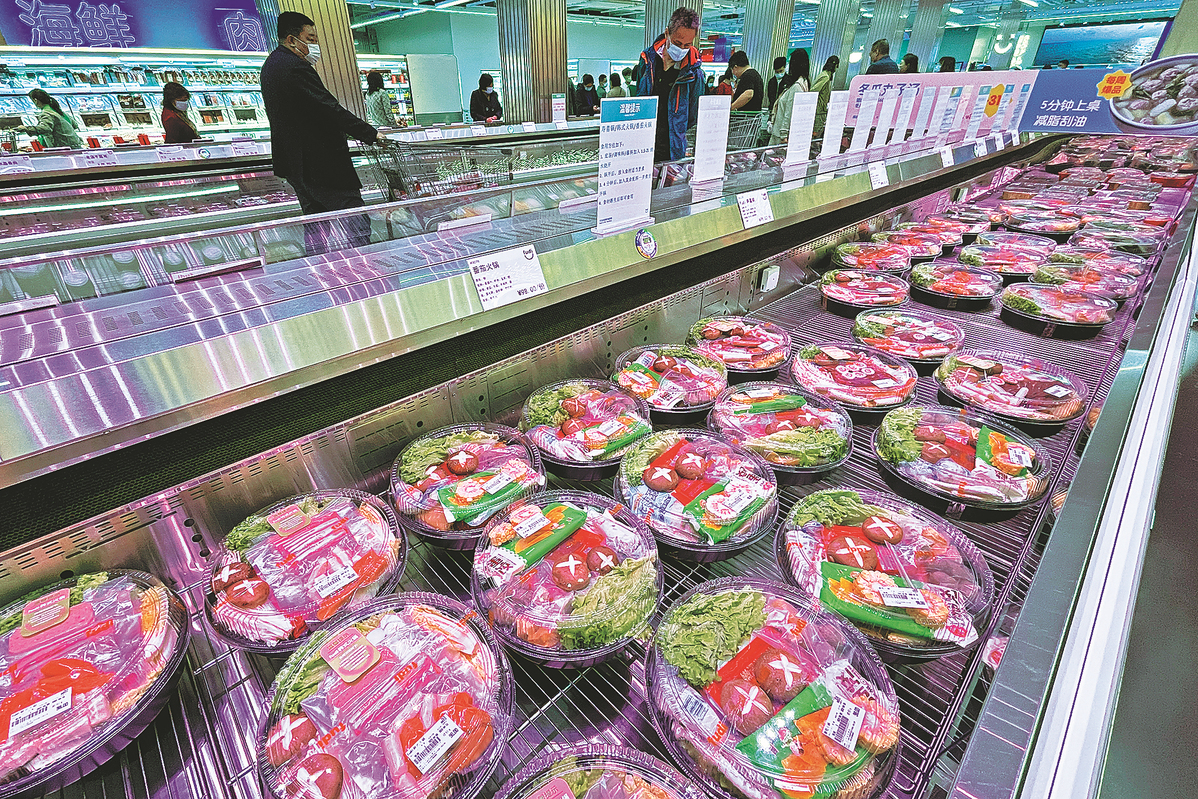 Ready-to-cook dishes have gained huge popularity among Chinese consumers as the COVID-19 pandemic rages on and the digital economy thrives.
Last year, many Chinese online retailers and grocery stores including Meituan Maicai, Freshippo, and JD Super reported a jump in their turnover of ready-to-cook meals.
JD Super, the supermarket arm of Chinese e-commerce giant JD, said in an industrial report that its sales of premade food soared 156 percent year-on-year in 2021.
The major consumers were people aged 36-45 as their spending accounted for 36 percent of the total, according to the report released by JD Super and the JD Research Institute for Consumption and Industrial Development.
Meanwhile, buyers aged 26-35 registered the fastest growth rate of 171 percent year-on-year in terms of premade food expenses, the report said.
"Ready-to-cook food provides great convenience for consumers, especially amid COVID-19 outbreaks when people reduce dining out and try to whip up a big meal at home," said Li Feng, head of the premade food department in top Chinese tech and retail company Meituan.
The upgraded cold chain logistics and central kitchens as well as booming e-commerce platforms also fueled the sector, Li added.
According to estimates from Guangzhou-based consultancy iiMedia Research, China's premade food market will rise to 516.5 billion yuan ($76.96 billion) next year and exceed 1 trillion yuan by 2026.
A growing number of catering enterprises and restaurants have shifted their focus to online channels and premade food as part of efforts to stay afloat amid virus outbreaks.
The restaurant chain Xibei Group launched its own half-cooked food brand in 2021 and will build a 1 billion yuan central kitchen in the city of Tianjin. Nongfu Spring, one of China's largest bottled water producers, has also tapped into the market by selling ready-to-heat boxed meals.
The emerging sector is expected to see strong growth momentum in the post-pandemic era as pandemic control becomes a "new normal" and people are more proficient in digital life, experts said.
In early June, JD announced its plan to cultivate 20 semicooked food brands which will rack up sales of 100 million yuan in the next three years and strengthen support for retail channels, marketing and cold chain logistics.
E-commerce platforms should step up inspections of food quality while utilizing their technological advantages to understand customer demands and facilitate product development, Hu Kui, general manager of a Henan-based food company, said at an industry roundtable.
Li said the key to the premade food industry lies in all sorts of products and various flavors. "Food makers need to increase investment in research and development to roll out more ready-to-cook dishes and make them as authentic as possible," he said.
Industry insiders also called on regulators and authorities to establish national industry standards as soon as possible and bring the sector under effective supervision.
The China Cuisine Association issued its criteria for premade food recently, involving raw materials, food processing, labels and packages. Provinces including Shandong, Jiangsu and Guangdong have also set clear standards to promote the industry's healthy development.