Stimulus steps to boost vehicle biz
Share - WeChat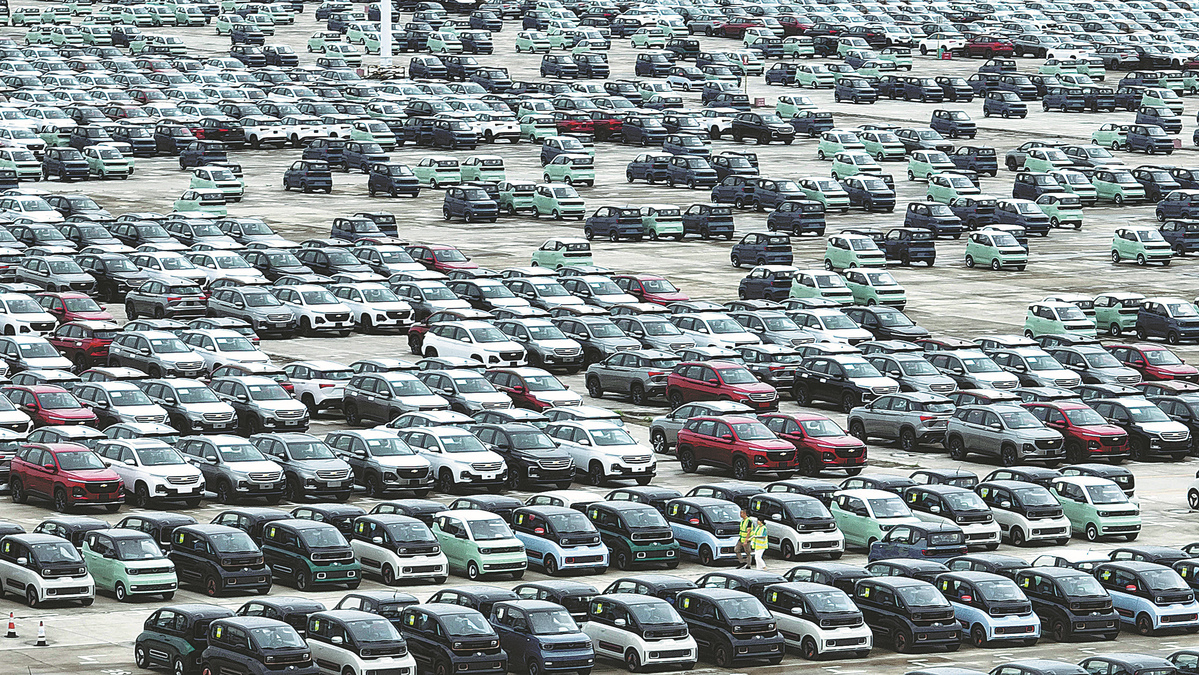 Domestic carmakers have good day on Hong Kong bourse
China's latest move to bolster consumption of automobiles will further stimulate consumers' buying sentiment, provide a strong impetus for the auto market and promote the country's consumption recovery from the fallout of COVID-19, industry experts said.
China will implement a slew of stimulus measures like supporting the purchase and use of new energy vehicles, scrapping unreasonable regulations on secondhand vehicle sales and encouraging the replacement of old vehicles to spur car consumption, according to a notice released by the Ministry of Commerce and 16 other central government departments on Thursday.
The country is considering extending purchase tax exemptions for NEVs, which will expire by the end of the year, the notice said. More efforts should be made to propel spending on NEVs in rural areas, speed up construction of charging facilities and guide charging pile operators to appropriately lower charging service fees.
"These measures are targeted and practical, with an aim to remove some institutional obstacles that have long hindered development of the auto sector and promote the recovery of vehicle consumption," said Sheng Qiuping, vice-minister of commerce.
The country's automobile consumption is expected to achieve rapid growth in the second half, fueled by better containment of the COVID-19 pandemic and a package of stimulus measures taking effect, which will play a positive role in keeping economic growth stable, Sheng said.
Chinese mainland automakers saw their share prices surge dramatically in Hong Kong on Thursday. Shares of Great Wall Motors jumped 6.37 percent to close at HK$15 ($2.2), while Geely Auto rose 6.71 percent to end at HK$17.5.
The country will also boost parallel imports of cars, which allows auto dealers to purchase vehicles directly from foreign markets and then sell them to customers in China. It will also encourage financial institutions to increase credit support for automobile consumption and develop leasing for vehicles, according to the notice.
"The introduction of a series of supportive measures to spur car consumption is conducive to promoting the development of the whole industrial chain of automobiles and stabilizing the country's economic growth," said Zhang Hong, secretary-general of the China Auto Dealers Association's new energy vehicle branch, adding that the auto industry accounts for a relatively high proportion in the overall consumption market.
Zhang said although the COVID-19 outbreak weighed upon China's auto market in the first half, NEV sales have seen robust growth. The accelerated construction of charging facilities and the recycling of power batteries will give a big boost to the development of the NEV industry, he added.
Data from the China Association of Automobile Manufacturers showed NEV sales in the January-May period totaled 2 million units, soaring by 111.2 percent from the same period of 2021.
Roy Lu, a Shanghai-based auto analyst, said the package of measures will clear obstacles that affect auto consumption and pave the way for its healthy development.
Compared with financial stimuli like halved purchase taxes for certain gasoline models, he said, moves the ministries unveiled this time are aimed at long-term results.
"If well implemented, their positive effects on the market could last for up to five years," said Lu, referring to measures about used vehicle transactions and parallel imports.
He said NEV sales will maintain their rapid growth as well, as they sit atop the package of measures, in which local authorities are asked to facilitate their sales and use.
Considering the role of NEVs in China's auto sector, Lu said authorities are very much likely to extend the purchase tax-free policy for NEVs.
Currently, they are exempt from the tax until the end of this year, and the Ministry of Industry and Information Technology has said it is researching the issue.