Tsai playing secessionist games with history
Share - WeChat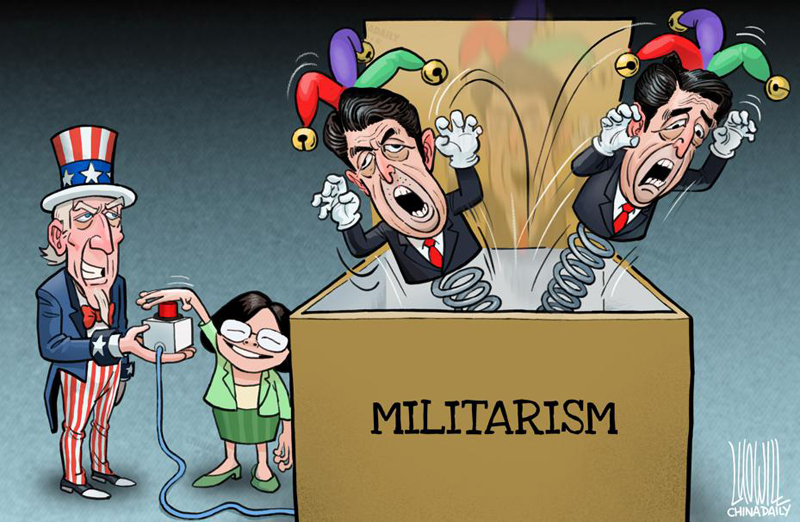 The Democratic Progressive Party of Taiwan, due to its relations with Tokyo, has long chosen to ignore the commemoration of Taiwan people's fight against the occupation by Japan in 1895.
It was in that year when the Qing Dynasty (1644-1911) was forced to sign the Treaty of Shimonoseki after losing the Sino-Japanese War, ceding Taiwan island to Japan.
The scale of the war was reflected in the casualties it caused. About 14,000 Taiwan people died, while the population of the island was 2.6 million at that time.
But the DPP unexpectedly organized a ceremony on July 2 to commemorate the 127th anniversary of the war, or Yiwei War as it is known in Taiwan, Yiwei being the name of the year 1895 on the lunar calendar. At the ceremony in Taoyuan of the island, Taiwan leader Tsai Ing-wen made an address that has only exposed the real motives of the DPP putting on the show, as well as her secessionist outlooks on history.
In her speech Tsai just took advantage of the occasion to give the impression that the Taiwan people are fighting a war of "independence".
It is true those Taiwan people sacrificed their lives to protect their home. But they did it to keep Taiwan part of China, as the enemy was trying to seize the island by force and separate it from the motherland. As such, it is absurd for Tsai to attempt to make their lives a sacrifice on her altar for her secessionist cause.
If Tsai really took Taiwan's history seriously, she would not have chosen to play games with history, particularly the largest war the Taiwan people have fought against invaders.
Thursday is the 85th anniversary of the July 7th Incident, or Marco Polo Bridge Incident, which marked Japan initiating its full-scale aggression in China. It is a day that Chinese people around the world reflect on, but the Tsai administration chose to keep a studied silence on the day.
Five years ago, on that day, Tsai sent a tweet of sympathy in the Japanese language for a rainstorm, in which she extolled the "Japan-Taiwan friendship", as if it was the Taiwan people that had caused Japan deep wounds that remain unhealed now.
Most Viewed in 24 Hours
China Views