Livestreaming gets smart on knowledge sector
Share - WeChat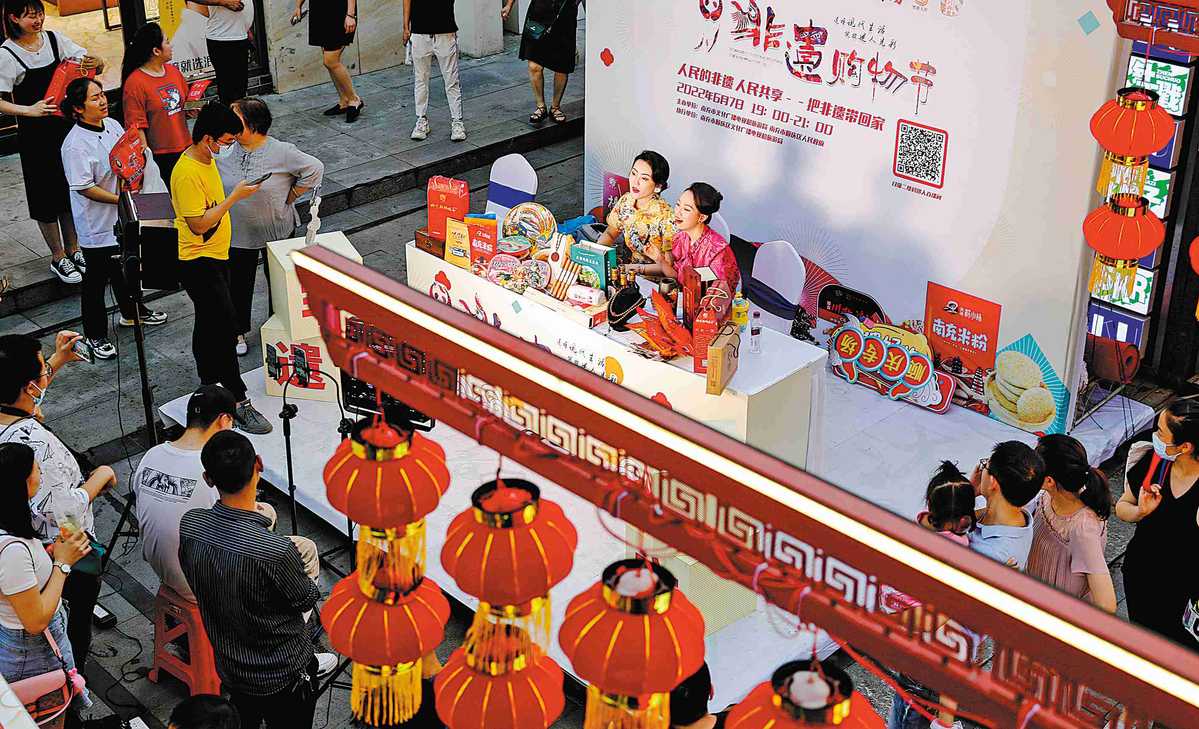 Due to changes in academic tutoring, education giant turns to novel growth points with e-commerce. But is it sustainable?
Browsing through China's innumerable e-commerce livestreaming channels, it is not uncommon to hear phrases like "Hey guys! Lowest price ever! Three, two, one … buy it now! Now!" to drum up sales.
But sometimes, treading a different path can also strike a chord with a staggering number of Chinese consumers, as is the case of Dong Yuhui, a 29-year-old livestreamer from education giant New Oriental Education and Technology Group.
"No need to hurry. It doesn't matter if you buy the product or not, but do listen to a story." That is what he tells consumers, peppered with free knowledge in English related to selling items and injecting fascinating anecdotes about luminaries like William Shakespeare.
The unique style of combining a talk show format and English courses with e-commerce livestreaming quickly notched up over 20 million followers, ranging from celebrities to regular folk, dancing to Dong's tune within just 20 days. Moreover, the success broke the long-standing landscape of the e-commerce livestreaming sector and stimulated a "spillover" effect.
Industry insiders said that several livestreaming platforms already planned a big foray into "content and knowledge-based" livestreaming, just like what Dong does, to attract consumers, rather than simply using pretty faces to sell products online.
While the average daily turnover of the top 50 livestreamers during this year's 618 shopping gala was 18 million yuan ($2.7 million), Oriental Selection, the livestreaming arm of New Oriental which Dong works for, has raked in 69.85 million yuan at its peak one day.
Zeng Ying, an analyst on brand retailing at market consultancy Analysys, said such a new style of selling goods online is refreshing, different from thousands of e-celebrities flocking to cash in on online fame.
"In China, the booming livestreaming e-commerce sector has become increasingly crowded and homogenous, so a unique way like Dong's can quickly stand out and attract buyers' attention," Zeng said.
Qin Jiayu, a 34-year-old programmer from Shenzhen, Guangdong province, bought three bags of rice on Dong's livestream, which he said was a "comfortable and worthy "buying experience.
"I feel like I am paying for courses, for the English expressions and know-how I learned from the livestreaming sessions. The rice I bought is just like a giveaway," he said.
Currently, Oriental Selection mainly sells books and agricultural products including corn, cherries and edible fungus. The price of agricultural products is above the average price of other livestreamers-for instance, one piece of corn costs about 6 yuan, which normally goes for around 3 yuan.
Earlier this year, New Oriental founder Yu Minhong and his colleagues took a giant leap of faith in a different direction to develop Oriental Selection, following the government's enactment of the strictest regulations ever placed on the billion-dollar private tutoring sector in July last year.
"The goal of e-commerce livestreaming is to help drive rural revitalization, make high-quality agricultural products available to consumers and also increase farmers' incomes," Yu said.
"We can also leverage our training and online technology advantages to diversify into agricultural training online, which can help farmers broaden their knowledge and improve their skills," he added.
As Dong and Oriental Selection become increasingly popular, Yu disclosed in his live broadcast on June 20 that the Beijing-based education company is planning to open an e-commerce academy to train livestreamers.
According to market consultancy iiMedia research, the total revenue of China's e-commerce livestreaming sector will reach 1.2 trillion yuan and is expected to hit 2.14 trillion yuan over the next three years.
"Watching e-commerce livestreaming has gradually become an online habit for many people, as the number of such users will reach 660 million this year, almost half of the country's total population," iiMedia said.
However, the market consultancy also pointed out that the industry is facing increasing challenges such as "lack of high-quality livestreamers, unique content and high-quality products".
"Many of the internet celebrities and anchors who are doing e-commerce livestreaming need a kind of cultural training, and we think New Oriental is the best company to lead this," Yu said.
"To build such a school is to improve the overall ability of Chinese livestreamers. If it is established, I will go to teach in person and also invite famous livestreamers such as Dong Yuhui to join," he added.
Earlier this month, China's National Radio and Television Administration and the Ministry of Culture and Tourism released a new regulation to tighten scrutiny on livestreamer behavior.
The guideline emphasized that livestreamers must uphold positive values, create and promote positive stories and maintain a wholesome image. In addition, it advised hosts to self-regulate and avoid content that only focuses on viewing traffic, has morbid aesthetics, caters to fandom culture or promotes money worship.
Livestreamers in professional fields like law, medical, education and finance must obtain relevant qualification and approval from the streaming platform, the guideline noted.
Before Yu, Luo Yonghao, founder of Smartisan, also jumped onto the bandwagon of training livestreamers in February. He founded an academy with the aim of nurturing more talent for the sector. Luo acts as honorary dean, while Li Liang, former vice-president of New Oriental, serves as the dean.
Luo Yonghao sold three training courses for beginners and advanced livestreamers as well as an operation class for merchants. On the first day, more than 1.15 million yuan worth of such courses were sold. The course for beginners even sold out before his livestream ended that day.
"The status quo is that those who can do livestreaming cannot do training, and those who can do training will not do livestreaming," he said. "In fact, our e-commerce livestreaming academy does not simply want to cultivate some big internet celebrity anchors, but to nurture talent to the whole industry to generate economic benefits and social value."
According to Luo, the so-called interest in e-commerce livestreaming means that when people do not have a clear willingness to consume, the algorithm of the system can make relatively high-level intelligent recommendations, which leads to some consumption.
"Such extra consumption will make a huge contribution to growing domestic demand and boosting the overall economic environment. Therefore, in this sense, the industry has great potential and will create great social value," Luo said.
Will a new business model like New Oriental's last long? As the e-commerce livestreaming sector tends to focus more on content and knowledge, industry experts have begun to question this.
After the stock price of Koolearn-New Oriental's online arm-increased as much as 700 percent over the past month, foreign investors began to reduce their holdings, with Morgan Stanley being close to liquidation. Tencent Holdings, the former second-largest shareholder of the company, has greatly reduced its holdings from 9.04 percent to 1.58 percent.
"That is mainly because the explosive growth New Oriental saw in the past weeks is unsustainable, as the business logic has changed. Investors who invested in shares due to educational attributes have lost their valuation basis at this time," said Chen Liteng, an analyst at the Internet Economy Institute, a consultancy.
"After all, it is an education company and its resources and experience in livestreaming are still limited. It mainly sells agricultural products, but it is very difficult to control the quality of agricultural products. Besides, it also faces challenges like a high loss rate due to logistics," said Chen.
"The destination of e-commerce livestreaming is the product itself. Poor product quality has a fatal impact on the platform, resulting in a decline in word-of-mouth and user loss," Chen added.
For companies like New Oriental, to maintain such momentum, it is a must for the company to build a supply chain itself, which is of significance to its long-term quality control and growth, he said.