Creator and creature
Share - WeChat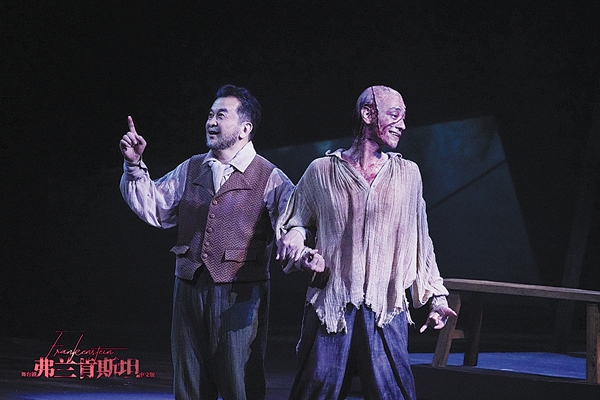 A Chinese version of Frankenstein is staged in Beijing, with four actors playing main roles, Cheng Yuezhu reports.
The play Frankenstein by Britain's National Theatre marked many Chinese theatergoers' first experience of watching theater in cinema halls, as it was the first performance to have been screened when NT Live first came to China in 2012.
Ten years later, the play based on British playwright Nick Dear's adaptation of the classic novel greets the Chinese audience with a new look, with its Chinese version that run at Beijing's Poly Theatre from June 22 to Wednesday.
Adapted from British writer Mary Shelley's fable published in 1818, the play highlights the odyssey of scientist Victor Frankenstein's creation, beginning with the creature's birth, and then his exile, education and the search for his creator. The Chinese version of the play is codirected by British theater director Dominic Dromgoole and Chinese director Li Ren. As the idea of the project was initiated in 2019, the subsequent COVID-19 pandemic posed challenges to the collaboration.
According to Li, he and Dromgoole first communicated via video calls to give structure to the play and then polish the details, before Dromgoole came to China and participated in the last four weeks of rehearsals.
Most Popular