Historic day for top court as Jackson sworn in
Share - WeChat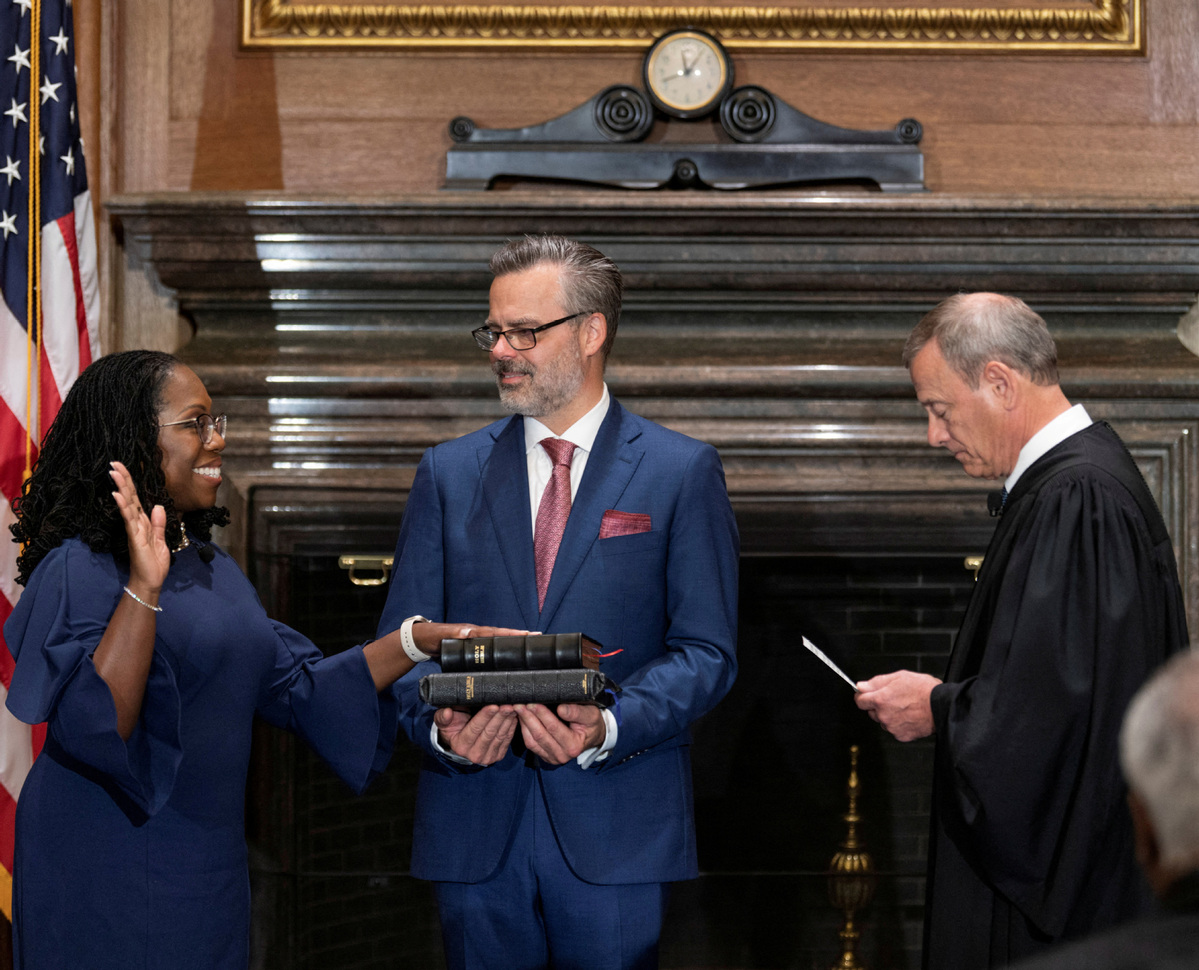 Ketanji Brown Jackson was sworn in Thursday as the Supreme Court's first black female justice, giving the court for the first time four female justices among its nine members.
The 51-year-old Jackson took two oaths on Thursday: a constitutional oath, administered by Chief Justice John Roberts, and a judicial oath, administered by Breyer.
Jackson was sworn in as the 116th justice of the Supreme Court, though her addition to the bench doesn't change the ideological balance of the court. She replaces the 83-year-old Justice Stephen Breyer, whom she clerked for after she graduated from Harvard Law School in 1996.
Jackson served eight years as a federal trial court judge, and last June was confirmed for a seat on the US Court of Appeals for the District of Columbia, where she was born, after also being nominated for that post by President Joe Biden. The Court of Appeals for the DC Circuit is considered the most important federal court next to the Supreme Court. She is the first Supreme Court justice since Thurgood Marshall to have represented indigent criminal defendants as a public defender.
Jackson joins the court as the US is in turmoil following the high court's conservative majority ruling on June 24 that overturned the 49-year-old decision in Roe v. Wade that gave women a federal constitution right to abortion. The court also expanded gun rights for the first time in more than a decade.
Biden on Thursday condemned what he called the "outrageous behavior" of the Supreme Court in overturning Roe and said Congress needed to codify it into law. Biden said for the first time that he supported ending the filibuster to protect a woman's right to an abortion and a broader constitutional right to privacy.
On Thursday, the court's conservative majority dealt the administration a blow in its fight against climate change, limiting how the nation's main anti-air pollution law can be used to reduce carbon dioxide emissions from power plants. The court said that the Clean Air Act doesn't give the broad authority to regulate greenhouse gas emissions from power plants that contribute to global warming.
The Biden administration did get a favorable ruling Thursday from the court. It said the administration can scrap a Trump-era immigration policy known as Title 42 that was at the center of efforts to deter asylum-seekers, forcing some to wait in Mexico. Two conservative justices joined their three liberal justices in siding with the White House.