Kenyan students see Mandarin as career launchpad
Share - WeChat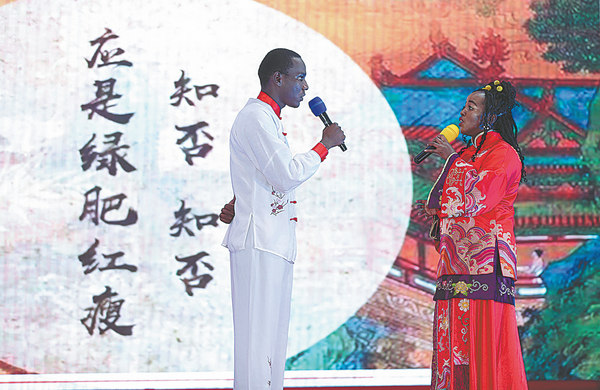 NAIROBI - Dressed in a classy maroon suit paired with shiny leather shoes, Hansnick Omondi enthralled the audience at Kenya's largest and oldest university with an eloquent speech in Mandarin that extolled the virtues of friendship and hard work.
The 22-year-old Chinese language major at the University of Nairobi's Confucius Institute created quite a stir with his refined mannerism, prowess and dynamic stage presence at the preliminary round of Chinese language proficiency contest held on Friday.
"It took me about four months to prepare for the speech, which touched on China-Kenya cooperation, mainly in infrastructure development, our mutual friendship and its benefits to all parties," Omondi said, after he was declared the winner in the Kenya division of the 21st edition of the Chinese proficiency competition for foreign college students.
The young man, who is pursuing tourism studies at the University of Nairobi, will head to the next round where he will have to showcase his mastery in spoken Mandarin.
Born into a middle-income family in Nairobi, Omondi became interested in the Chinese language in high school, thanks to his elder sister who was pursuing a certificate course in the language.
She often spoke in Mandarin in front of her little brother, allowing him to pick up some basic expressions.
Admitting that he still needs to fine-tune intonation and improve on characters, Omondi says proficiency in Chinese will help him build a career in diplomacy or hospitality.
At Friday's preliminaries, all the 15 contestants-shortlisted from 200 students from Kenya's four public universities-left the audience spellbound with their speech, singing, dancing and martial arts.
Mitchell Muthoni, a 23-year-old major in Chinese language at the University of Nairobi's Confucius Institute who scooped the second prize, stole the thunder when she performed Li Hua Song, delivered in the way of the Peking Opera.
Her silky vocals, as she belted out the popular classic in a dazzling dress, wowed the auditorium crowd that included diplomats, local officials, students and faculty members.
The speech part of her presentation, which lasted about three minutes, was a tad challenging, but the Nairobi-born student disclosed that her confidence and preparation helped her sail through.
Inspired to study Chinese after watching movies on the country's rich culture, Muthoni says she is looking forward to a successful career in the corporate world or international relations.
"It is amazing how Kenyan youths are getting exposure and securing jobs, courtesy of Chinese language studies," Muthoni says.
She adds that her four years at the university, studying the language and culture of another country, have inspired younger peers to follow suit.
Stephen Kiama, vice-chancellor of University of Nairobi, lauds the presentations by students and calls them a testimony to the growing affinity for the Chinese language and culture.
Kiama stresses that by studying Mandarin, local youths have a better opportunity of securing gainful employment. He says they would act as a bridge in fostering Sino-Kenyan ties in diverse sectors.
Cynthia Irungu, a 23-year-old business major who is pursuing a certificate course in Chinese at Moi University, agrees that Mandarin has inspired her and others to dream of a bright future.
Irungu bagged the third prize after presenting a traditional Chinese song on the sacrifices made by parents to ensure their children are prosperous and happy.
Prior to the performance, she said her Chinese tutor took her through rigorous practice sessions in addition to encouraging her to be calm and confident on stage.
While growing up in the lush green central Kenyan county of Nyeri, Irungu was exposed to Chinese movies and kung fu, which motivated her to study Mandarin when she joined the university.
She is confident that Kenyan youths mastering the language will help forge a stronger bond between the two nations.
Brian Otieri, a 21-year-old Chinese language major at the University of Nairobi's Confucius Institute who impressed the audience with his tai chi and calligraphy skills, says he looks forward to becoming a translator or a teacher.
The Nairobi-born youth says his exposure to Chinese culture through movies at a tender age prompted him to learn Mandarin. He hopes it will allow him to work in a cross-cultural environment.
Most Popular