British barristers go out on strike in dispute over legal aid funding
Share - WeChat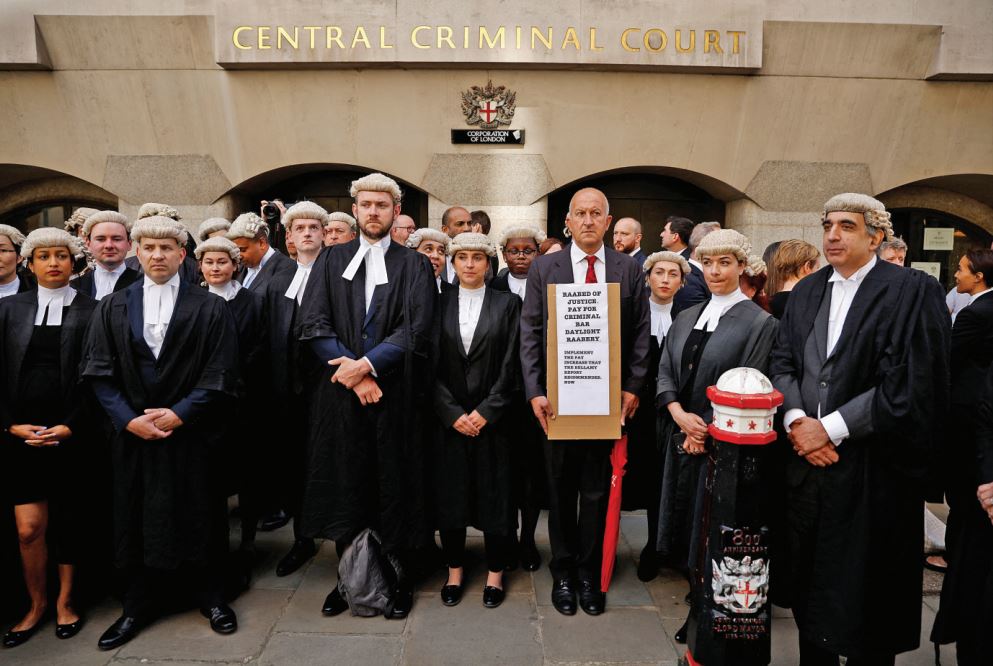 Criminal barristers in England and Wales staged a two-day walkout on Monday and Tuesday as part of what threatens to become a growing wave of industrial action over legal aid fees.
The strike action is the first that legal professionals have taken since 2014, which was their only previous stoppage, and unless progress is made, an additional strike day will be added with each passing week, culminating in a full week of walkouts in the week beginning July 18.
The criminal legal aid review recently recommended a 15 percent rise in fees, but members of the Criminal Bar Association (CBA) say a backlog of 58,000 cases in the crown court system, to which the new fees will not apply, and cuts to services, mean it is not enough.
Contrary to the popular image of the profession being well paid, many criminal barristers are freelancers appointed by solicitors to work on individual cases.
The CBA says that since 2006, barristers' real earnings have gone down by 28 percent, which has been particularly effective at driving people away from the sector in their early years of work.
Around 81 percent of more than 2000 CBA members who voted backed strike action, which will see them refusing to take on new cases or conduct what is known as return work, which means stepping in on behalf of colleagues who are involved in other overrunning cases.
Andrew Fitch-Holland, a Nottingham-based criminal barrister, told the Guardian newspaper the situation was getting desperate.
"People are at breaking point, I've seen colleagues in tears," he said. "I know of the level of personal debt people are taking on. We are all struggling to make ends meet and frankly sick and tired of not being paid for the work we do.
"There have been a series of brutal cuts to our funding at a time when also, over the years, the demands of the job have increased. So we're not only getting paid less, but we're being asked to do more for less."
Chair of the CBA Jo Sidhu said the dispute was not solely about pay, but about "redressing the shortfall in the supply of criminal barristers to help deal with the crisis in our courts".
"Our judges have been forced to adjourn 567 trials last year at the last minute because there simply wasn't a prosecuting or defense barrister available," he continued.
"These shortages in manpower are causing increasing misery to victims and those accused who are desperately waiting, sometimes for years, to get justice and to see their cases finally resolved in court."
Deputy Prime Minister Dominic Raab, who was a lawyer before entering politics, called the industrial action "regrettable" and said it would "only delay justice for victims".