Automobile incentive policies fuel nationwide consumption
Share - WeChat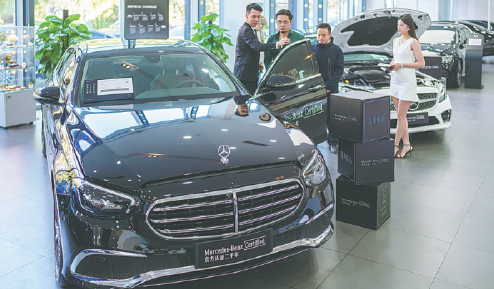 China will strengthen policy support for the automobile industry in an effort to release auto consumption potential, the State Council said at a meeting on Wednesday.
Implementation of these policies is expected to stimulate vehicle and related sales by about 200 billion yuan ($29.83 billion) this year.
Measures will be taken to promote the sales of used cars. From Aug 1, China will remove restrictions on the cross-regional transfer of secondhand vehicles that meet national emission standard V.
Auto sales companies that apply for transfer registration will be managed separately and issued temporary license plates starting from Oct 1. With a series of new policies for used vehicles in recent years, the circulation of such vehicles has been improved and the market has maintained a growth trend. Last year, sales of used vehicles reached 17.59 million units, up 22.6 percent year-on-year, according to statistics from the China Passenger Car Association.
While compared with European countries, the used vehicle market in China is still fledgling. With more measures being taken in the used car sector, the market is expected to usher in new opportunities, the China Automotive Technology and Research Center Company said in a report.
Purchases of new energy vehicles will be supported.
An extension of the purchase tax exemption policy for NEVs, which is to expire by the end of the year, will be explored considering current conditions, the State Council said.
The purchase tax accounts for 10 percent of the selling price of vehicles.
China rolled out the tax incentive in 2014 and extended it twice to stimulate the sales of NEVs.
As an eco-friendly product, the NEV is expected to help China achieve its dual carbon goals-peaking carbon emissions before 2030 and achieving carbon neutrality before 2060.
In addition to an extension of the tax exemption, China is launching a campaign to promote NEVs in its vast countryside.
The "going to the countryside "campaign for NEVs has attracted more than 20 Chinese and international carmakers to offer more than 70 models for car buyers in rural areas.
Last year, about 1.07 million NEVs were sold as a result of the campaign, a year-on-year rise of nearly 170 percent, according to the China Association of Automobile Manufacturers.
In the first five months of this year, 2 million NEVs were delivered in China, a rise of 111.2 percent from the same period last year, despite a 12.2 percent year-on-year fall in sales in the overall vehicle market, according to CAAM.
In addition, China will also improve the policies of imported vehicles and support the consumption of parallel imports, which refer to automobiles imported by merchants who are not authorized dealers.
Since the State Council launched the vehicle parallel import pilot in 2014, the imported vehicle volume has increased, meeting the diversified demands of consumers.
Cui Dongshu, secretary-general of the CPCA, said without dealers, parallel imported vehicles have price advantages and can help realize the synchronous launch of overseas products in China without a complicated process.
With further policy support, vehicle parallel imports are expected to remove complications, such as the domestic and foreign standards differences, and expand the pilots.
Up to now, of the 29 vehicle import areas nationwide, 22 have launched parallel import businesses.