'Make international science, technology cooperation more open'
Share - WeChat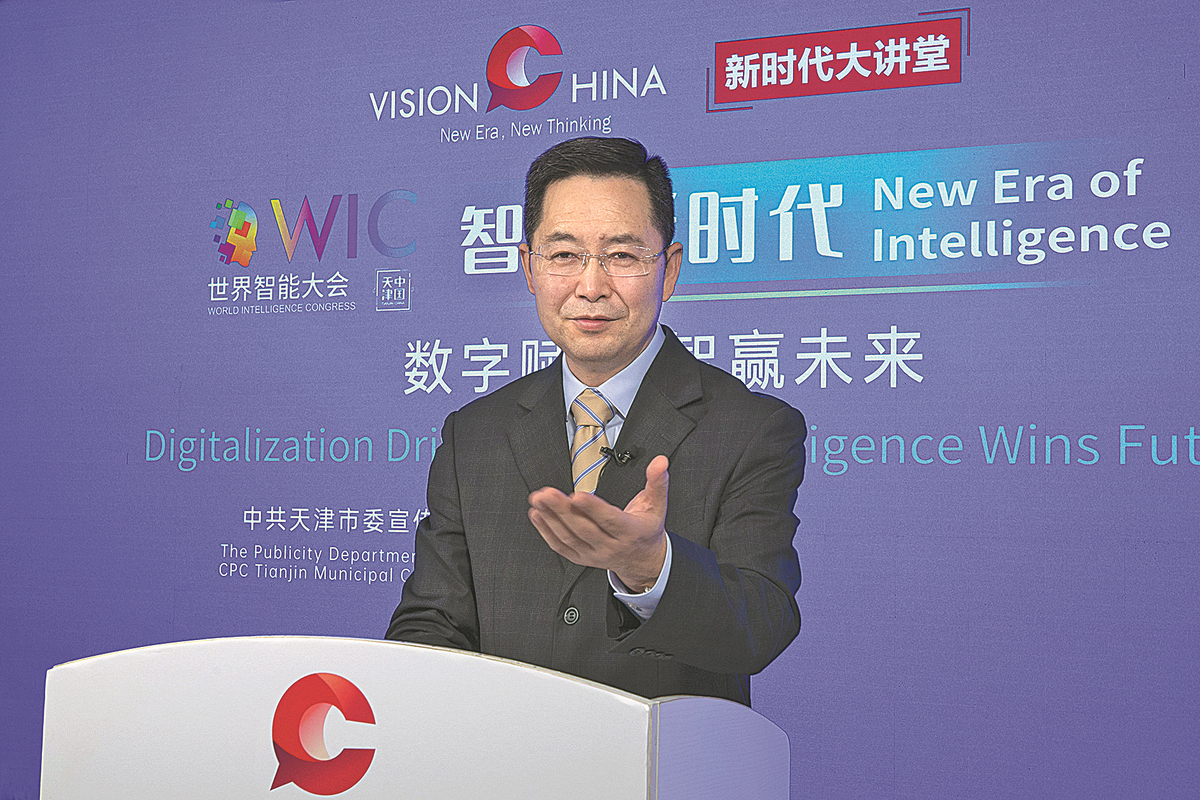 As emerging technologies such as artificial intelligence are triggering profound changes and lifting the curtain on a "new era of intelligence", more efforts are needed to create an open innovation ecosystem and promote international scientific and technological cooperation, said Qu Yingpu, publisher and editor-in-chief of China Daily.
Qu said at the latest Vision China event held on Friday that in the era of globalization, the digital economy of one country is intertwined with those of other countries, and industrial chains, supply chains and value chains are also inseparable from each other across borders.
For self-serving reasons, some countries have adopted technological blockades, cut off chip supplies and hindered normal exchanges, which have been opposed by people of insight in a myriad of countries, he said.
"We should maintain an open global innovation network, and help make international science and technology cooperation more open, inclusive and mutually beneficial via faster and deeper international media exchanges and cultural interaction," Qu said.
The publisher also highlighted the need to empower mass communication with innovative technologies to keep pace with the times.
His comments came as a new round of scientific and technological revolution and industrial transformation advances by leaps and bounds. Technologies and products once only seen in works of fantasy and science fiction have increasingly become reality and been integrated into people's lives.
Qu recalled that more than 10 years ago, he visited the World Publishing Expo, the largest global trade exhibition for the news publishing and media industry, in Hamburg, Germany. He was wowed by then forward-looking technologies and creative products such as electronic paper, foldable screens and touch screens, which were still in conceptual design stages at the time. But now, they are commonplace in people's lives.
As technologies rapidly evolve, China has also emerged as a pioneer in AI, ranking first in the world in the number of AI patent applications. According to a report from Stanford University, China filed more than half of all the world's patent applications in the field of AI last year, and Chinese researchers have been the most prolific over the past several years, publishing 27.5 percent of all AI journal articles worldwide.
"Science and technology are the common wealth of mankind. They should be people-oriented, and more importantly, benefit mankind," Qu said, adding that more efforts are needed to use technologies to solve problems facing the public.
While praising the positive role technology plays in reshaping the world, Qu also acknowledged that technology has always been a double-edged sword and called for more efforts to improve global governance over technology to better build a community with a shared future for mankind.
"While AI can be used to restore old photos and bring back moving moments for us, and voice-recognition technology can be used to enable people to have virtual conversations with deceased family members, some technologies have been misused to engage in virtual currency fraud," Qu said.
His views were echoed by Zhang Yaping, vice-president of the Chinese Academy of Sciences.
"Throughout history, the scientific and technological revolution has brought not only earthshaking changes to human society, but many new risks," Zhang said.
"The ethics of science and technology represent a code of conduct that regulates the risks and challenges in the process of technological innovation. Ethics and innovation should have coordinated development and benign interaction,"Zhang added.
Qu added that, "We must always stand on the right side of history, guide scientific research with proper ethics, improve human well-being with more scientific and technological innovation, better solve and respond to the problems and challenges of global development as well as help build a better world."