Xi prioritizes global development
Share - WeChat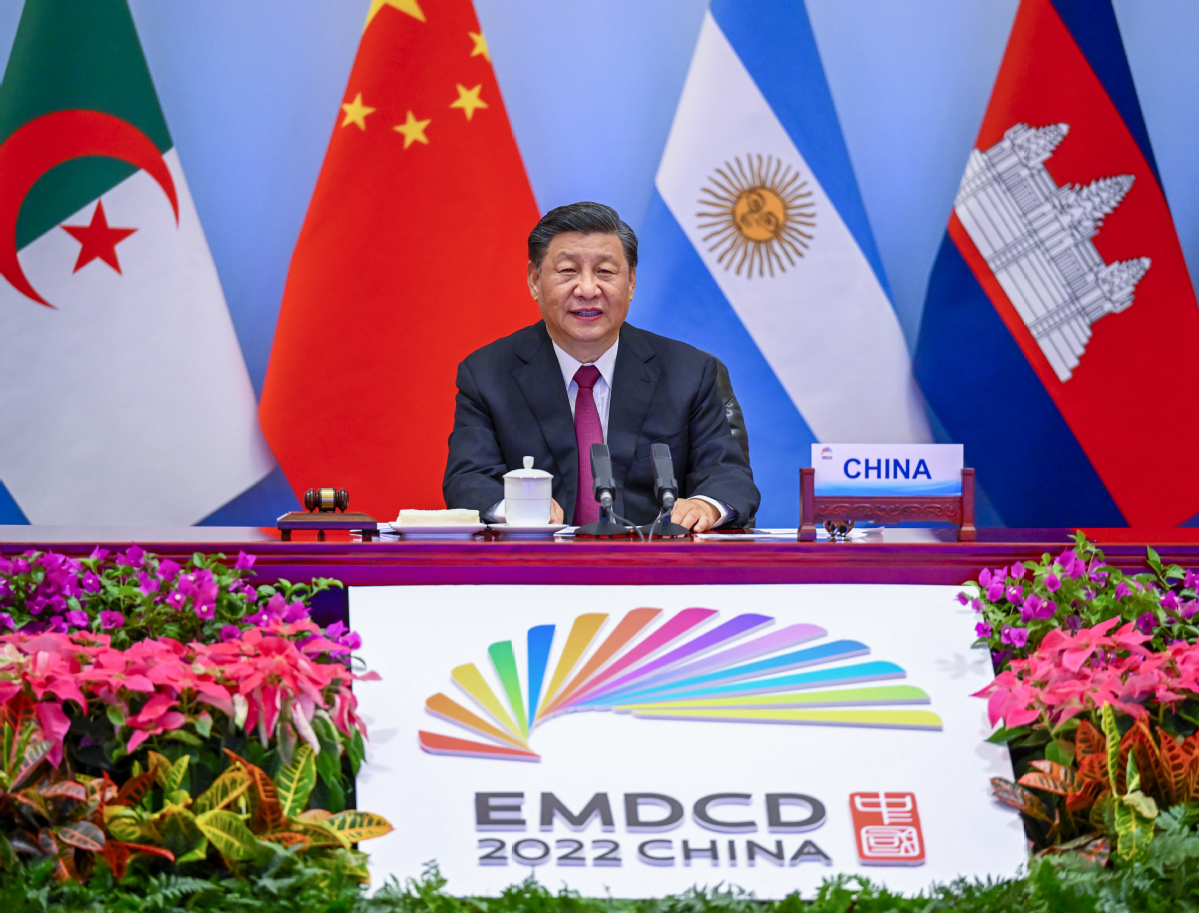 Forging High-quality Partnership For a New Era of Global Development

Chair's Statement of the High-level Dialogue

'United, equal, balanced and inclusive' partnership urged at high-level dialogue
President Xi Jinping has called for a "united, equal, balanced and inclusive" global development partnership, pledging that China will take pragmatic steps to support the implementation of the United Nations 2030 Agenda for Sustainable Development.
Xi made the remark on Friday when chairing the High-level Dialogue on Global Development in Beijing via video link.
The meeting came at a time when the COVID-19 pandemic is eroding decades of gains in global development, the implementation of the UN 2030 Agenda is encountering difficulties, the North-South gap keeps widening, and crises are emerging in food and energy security.
Citing his experience as a farmer in a small village on the Loess Plateau in Shaanxi province in the late 1960s and the dramatic changes experienced by the area's residents in the past decades, Xi said that only through continuous development can the people's dream for a better life and social stability be realized.
Given the volatile changes in the international situation, Xi called for joint efforts to build international consensus on promoting development, create an enabling international environment and foster new drivers for global development.
"Only when people all over the world live better lives can prosperity be sustained, security safeguarded and human rights solidly grounded."
He underlined the need to put development front and center on the international agenda and deliver on the UN 2030 Agenda, saying that no country or individual should be left behind.
Xi criticized some countries who have politicized and marginalized the development issue, built "a small yard with high fences", imposed maximum sanctions, and stoked division and confrontation, saying that emerging markets and developing countries are more resolved to seek strength through unity for peace, development and cooperation.
"Protectionist moves will boomerang; anyone attempting to form exclusive blocs will end up isolating himself; maximum sanctions serve nobody's interest, and practices of decoupling and supply disruption are neither feasible nor sustainable," Xi said.
He mentioned the Global Development Initiative he proposed last year at the UN General Assembly session, saying that China, as a developing country, will continue to support the implementation of the UN 2030 Agenda, allocate more resources for global development cooperation, and work with all parties to advance cooperation in priority areas, such as poverty reduction, food production and supply, and clean energy.