Plan promotes cultural digitalization
Share - WeChat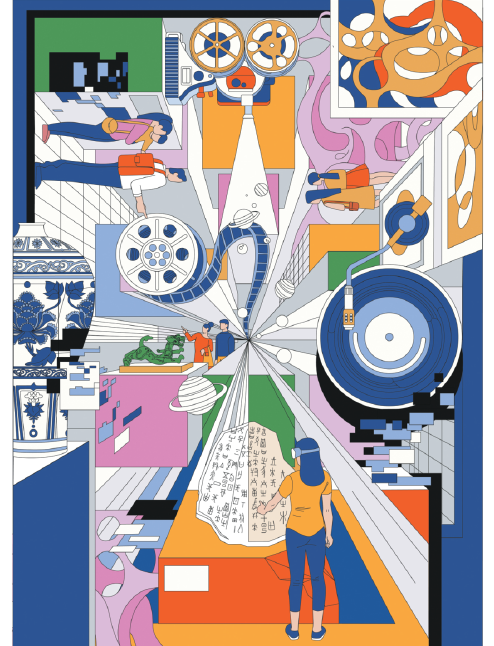 Guideline envisions big data system by 2035 that can be shared by all
The digital revolution has fundamentally altered the way in which culture and cultural services are produced, distributed and accessed.
With its wealth of cultural resources, China is set to embrace this revolution with a grand plan: the digitization of culture.
According to a new guideline published on May 22 by the Central Committee of the Communist Party of China and the State Council, China's Cabinet, the country aims to digitalize and connect its cultural resources.
Digitization is the conversion of data, documents and processes from analog to digital form, while digitalization is the transformation of business processes via digital technologies.
According to the guideline, a big data system focused on culture will be developed by 2035 to allow digitized cultural products to be shared by all people.
It also outlined eight key tasks, including: setting up a Chinese cultural database and building a national cultural network using existing cable TV network facilities and 5G mobile networks; speeding up the digitization of the cultural industry; creating companies engaged in the fields of cultural data collection, processing, trade, distribution and presentation; and supporting initial public offerings of eligible digital culture enterprises in the science and technology sectors.
More efforts are needed to formulate policies to support the digitalization of the culture industry, step up financial support, and establish national scientific and technological innovation centers and key laboratories to support cultural digitization, it added.
During this year's two sessions-the annual meetings of the National People's Congress, China's top legislature, and the National Committee of the Chinese People's Political Consultative Conference, its top political advisory body-national digitalization efforts, especially the digitization of cultural heritage and the development of digital infrastructure, were highlighted.
The digitization of museums, archives and libraries is one of China's most important undertakings in the digital era.
Bai Gengsheng, a member of the Standing Committee of the National Committee of the CPPCC, said that with the country making great progress in the study of cultural artifacts, more digital technologies should be used to preserve cultural heritage and make information available to the public.
"New methods could be used to bring ancient Chinese culture alive, especially methods that appeal to the young generation, like video games, online music, videos and literature," said Bai, who is also vice-president of the China Writers Association.
Shang Jin, director of the China Information Development Research Institute, said, "The latest move to promote the digitalization and high-quality development of the cultural industry is expected to help create new forms of online and offline consumption and inject fresh ideas into the traditional cultural industry."
"A digitized cultural database can drive research and innovation, which requires efforts from a variety of different entities, including art institutions and technology companies," Shang added.
The in-depth integration of the cultural industry and digital technology has spawned a variety of emerging businesses, such as online video streaming services, livestreaming, online gaming and music platforms, and virtual exhibitions and tourism.
On June 11, National Cultural and Natural Heritage Day, a virtual tour of the Great Wall was launched by the China Foundation For Cultural Heritage Conservation and the Tencent Foundation.
For the first time, the Great Wall has been digitized in the form of a video game. Players are not only able to enjoy an interactive virtual tour but can also restore the Wall, repairing the cracks virtually.
"Digital technology offers the public countless opportunities to visit cultural sites online and has promoted collaboration between cultural and technology companies. With the help of technology, one can visit a place miles and miles away and learn about it much more easily," said Li Zhe, a researcher at Tianjin University's School of Architecture. The university is a participant in the Great Wall project.
Museums have hastened digitization efforts as a result of the COVID-19 epidemic, so those who are housebound can enjoy exhibitions online.
According to a report by China Central Television on May 18, this year's International Museum Day, Beijing's Palace Museum has organized about 90 online exhibitions to date. Some 700,000 of its relics have been digitized, with 70,000 to 80,000 pieces being added annually.
The China Record Group, one of the country's largest and oldest record companies, launched an online music library in December comprised of some 100,000 recordings and about 200,000 songs dating back to the early 20th century. Some of the records were made before 1949, and include traditional Chinese operas and folk music. Earlier this year, the company announced a collaboration with popular short-video app Douyin to help make old records accessible to young people.
According to Fan Guobin, general manager of the record group, the company has been repairing and digitizing old records since 2011. In total, about 200,000 songs, 450,000 traditional instrumental compositions and 500,000 traditional Chinese operas have been digitized and shared online, including the materials in the online music library.
On April 23, the Music Research Institute of the Chinese National Academy of Arts also launched the Chinese Traditional Music Sound Archives, which comprises 7,000 hours of digital musical recordings collected by several generations of musicians.
The collection, which includes recordings from all over the country, some of which date back to 1950, is displayed under 12 categories, including Chinese folk songs, opera, dance music and quyi, a collection of storytelling, crosstalk and other spoken art forms.
Among the most important repositories are six works by Hua Yanjun (1893-1950), also known as Abing, a blind musician who specialized in playing the erhu and pipa. His compositions-including The Moon Reflected on the Erquan Spring, one of his most famous-were collected and recorded by musicologists Yang Yinliu and Cao An during the 1950s.
"This is the most comprehensive collection of Chinese traditional music, and we want to share it with a wider audience. Those who sang and played have mostly died, and even most of the musicologists who made the recordings are no longer with us. This is why we have a deep sense of responsibility to preserve these audio materials," said Han Ziyong, head of the academy, adding that audio recordings are vital as much of China's musical history was passed down orally.
Today's Top News
Editor's picks
Most Viewed