Gas-fueled cars falling out of favor as prices rise
Share - WeChat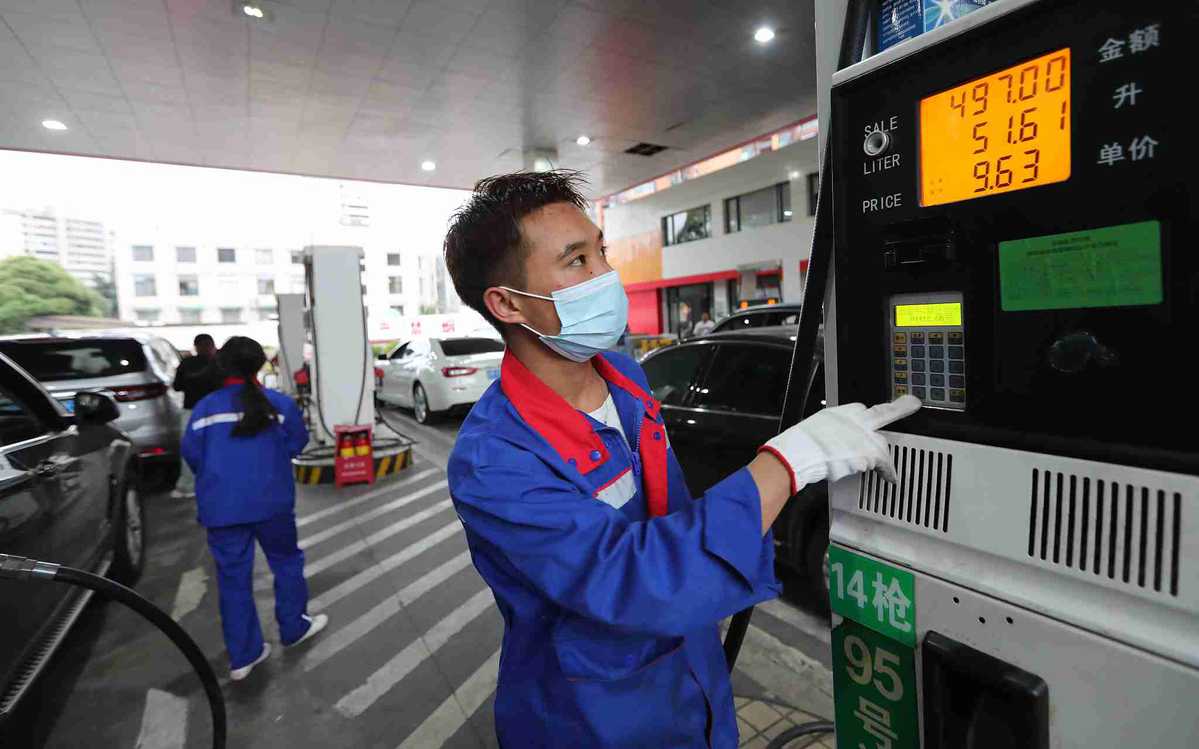 Auto experts predict the sales of small new energy vehicles in China will surge in the wake of the country raising retail prices of gasoline and diesel again.
China's top economic regulator, the National Development and Reform Commission, announced that gasoline prices increased by 390 yuan ($58.07) per metric ton and diesel prices increased by 375 yuan per ton on Tuesday, which marked the 10th price rise of its kind since the end of 2021.
In many cities, the latest retail price is more than 9 yuan per liter for 92-grade gasoline and over 10 yuan for 95-grade gasoline, both reaching their highest prices in years.
Zhang Xiang, an auto analyst and researcher at North China University of Technology, estimated that a vehicle with a fuel consumption of 10 liters per 100 kilometers that runs 15,000 km a year will cost 4,500 yuan more because of the oil price increase.
The successive rise in gasoline prices has prompted some car owners to switch to an NEV or stop driving altogether.
"I only drive (a gasoline-powered vehicle) when necessary, otherwise I will ride a bike or take a bus," Chinese news portal Jiemian quoted a Volkswagen owner as saying.
A Geely car owner in Shanghai said that his gasoline car has hardly been used recently, and is mostly left in the garage now. He chooses to drive a "cost-effective and convenient" electric vehicle.
Cui Dongshu, secretary-general of the China Passenger Car Association, said the current oil price will affect the sales of gasoline cars. In particular, many customers who planned to buy entry-level cars priced below 100,000 yuan will change their mind.
In contrast, rising oil prices will spur a shift to NEV consumption. With the increasing demands of families needing second cars and vehicle upgrades, the sales of small electric vehicles will jump, Cui added.
CPCA data showed that the sales of passenger vehicles decreased 12.8 percent year-on-year in the first five months of 2022, totaling 7.32 million units. The sales of NEV vehicles surged 119.5 percent during the same period.
China's oil price has adjusted as the international crude oil prices continuously rise. That will accelerate the withdrawal of fuel vehicles from market, Zhang said.
Chinese car company BYD announced plans to quit the fossil fuel-powered vehicle segment in April, becoming the world's first carmaker to do so. Changan and BAIC plan to stop selling fuel vehicles by 2025.
German auto giants Volkswagen and Mercedes-Benz announced their support for the European Union's 2035 ban on sale of fuel vehicles last week.