Summer set to heat up tourism market
Share - WeChat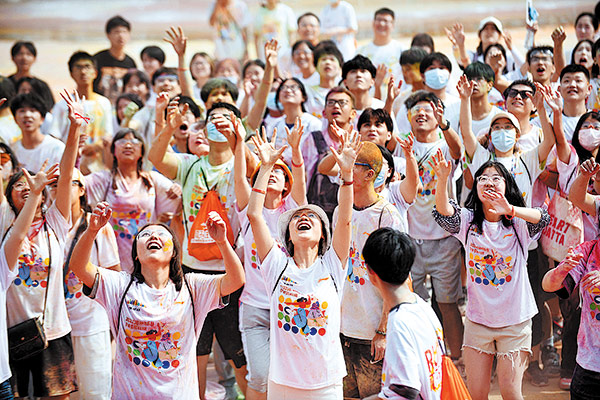 College, middle school graduates searching online for fun times across the country
Domestic tourism is expected to heat up this summer, fueled by a strong demand from students graduating college or middle school, and loosened COVID-19 restrictions on interprovincial leisure travel.
From June 6-9, Ctrip saw searches for "graduation trips" jump more than 300 percent week-on-week, the online travel agency said. On June 9, the national college entrance examination came to a close in most parts of the country.
Cities boasting multiple colleges and universities, such as Wuhan in Hubei province, Chengdu in Sichuan province and Dalian in Liaoning province, were among the cities sending the most graduates to tourist destinations, according to Ctrip.
The preferences of student travelers varied, data from Ctrip showed. Students graduating senior middle school have shown an interest in traveling to the cities where their dream colleges are, such as Beijing, Nanjing in Jiangsu province and Guangzhou in Guangdong province.
In contrast, students graduating college preferred a long-haul trip as a way to mark the end of their student life. The Tibet autonomous region, Yunnan province, Gansu province and the Guangxi Zhuang autonomous region were among the destinations that received the most inquiries from college graduates on Ctrip.
"With the conclusion of the national college entrance examination, as well as the summer and the graduation season approaching, more young people and families with children are eager to get out,"Fang Zeqian, an industry analyst with a research institute of Ctrip, told Beijing-based Consumption Daily on June 9.
The recent growth in Ctrip's business points to a summer rebound, driven by the resumption of interprovincial group tours in most parts of the country, the improving COVID-19 situation and policy support, Fang said.
Zhao Wenzhi, president of Guangzhou-based travel service GZL, told the local newspaper Information Times on Monday that the country would experience two peaks in graduation trips before the summer vacation officially kicks off.
One began after the conclusion of the national college entrance examination and will end before the release of the exam results. The other will begin after the conclusion of the senior middle school entrance examination in late June and end before the start of the summer vacation, according to Zhao.
"Thanks to the continuously improving COVID-19 situation in the country and more targeted COVID-19 policies on interprovincial tourism, the 2022 graduation season is set to outstrip that of 2020 and 2021 in the variety of destinations and tour packages available to graduates," he said.
On May 31, the Ministry of Culture and Tourism updated its COVID-19 policies on interprovincial leisure travel. It requires travel agencies suspend interprovincial group tour services in county-level areas with a medium or high infection risk.
Previously, the restriction applied to provincial-level regions. The narrowing down of the scope is seen as a boon to the recovery of tourism.
Young graduates know how to have fun in the summer heat-most of the tourist attractions they have booked on Ctrip are water parks and theme parks.
The post-2000 generation are no stranger to road trips, either. Car rental bookings for June and July placed by graduates via Ctrip have grown more than 50 percent compared with the previous two months.
Tour operators have introduced tailored graduation trip packages for young holidaymakers.
Travel service GZL is offering interprovincial trips, most of which are bound for nearby provinces, and intraprovincial trips, most of which are themed around beaches and hot springs, Information Times reported.
To enhance its appeal to young generations, GZL has incorporated into its packages visits to attractions popular on social media and photography tours. On such tours, the tourists, usually costumed, have their photos taken against local backdrops by professional photographers.
Guangdong China Travel Service has launched a picnic and camping package for 20 people, which includes camping in a forest, a barbecue and fun activities, according to Information Times.
Some attractions are also running live action role-play murder mystery games, or jubensha in Chinese, which have won the hearts of many young vacationers.