US investors flee in face of inflation, rate hikes
Share - WeChat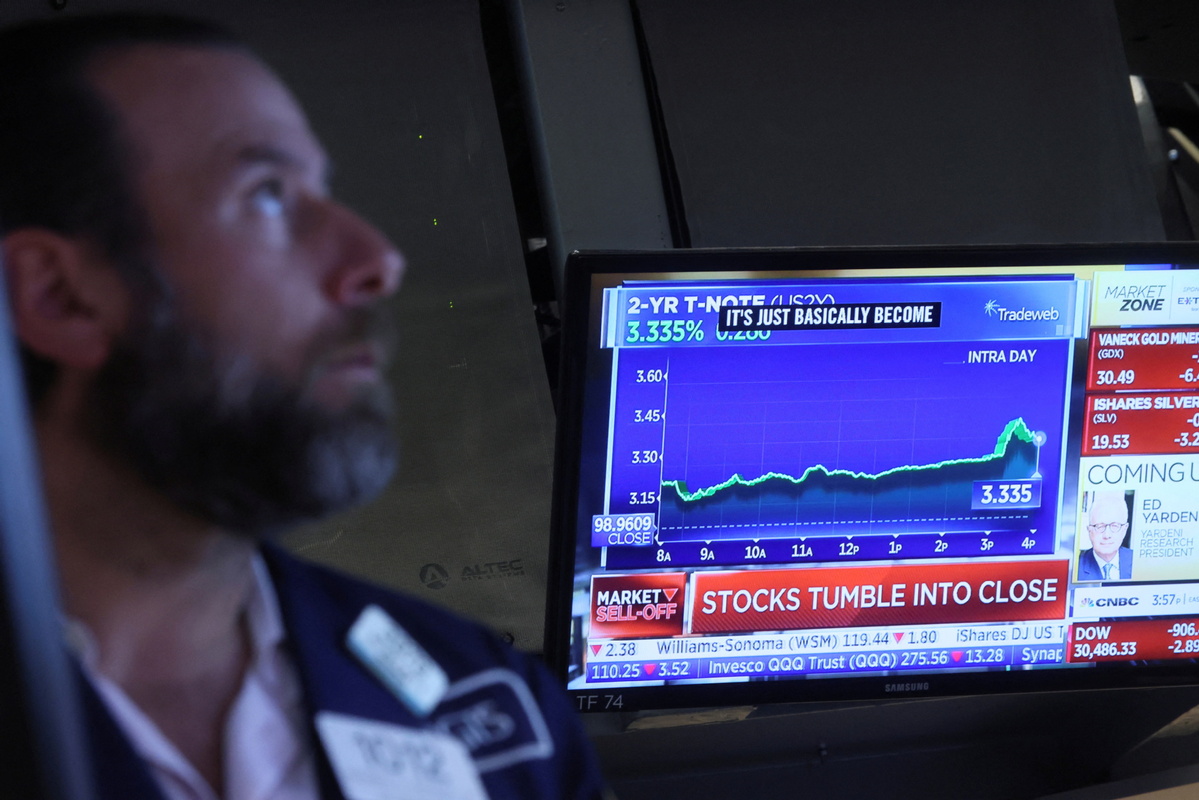 The pressure has been building on the US stock market with each inflation report and pending interest rate hike.
On Monday, that pressure boiled over, as US stock market investors rushed to the exits, sending the S&P 500 index into bear market territory.
The key benchmark index sank 3.9 percent in the first chance for investors to trade after bad inflation news — an 8.6 percent increase in the consumer price index (CPI) — on Friday.
It is the first time the S&P 500 has entered a bear market — a close of 20 percent or more below a recent high — since the market plunge at the outset of the COVID-19 pandemic early in 2020.
The S&P fell 151.23 points Monday to 3,749.63 and dropped 21.8 percent below its record set early this year; 495 of its 500 components closed lower.
"We are starting to see after that consumer price index … really, really extreme tails [played in markets]," RBC Equity Derivatives Strategist Amy Wu Silverman said on Yahoo Finance Live on Monday. "And I think you're going to start to see more of that, because really: What do you do in this market? You either de-risk, de-gross, or you have to place some sort of bet to protect yourself when potentially CPI surprises even more."
The Dow Jones Industrial Average lost 876.05, or 2.8 percent, to 30,516.74 on Monday, and the tech-heavy Nasdaq Composite, already in a bear market, dropped 530.80, or 4.7 percent to 10,809.23.
Prices fell worldwide in a rout for everything from bonds to bitcoin, as the US Federal Reserve is expected to raise interest rates Wednesday.
"The higher the Federal Reserve needs to raise interest rates, and the longer they need to keep raising interest rates, the more likely it is that we go into a recession," Chris Zaccarelli, chief investment officer at Independent Advisor Alliance, told The Wall Street Journal.
"I actually think the market is already discounting a recession in 2023," Jeremy Siegel, a professor of finance at the Wharton School since 1976, told CNBC on Friday. "It's being priced at that level today.
"I think we're pricing in a mild recession," he added. "I'm not saying how severe the recession actually will be."
"I think with this latest (inflation) number, the Fed is really going to go for it, and this will cause an economic slowdown," Julian Howard, an investment manager at fund manager GAM, told the Financial Times. "It's all looking really ugly in the short term, and there is nowhere really to escape from it, apart from going into cash now."
Some economists are speculating the Fed even may raise the federal funds rate by as much as three-quarters of a point, instead of the widely expected half-point.
Some of the sharpest drops hit what had been big winners of the low-rate era, such as high-growth technology stocks.
US tech stocks, which soared throughout the pandemic, absorbed big declines. Apple shares fell 3.8 percent, while Amazon.com lost 5.5 percent. Chipmaker Nvidia slid 7.8 percent, and Tesla dropped 7.1 percent. Meta Platforms, the parent company of Facebook, lost 6.4 percent.
The realization that inflation is accelerating, not peaking, is also sending US bond yields to their highest levels in more than a decade. The two-year Treasury yield climbed to 3.36 percent from 3.06 percent late Friday.
The 10-year Treasury yield jumped to 3.37 percent from 3.15 percent. The higher level will make mortgages and many other kinds of loans more expensive.
The higher yields also mean prices are falling for bonds, a painful hit for older and more conservative investors who depend on them as the safer parts of their nest eggs.
The gap between the two-year and 10-year yields also has narrowed sharply, a signal of a weakening outlook on the economy. When the two-year yield tops the 10-year, it is often seen as foretelling a recession.
Cryptocurrencies, which soared early in the pandemic, took big hits. Bitcoin tumbled more than 14 percent from a day earlier and dropped below $23,400, according to Coindesk. It's back to where it was in late 2020 and down from a peak of $68,990 late last year.
The crash resulting from the coronavirus pandemic in early 2020 was Wall Street's last bear market, and it lasted only about a month.
The energy sector, the only one of the S&P 500's 11 sectors in positive territory this year, fell 5.1 percent Monday. The utilities group, the second-best performer in 2022, also lagged the market with a decline of 4.6 percent.
"This is what you call a bear market, where fear is taking place and pushing people out of the market and having people empty up portfolios and capitulate," Todd Morgan, the chairman of Los Angeles-based Bel Air Investment Advisors, told the Journal.
The Associated Press contributed to this story.