Inflation's climb in US puts pressure on Fed
Share - WeChat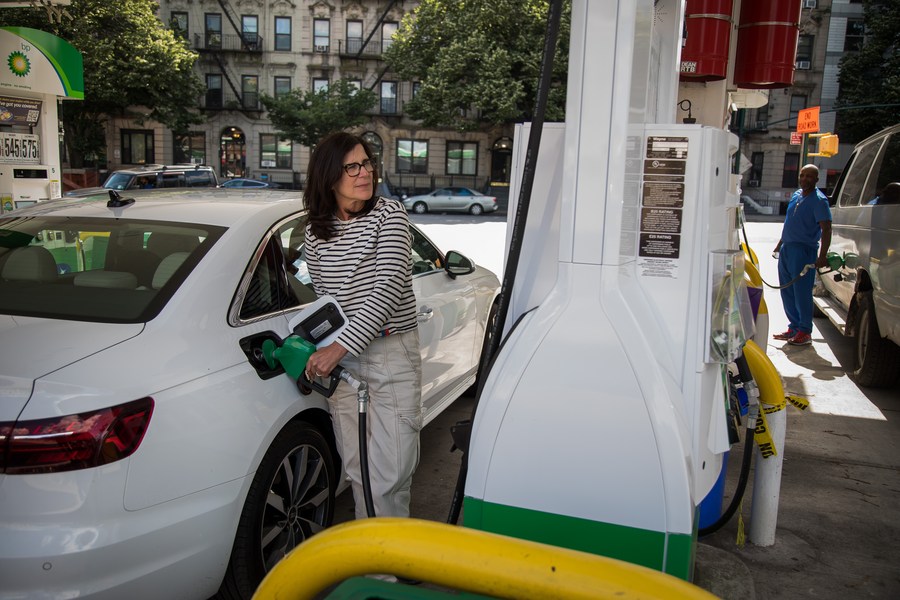 The most recent US inflation numbers came in high again, and the Federal Reserve Bank, which is forecast to raise interest rates this week, appears to be playing catch-up.
The central bank's Federal Open Market Committee meets on Tuesday for a two-day meeting at the conclusion of which Wednesday it is expected to raise the federal funds rate by 0.5 percent, or 50 basis points, which would still put the benchmark only around 1.5 percent.
Another 50-basis-point increase is expected in July, too. Some economists, at Barclays and Jefferies, are speculating that it could be a 75-basis-point hike next month, although that is not the majority view.
Dean Croushore, an economist at the Fed's Philadelphia regional bank for 14 years, told the Financial Times that the Fed may have to raise its key rate to 5 percent because it had waited "far too long" to start raising.
"It's always tough to bring inflation down once you let it out of the bottle," said Croushore, who now teaches at the University of Richmond in Virginia. "If they would just accelerate the rate increases a little bit more, it might cause a little financial volatility in the short run, but they might be better off by not having to do as much later."
On Friday, US Bureau of Labor Statistics data showed that the consumer price index rose 8.6 percent in May compared with last year. The bureau said that last month's inflation rate saw the largest annual increase since December 1981.
In April, the CPI was up 8.3 percent, slightly lower than a 40-year high of 8.5 percent in March.
Economists had expected inflation to rise 8.2 percent in May, while core inflation, which doesn't include food and energy, was expected to slow further.
Energy and food prices rose significantly in the latest reading. The energy index jumped 34.6 percent, the largest 12-month increase since September 2005.
Milk was up 15.9 percent; chicken prices rose by 17.4 percent; and egg prices increased by 32.2 percent.
"I've become more pessimistic about the opportunity of stabilizing inflation at an acceptable level without a recession," JPMorgan Chase & Co chief economist Bruce Kasman told bloomberg.com.
A new survey by the Financial Times of London, conducted with the Initiative on Global Markets at the University of Chicago's Booth School of Business, showed that 70 percent of leading academic economists polled see the US entering a recession next year.
Nearly 40 percent expect inflation to persist if the Fed doesn't raise interest rates to 2.8 percent by the end of this year.
"Policy rate hikes will need to be relentlessly aggressive until inflation finally starts to fade, even if the economy is struggling," Principal Global Investors Chief Strategist Seema Shah said in a note, reported Yahoo Finance.
The personal consumption expenditures price index, which is the inflation gauge preferred by the Fed, rose 6.3 percent in April, which is more than three times the bank's target level of 2 percent.
"The (stock) market wants some clear and convincing evidence that the Fed can pull this off without starting a recession," said Lori Calvasina, head of US equity strategy at RBC Capital Markets, CNBC reported.
Allianz chief economic adviser Mohamed El-Erian said Sunday that he believes inflation will worsen. He said that in a period of stagflation, which is low economic growth and high prices, inflation may reach 9 percent.
"I was very puzzled when a year ago so many people were so confident that inflation was transitory," he told CBS News' Face the Nation. "There was so much we didn't understand about the post-COVID inflation that humility would have been a good idea."
He also noted the impact that inflation has on vulnerable communities.
"This inflation is hurting all Americans, and it's hurting the poor particularly hard, that we know for sure. Second, the longer it lasts, the more it's going to create demand destruction, meaning that the average American not only gets hit by higher prices, but they will start worrying about their income. And that is not a situation that we really want to be in," he said.
One area where many working Americans are experiencing economic stress is at the gas station.
The national average price of gasoline in the US exceeded $5 per gallon on Thursday for the first time, according to fuel price-tracking website GasBuddy,
US gasoline inventories have fallen by more than 25 million barrels, equal to over 1 billion gallons, since the start of March amid a global decline in refining capacity due to the COVID-19 pandemic and surging demand heading into the busy summer season, gasbuddy.com reported.
US refining capacity also has fallen by some 1 million barrels daily over the last three years.
Patrick De Haan, head of petroleum analysis at GasBuddy, said: "It's a perfect storm of factors all aligning to create a rare environment of rapid price hikes. The situation could become even worse should there be any unexpected issues at the nation's refineries or a major hurricane that impacts oil production or refineries this summer."
He said prices also are rising because "demand doesn't seem to be responding to the surge in gas prices".
The price of diesel fuel — averaging $5.31, according to AAA — used by trucks that deliver goods to stores also has soared.
"That (increase) will ultimately be reflected in the prices that the consumer pays. And that's part of the increase in the cost of food and everything else," Bob Ramorino, president of Roadstar Trucking in Northern California, told CBS News.