Christie's lauds vibrant art market
Share - WeChat President of intl auction house in Asia-Pacific says despite disruptions caused by the pandemic, the art market in the Greater Bay Area remains strong. Zeng Xinlan reports from Hong Kong.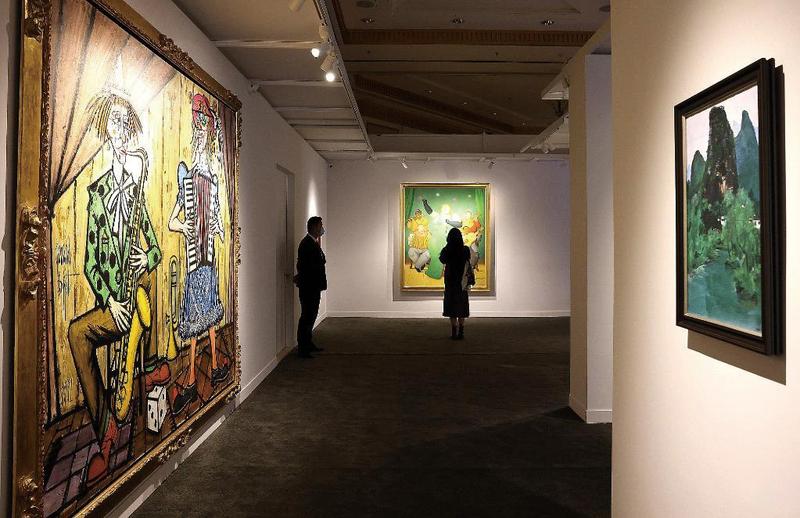 The Guangdong-Hong Kong-Macao Greater Bay Area "is exciting, ambitious and necessary," according to the president of auction house Christie's Asia Pacific.
"It's just incredible to see what has been achieved in such a short period of time in that region, which everybody knows," Francis Belin told China Daily in an interview. "And I think it's just beginning of the journey. There's a very strong agenda (which) actually makes it happen. And I have no doubt that it will happen."
Belin said that the Greater Bay Area has what it takes to nourish a vibrant art and auction market.
"You have very successful entrepreneurs across many cities (in the Greater Bay Area). You have an incredible talent pool. It's a region that is going to continue to have very strong activity for Chinese mainland talents. Therefore, I think the boom and the growth that we see in the region will continue to support what we do when it comes to art, culture, and the auction business," he said.
And the plan to develop Hong Kong into a hub for arts and cultural exchanges between China and the rest of the world, adopted in 2021, is set to create more opportunities for the art, culture, and auction businesses in the city.
While Hong Kong will stay at the heart of art and auctions in Asia, backed by the free flow of capital, merchandise and people, as well as the rule of law, mainland cities within the area could facilitate and embrace wonderful opportunities, Belin added.
"I think we are looking forward to seeing how this is going to apply to the Greater Bay Area," he said, adding that tremendous opportunity exists for the whole region to play an important role in art and culture. "We're very excited about it," he said.
Belin said that the auction house's strategy for the bay area has two very important parts — one part for the mainland, the other for Hong Kong. "We have a very active pool of collectors across the Greater Bay Area. We have been present through various types of initiatives throughout the years, holding events in Guangzhou, Shenzhen, etc."
Despite the disruptions created by the COVID-19 pandemic, Belin said the art market within the area continues to be strong and sustained.
"2020 was a difficult year, especially the first half, while 2021 was a record year for us. It was a record year in Asia," Belin said, adding that last year's auctions saw the highest percentage of Asian collectors, who have been active across all categories.