State Grid powers up in urban network
Share - WeChat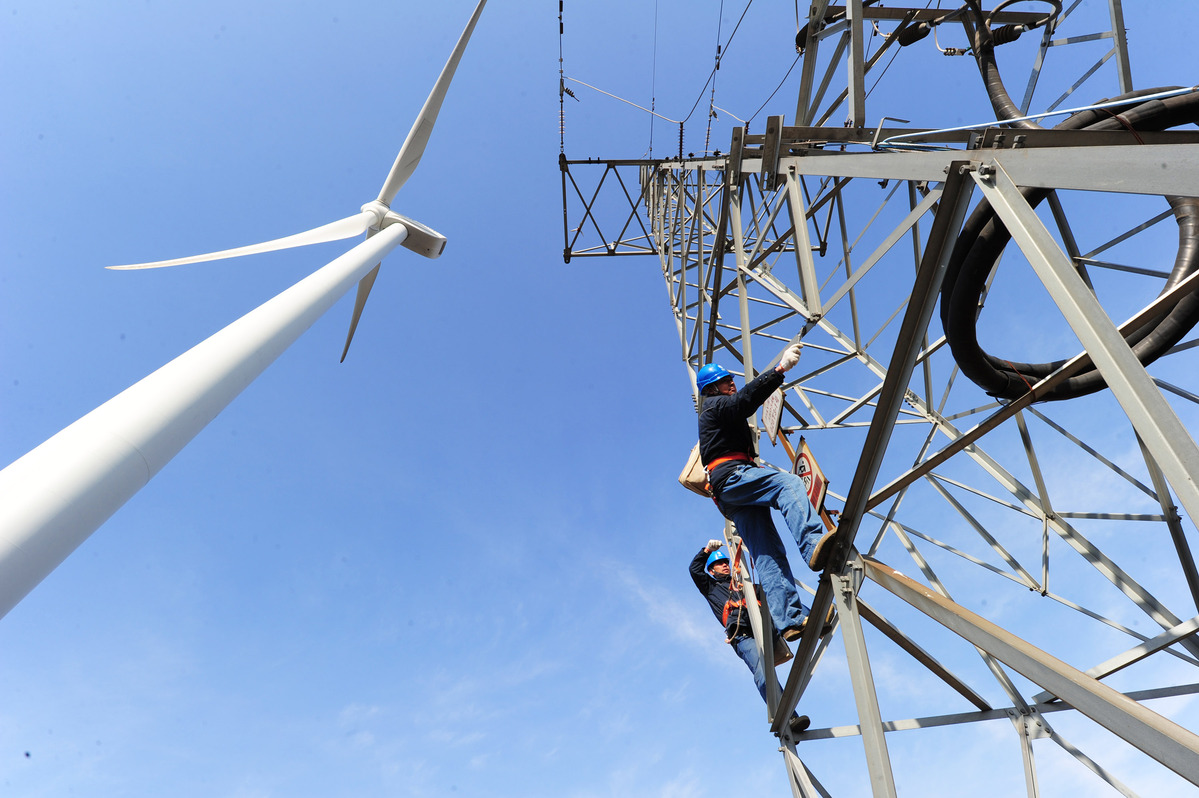 More investments in pipeline for new projects to bolster stable energy supply
State Grid Corp of China said it will invest 90 billion yuan ($13.46 billion) to speed up urban power grid network construction this year.
The attempt is meant to further ensure a steady power supply amid the upcoming summer demand peak in the country, said the Beijing-based State-owned enterprise.
This is part of the company's plan to invest an all-time high of more than 500 billion yuan in power grid projects in 2022 to help bolster the country's economic growth amid the COVID-19 pandemic.
The input is expected to drive more than 1 trillion yuan in investment from all sources and the company, the country's largest State-owned utility company, said it would start constructing ultra-high voltage power transmission projects as early as possible and begin construction on key power grid projects below 500 kilovolts.
The intensive construction of key power grid projects will be conducive to promoting the high-quality development of the power grid and will drive upstream and downstream industries to resume work and production, said the company.
State Grid supplies power to over 1.1 billion people, with its service area covering 88 percent of China's territory, according to Xinhua News Agency.
According to State Grid Beijing Electric Power Company, the Beijing branch of State Grid, 61 power grid upgrade projects that aim to ensure sufficient and steady power supply during the summer peak period are currently under construction. With a total investment of 1.5 billion yuan, all the projects will be put into operation before the summer load peak, it said.
State Grid Hebei Electric Co Ltd said it plans to invest more than 15.86 billion yuan in power grid construction to further improve the reliability of local power networks, including the urban distribution network and the coordinated development of rural power grids.
According to Minsheng Securities, the country's power grid investment scale will witness a substantial increase during the 14th Five-Year Plan period (2021-25).
Intelligent distribution networks and digitized transformations will be key while demand for a distribution automation main station and fusion devices will also markedly improve, it said.
While intelligent electric meters will gradually replace the old ones, the micro-network market also has a broad development target.
State Grid invested a total of 2.38 trillion yuan in the country's power grid during the 13th Five-Year Plan period (2016-20).
The company has recently been stepping up construction of ultrahigh voltage power transmission projects in China as part of its efforts to ensure a clean electricity supply.
Ultra-high voltage transmission lines refer to power transmission cables operating at greater than 800 kV direct-current or 1,000 kV alternating-current. Compared with traditional transmission lines, the new lines will not only increase transmission capacity and extend transmission distances, but also reduce transmission losses.
With a total investment of 10.9 billion yuan and a total length of 525 kilometers, the construction of two 1,000 kV power transmission projects in China began in March, which respectively link the eastern cities of Fuzhou and Xiamen and the central cities of Zhumadian and Wuhan.
Expected to be put into operation next year, the two projects will help promote the consumption of clean energy generated by offshore wind farms and photovoltaic power stations, said the company.
By the end of May, State Grid has completed the construction of 29 UHV projects, transmitting more than 2.5 trillion kilowatt-hours of power, and the world's largest utility company expects its trans-provincial and trans-regional power transmission capacity to rise from 240 million kilowatts at present to over 370 million kW by 2030.
China sees its power supply and demand are not evenly distributed and the long-distance power transmission plays a key role in ensuring sufficient domestic power supply, said an analyst.
With renewable power from the country's wind and solar-rich regions to increase on a large scale in the future, it is likely more green power will be transmitted and the technology of ultra-high voltage power transmission will play a key role, said Luo Zuoxian, head of intelligence and research at the Sinopec Economics and Development Research Institute.