Guangdong reaps sweet gains with Lingnan fruit
Share - WeChat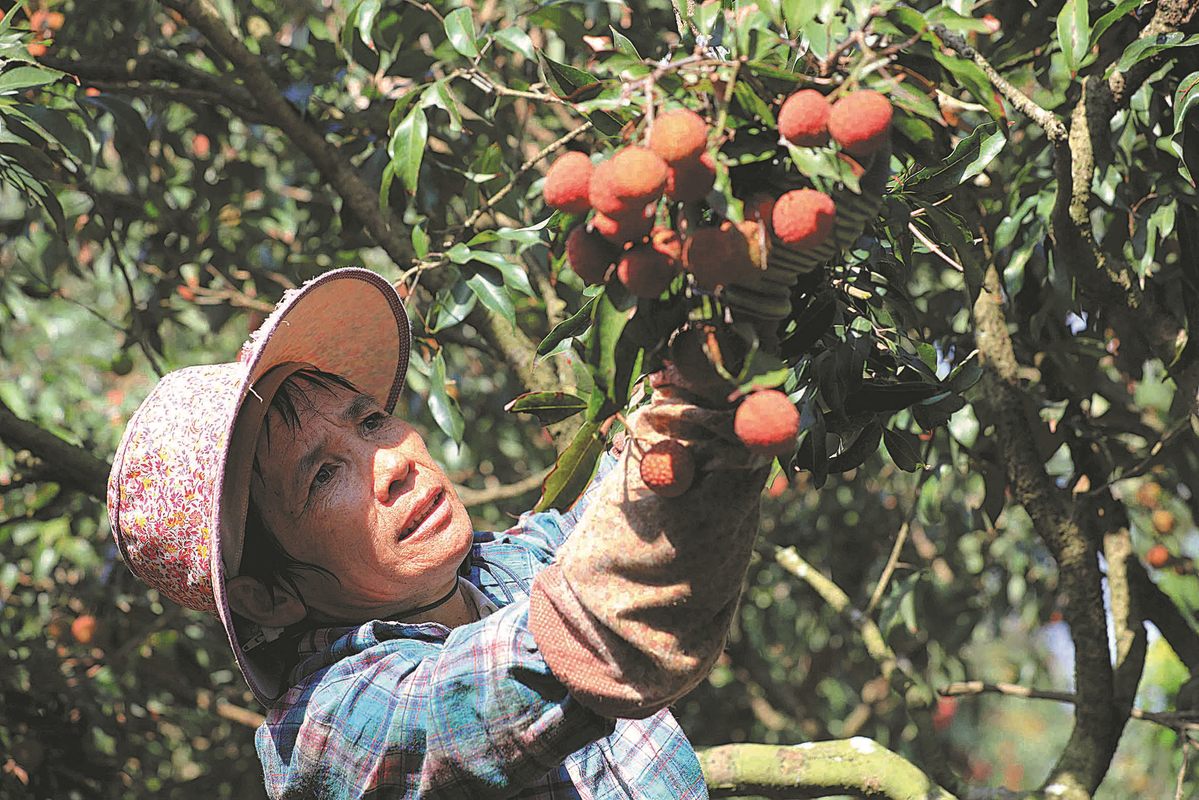 Exports of lychee, longan and related fruits from Lingnan, a geographic area referring to lands in the south of China's "Five Ranges"-Tayu, Qitian, Dupang, Mengzhu, Yuecheng-have been growing steadily since the fruits entered the harvesting period in April, Guangdong Customs officials said.
Customs departments in Shenzhen, Guangdong province alone had completed inspection and quarantine of more than 2,115 metric tons of lychee fruits as of the end of May, up by 5.6 percent year-on-year.
The round red-peel and white-pulp fruit has mainly been sold to 11 nations and regions including Singapore, Canada and the Netherlands, Guangdong Customs said in a statement.
And Customs in Maoming in the western part of Guangdong has also completed inspection and quarantine of a total of 95 batches of lychee for export last month.
The exported lychee weighed a total of 1,279 tons, with a value of 30.7 million yuan ($4.6 million), and has been shipped to the United Arab Emirates, Malaysia, Indonesia, the Philippines, Singapore, the Netherlands, Canada and other countries and regions.
Maoming is a major lychee production base. The city's lychee output is expected to reach more than 547,700 tons, accounting for about 43 percent of the province's total this year.
Wang Xiaohui, vice-mayor of Maoming, said the lychee industry has now become an important industry for the rural revitalization in the city and it has also become a fruit that is helping local farmers become rich.
Liu Guodong, head of the inspection and quarantine division of Guangdong Customs, said lychee, longan, pineapple and other tropical fruits usually have a short shelf life and require timeliness in Customs clearance.
Therefore, Customs departments have introduced green channels to simplify the procedures for inspection and quarantine of the fruit export this year.
Guangdong Customs has taken the initiative to strengthen cooperation with local agricultural departments to further improve and ensure the quality of Lingnan fruits to help promote exports since the beginning of the year, he said.
"Meanwhile, Customs departments in the province have introduced registration management and expanded supervision on product quality and safety in the whole process for orchards and packaging companies to ensure the exported fruits meet requirements from their customers," he said.
Customs departments have also introduced internet plus and online information platforms to achieve integrated Customs clearance for local companies to go through relevant procedures, he said.
As of the end of May, Guangdong had a total of 159 registered export orchards and 69 packaging plants, including 79 lychee orchards and 42 lychee packaging plants.
Liu said Customs departments in Guangdong province, a major production base of lychee and longan, completed the inspection and quarantine of 19,900 tons of fresh lychee for export valued at 390 million yuan last year, which were mostly sold to the United States, Canada, Europe and Southeast Asian nations.
Guangdong lychee could be seen in many major supermarkets in California, with prices ranging from $4.99 to $5.99 a pound (0.45 kilogram) last year.
Insiders expect Guangdong to be able to sell about 20,000 tons of lychee abroad this year.
In addition to traditional markets, the Regional Comprehensive Economic Partnership agreement that came into force this year will further advance trade cooperation between China and other RCEP member countries, benefiting the province's fruit exports, authorities said.
According to Guangdong Customs, the province sold more than 40,000 tons of fresh and dried fruits valued at 370 million yuan to other RCEP members in the first four months, representing a year-on-year growth of 96 percent and 58 percent, respectively.
On May 25, the Customs department in Maoming issued Guangdong Zefengyuan Agricultural Co Ltd the first RCEP certificate of origin for a batch of fresh lychee valued at 64,500 yuan to be exported to Singapore, and the batch of lychee enjoyed zero tariffs in the Southeast Asian nation.
As of late May, Maoming alone had sold 42 batches of lychee weighing 537 tons valued at 11.61 million yuan to other RCEP member nations this year.
Guangdong has a lychee planting area of 2,633.27 square kilometers and is estimated to reach a lychee output of 1.27 million tons while the province's longan planting area comes to 1,248 sq km, with an estimated output of 886,700 tons, in 2022. Both lychee and longan outputs of Guangdong annually represent more than 50 percent of the country's total.