Local awaits visiting flamingos every winter
Share - WeChat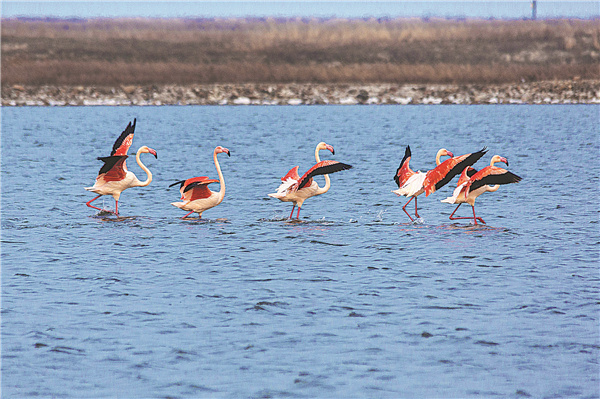 Every day as the sun rises, a 66-year-old farmer can be seen setting out with his dog to patrol Yuncheng Salt Lake in Yuncheng city, North China's Shanxi province.
Ma Hongyi, who lives in a village just 200 meters from the lake, still remembers the day in the winter of 2014 when he first saw two big pink birds wading through the water.
"I had never seen such pretty birds. They were even taller than me, with wings this long," Ma recalls, holding his arms out wide.
A young man informed him that the birds were flamingos, a rare sight in China. Flamingos were listed on the International Union for Conservation of Nature's red list of threatened species in 2013. Many flamingos have migrated in search of suitable habitats, with a handful arriving in Shanxi.
From the first day he saw the flamingos, Ma started his second career as a volunteer patrolling the lake area. Every day, he walks around the lake to prevent human activities from interfering with the wildlife.
He has persuaded photographers not to bother the flamingos in order to get a good shot, and he stopped people from dumping garbage in the lake.
"The birds are attracted by the good environment," Ma says. "I will do my best to protect the lake so that the birds can come here every year."
The migratory birds have been wintering at the lake for seven consecutive years, with the maximum population reaching eight in number, says Guan Yan, an official from the city.
Yuncheng Salt Lake is rich in sodium sulfate and covers an area of 132 square kilometers. It once served as a salt production base.
As the country began attaching greater importance to environmental protection, an ecological protection and development center was set up in 2012 to carry out regular ecological protection and restoration of the lake.
In 2019, industrial activities in the area were completely halted. Last year, millions of dollars were earmarked for environmental restoration, embankment repair and other projects.
"The greatest value of the salt lake lies in its ecology, which should be properly restored and protected," says Chu Xianghao, mayor of the city.
The lake area boasts 292 types of wild animals, mostly birds, along with 782 plant varieties, including many kinds of algae that are newly recorded species in the country.
After patrolling the lake as a volunteer for over four years, Ma was recruited by the local government to help with wildlife protection in 2019.
"The lake's ecology is getting better," Ma says, adding that he looks forward to the arrival of the flamingos every year.
"Some of them are my old friends," he says.
Xinhua