News report: Biden irked by remarks 'walked back'
Share - WeChat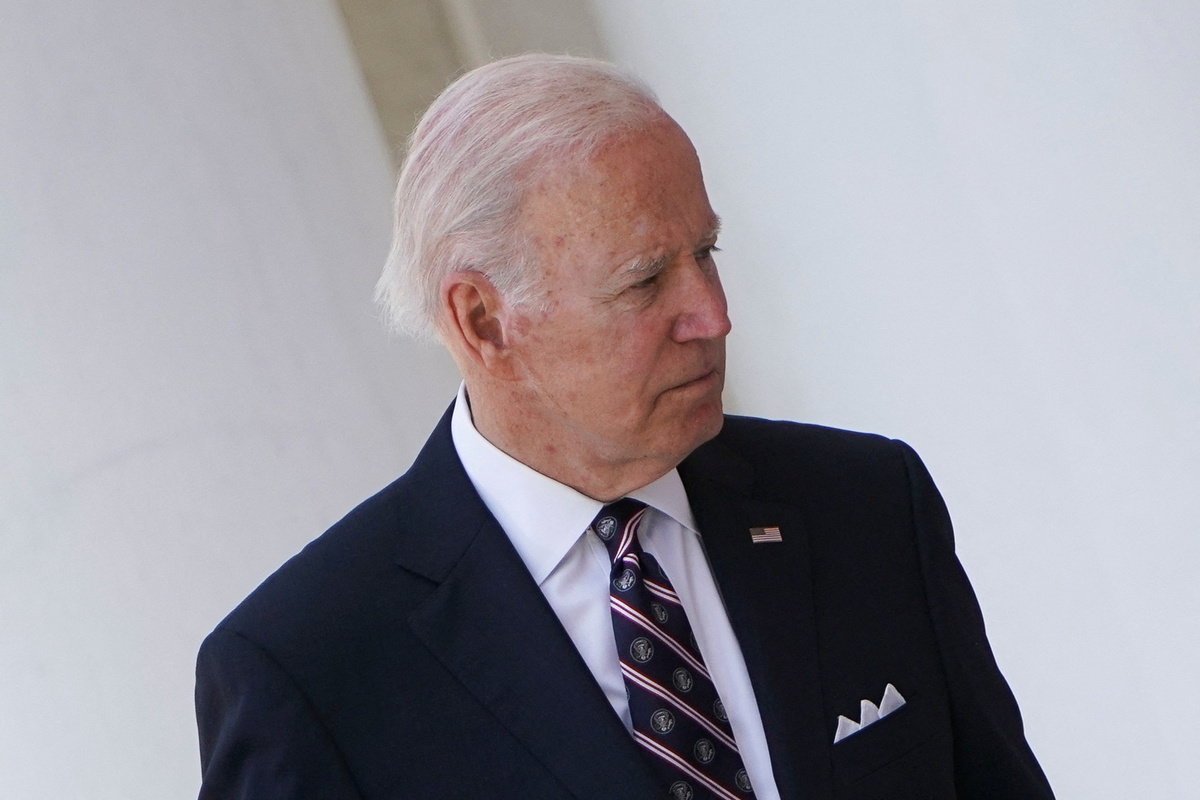 US President Joe Biden reportedly is aggravated with his staffers regularly "walking back" comments he makes in public.
Biden believes his credibility is diminished by aides when they correct his so-called gaffes, which intensified in March when he said Russian President Vladimir Putin "cannot remain in power", NBC News reported Tuesday. The report also says that the Democratic president is frustrated with his underwater approval rating.
After the comment about Putin, senior administration officials up to Secretary of State Antony Blinken immediately announced that Biden was not calling for regime change in Russia.
"Biden was furious that his remarks were being seen as unreliable, arguing that he speaks genuinely and reminding his staff that he's the one who is president," NBC reported.
"The so-called clean-up campaign, he has told advisers, undermines him and smothers the authenticity that fueled his rise. Worse, it feeds a Republican talking point that he's not fully in command," NBC said.
Deputy press secretary Andrew Bates, in a Twitter post on Tuesday said, "No comments elaborating on POTUS (president of the United States) remarks are given without his expressed approval."
Bates also diminished the NBC story on Tuesday, telling the New York Post: "The breathlessness of paragraphs 1&2 versus the denial being relegated to graph 28 tells you what you need to know about this story."
NBC said that its report was "based on interviews with more than two dozen current and former administration officials, lawmakers, congressional aides and other Democrats close to the White House who spoke on the condition of anonymity to freely discuss the president's private conversations".
The NBC story also suggests that White House Chief of Staff Ron Klain — known for putting up a vocal defense of the president on Twitter — is expected to leave after November's midterm congressional elections.
Remi Yamamoto, a senior White House communications adviser, told NBC: "As Ron has said publicly, he has not set a time frame, and this is not a discussion on the top of anyone's mind here."
US Representative James Clyburn, a South Carolina Democrat who was crucial to Biden turning around his once-floundering 2020 presidential campaign, conceded that the president faces political difficulties.
"I don't know what's required here," Clyburn said. "But I do know the poll numbers have been stuck where they are for far too long."
A White House adviser told NBC that Biden "shares the view that we haven't landed on a winning midterm message. ... And he's putting a lot of pressure on people to figure out what that is."
US Representative Stephanie Murphy, a Florida Democrat, said that the White House has not presented an "intellectually honest" plan to battle inflation. A bill that the House passed to stem alleged gas price-gouging isn't the answer, she said.
"If I sound frustrated, it's because I hear from my constituents," Murphy said. "They're struggling. This is not a time for political games. It's not the time for finding bogeymen."
Biden also was not told about the current baby formula shortage in the US until this month, despite signs that it had been building to a crisis level months ago.
As of Tuesday, the president was backed by 40.7 percent of Americans, while 54.1 percent disapprove, according to FiveThirtyEight's average of recent polls.
That is below every one of his predecessors at this point in their terms since the end of World War II.
Biden's 40.7 percent approval rating also is below where former president Donald Trump's was at this point in his term, which was 41.6 percent.
"He's now lower than Trump, and he's really twisted about it," another person close to the White House said.