Advanced integrated industrial chains to be expanded, safeguarded
Share - WeChat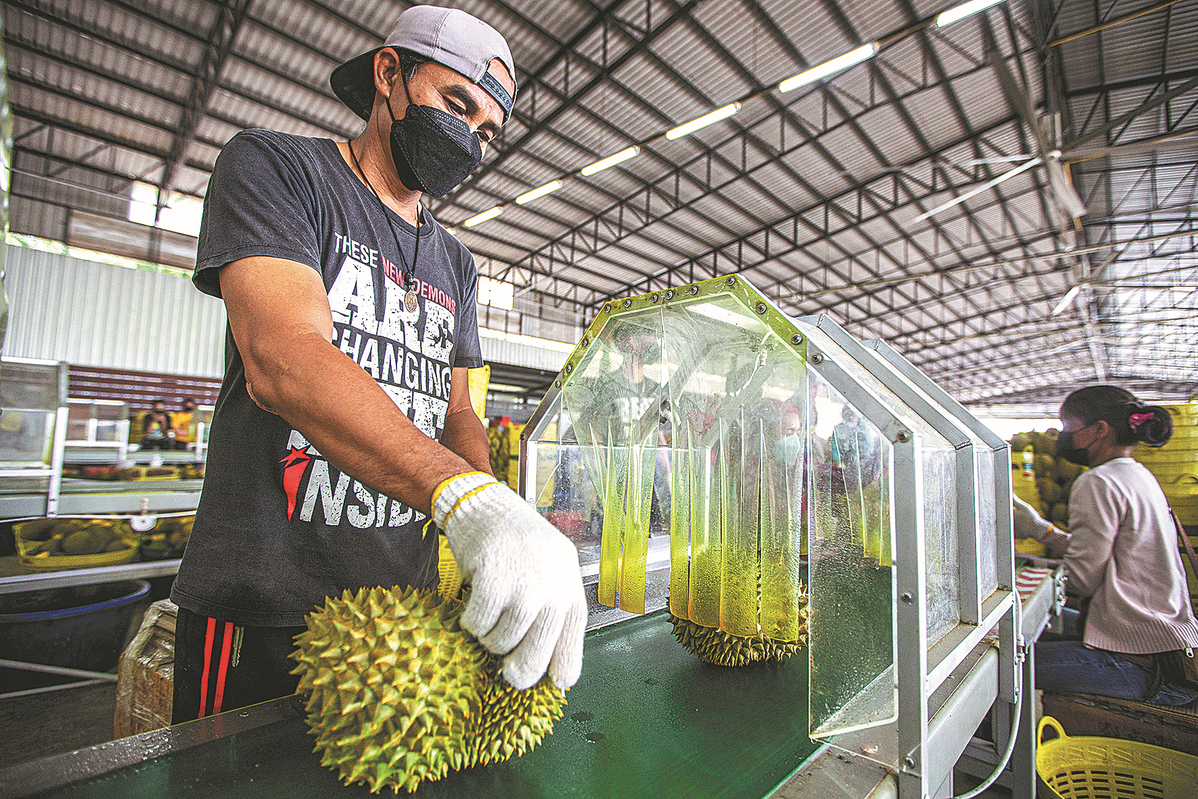 The tangible growth momentum generated by the Regional Comprehensive Economic Partnership agreement will help build advanced integrated industrial chains and grow a colossal consumption market in the Asia-Pacific region in the coming years, government officials and corporate executives said.
In the face of a complex global business environment, they said the pact allows member countries to choose solidarity and cooperation when facing challenges such as the COVID-19 pandemic and rising commodity prices, instead of resorting to conflict or confrontation.
With tariff cuts put in place by the RCEP and manufacturers' willingness to upgrade the technology in their products, businesses in China, including multinational companies, will be in an advantageous position to further expand their market presence in the Asia-Pacific region, said Wang Lingjun, vice-minister of China's General Administration of Customs.
Guo Tingting, assistant minister of commerce, said as opening-up is a basic national policy, deepening regional economic cooperation will provide more fresh opportunities for the development of foreign-funded enterprises in China.
Taking effect in January, the implementation of the megapact has not only brought tax cuts to foreign importers, but will also encourage China-based manufacturers to ship more goods to other RCEP markets in the coming years.
"Supported by the rich resources of supply chain in China, we can better meet the needs of local consumers and export our innovative products to other parts of the world, including the RCEP economies," said Vivian Tu, marketing leader of Philips Domestic Appliances Greater China.
"We will continue to create innovative products to expand our global manufacturing network and drive the growth of smart manufacturing in China," she said, adding the Dutch brand will expand its research team in Suzhou, Jiangsu province, to focus on advanced technologies such as robotics, internet of things and artificial intelligence over the next five years.
Exporting products made at its plants in China to RCEP countries-including Australia, New Zealand and members of the Association of Southeast Asian Nations-Titus Yu, vice-president and general manager for North Asia of the United States-based residential and commercial air conditioning maker Carrier HVAC, said it will continue to focus on investing in innovation and manufacturing capacities across China to support local and foreign customers.
Thanks to favorable terms in areas including tariffs and a complementary trade structure, China's foreign trade with the other 14 RCEP members grew by 6.9 percent yearly to 2.93 trillion yuan ($460 billion) in the first quarter, data from China's General Administration of Customs showed.
Zhou Mi, a senior researcher at the Chinese Academy of International Trade and Economic Cooperation in Beijing, said the greatest benefit for trade businesses is that the RCEP agreement is generating broader market space via interaction among participating countries. This will help improve the long-term confidence of trade-businesses in China.
The RCEP agreement has brought down tariffs, cut operational costs and streamlined procedures for many trade businesses in China. It has also widened the country's market for many foreign businesses, and domestic companies will be poised for fiercer competition, he added.
"This offers an opportunity for businesses in China to improve their core expertise and better align themselves with global rules," he said.
Eager to further compete with other established global rivals in RCEP markets, Sennics Co-a subsidiary of State-owned Sinochem Holdings Corp, China's largest chemical company by sales revenue-began operating its first overseas factory at the Rojana Industrial Park in Chon Buri province, Thailand, in mid-May to better supply rubber antioxidants for the production bases of downstream customers in Southeast Asia.
The new manufacturing facility is able to produce 25,000 metric tons of rubber antioxidants annually.
"By leveraging the geographical and business advantages of Thailand, as well as favorable tariff and investment policies under the RCEP framework, the plant will be able to expand our footprint in Southeast Asia and other markets within the Asia-Pacific region, as well as reinforce the stability of the region's industrial and supply chains," said Liu Hongsheng, chairman of Sennics.
Zhai Jingli-deputy CEO for China at Asia Pulp and Paper, a subsidiary of Indonesia's Sinar Mas Group-said due to the current tariff system, although there are no tariffs on pulp, the company's imports of finished products from Indonesia still face tariffs of around 5 percent.
She said that after Indonesia ratifies the RCEP agreement, the industrial relationships and investment structures will be significantly enriched among various member economies.
"Asia Pulp and Paper will be able to export more pulp and raw materials to China, and then export a part of the finished products made in China to other RCEP markets. This will help meet diversified demand both domestically and internationally, as well as help support the growth of the regional economic integration," she noted.
Benefiting from the RCEP, preferential imports from Chinese companies were valued at 6.7 billion yuan in the first quarter of this year, and tariff refunds were 130 million yuan during the same period. The value of their preferential exports amounted to 37.1 billion yuan, and 250 million yuan is expected in tax refunds from other member countries, according to statistics from Chinese customs.