Home is where fitness products are
Share - WeChat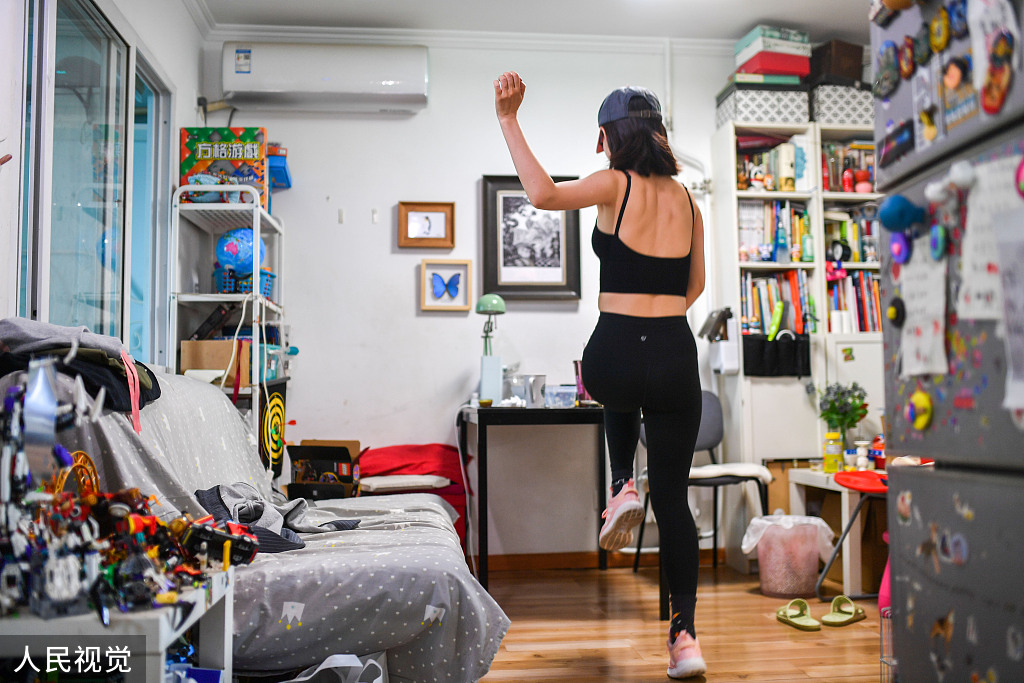 Home is where the heart is-don't mean to dispute that. Only, I'd like to add COVID outbreaks and related stay-at-home, work-from-home and workout-at-home routines have added a new twist-and shapes, if you will-to home sweet home, turbocharging sales of fitness products, services, content and tech.
These days, a typical urban home in China, such as mine, is, well, home to workout equipment, yoga mats, yoga balls and dance-related products.
A growing number of Chinese consumers, including yours truly, have realized the significance of health and prefer exercising at home.
I, for one, have turned a big fan of fitness game Ring Fit Adventure. With my Nintendo Switch console connected to TV, I work out at home. Gym has to wait for a while, thank you. Home workouts have become part of my life since the pandemic started in the first quarter of 2020.
Among my purchases are accessories such as Ring-Con and Leg Strap. They measure my real-world actions and help turn them into in-game movements.
I make liberal use of fitness instructions offered on online workout short videos and livestreamed content. There are even structured courses available online. Like millions of my compatriots, I use mobile apps to keep fit. My personal favorite is Keep.
In this e-arena, Liu Keng-hung, 49, a Taiwan-born actor, singer and fitness trainer, and his wife Vivi Wang, an actress, sparked a fitness wave in recent months. The couple's workout livestreams on short-video platform Douyin are known for their pacy background music of pop singer-songwriter Jay Chou.
Within just one month, followers of Liu's Douyin account surged from over 6 million to about 69 million! Their livestreams have been viewed more than 100 million times in all.
Viewings typically spark purchases of related exercise equipment. Sales growth has been robust on major local life services and e-commerce platforms, market insiders said.
For instance, on Meituan, an on-demand services platform, sales of indoor fitness devices such as yoga mats and foam rollers surged 29 percent year-on-year in Beijing from April 25 to May 1, in the run-up to the five-day May Day holiday.
In the same period, sales of jianzi, or Chinese shuttlecocks that are kicked around for exercise of limbs and hips, and athleisure apparel rose 56.4 percent and 48.5 percent year-on-year, respectively.
A report from Chinese e-commerce giant JD showed sales of yoga stretchers, yoga shoes, dance shoes and yoga balls surged 868 percent, 816 percent, 700 percent and 110 percent year-on-year, respectively, from March 1 to April 7.
During the five-week period, many consumers bought a variety of sports accessories, with sales of tailor-made sports shoes, sports skirts and sports underwear jumping 220 percent, 93 percent and 92 percent year-on-year, respectively.
Specialist training devices such as equipment for strengthening abdomen and leg muscles and developing arm strength are quite popular among consumers, market insiders said.
Consumers in different regions display peculiar demand, JD said in its report. For instance, residents in Liaoning, Heilongjiang and Jilin provinces prefer household fitness equipment, while people in Tianjin and Beijing tend to buy ball products for indoor sports.
People aged 16-25 prefer sportswear, shoes and bags, while those aged 26-35 tend to buy a lot of sports protection products.
Market consultancy iResearch said there is huge growth potential in China's fitness market. Nearly 64 percent of people spent less than 1,000 yuan ($149.37) on fitness and sports in 2018, suggesting the market is nascent with plenty of room for growth, as shown by sales data till the first quarter of this year.
So, fitness platforms are exploring potential business opportunities in the livestreaming exercise segment. Mobile fitness app Keep has launched several livestreaming courses including yoga, Zumba, calisthenics and spinning classes, each of which lasts about 30 to 50 minutes.
Ma Axin, an analyst at the Lead-Leo Research Institute, said the key challenge from now on would be how to cultivate users' exercise habits through livestreaming. To be sure, there are some drawbacks. For example, in livestreamed fitness courses, trainers can't correct mistakes in trainees' movements. It's hard to master the rhythm of livestreaming, Ma said. I'm trying harder than ever before, let me assure you.