Texas school shooting leads to finger-pointing at Congress
Share - WeChat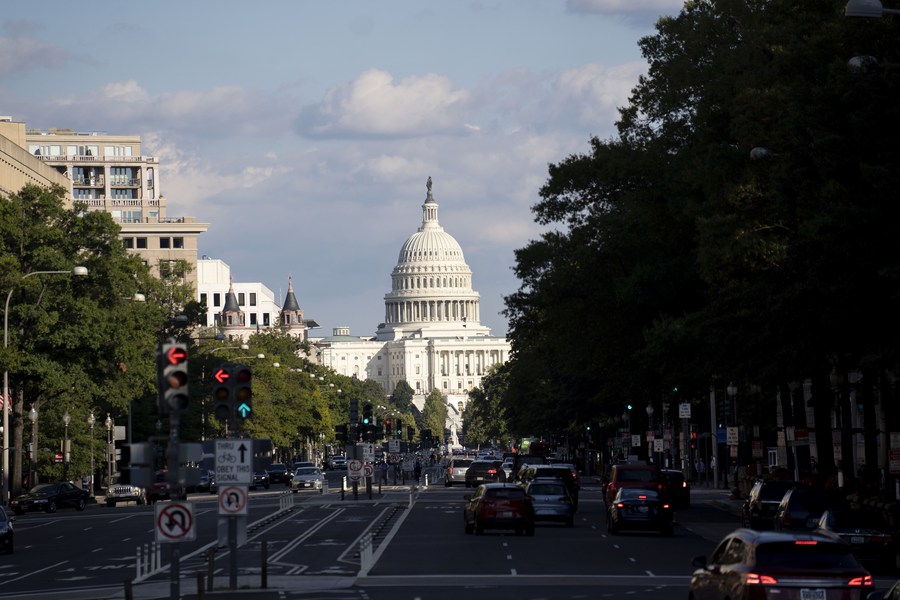 The Texas school mass shooting has again revived the issue of gun violence that has plagued the US for decades, with Democratic lawmakers pointing to the Congress' inaction on gun legislation.
President Joe Biden, in remarks on Tuesday, the day of the school shooting, blamed Congress for lack of action and questioned why the nation has been incapable of addressing the mass shootings.
"Why are we willing to live with this carnage? Why do we keep letting this happen? Where in God's name is our backbone?" he said during an address following the news of the Uvalde school tragedy that killed at least 19 children and two teachers. The 18-year-old gunman, Salvador Ramos, also was killed.
Biden said that what struck him was why "these mass shootings rarely happen anywhere else in the world". Other countries face the same issues as "mental health problems", "domestic disputes" and "people who are lost", he said, "But these kinds of mass shootings never happen in other countries like in America."
For years, Democrats have been pushing for background checks for gun purchasers, but the efforts have met with hurdles, mostly from Republicans.
House Democrats passed two bills in March 2021 to impose universal background checks on gun purchasers and close the "gun show loophole" that allows buyers to forgo a background check if they buy a gun at a gun show or online.
Both bills passed with overwhelming Democratic support but were never taken up in the Senate due to a lack of Republican support.
In remarks on the Senate floor Wednesday, Senate Majority Leader Chuck Schumer of New York pointed a finger at his GOP colleagues, whom he accused of being at the service of pro-gun groups.
Some Republicans tried to pass a bill on Wednesday through unanimous consent to establish federal school-safety standards. Schumer blocked it, saying they should support gun-control legislation.
Most Republicans oppose any significant measure to limit access to guns or more strictly regulate them, calling them ineffectual, and saying Democrats were trying to politicize tragedies. They stake their position on the Second Amendment, which stipulates the right of citizens to keep and bear arms in pursuit of self-defense.
Opponents of gun control also have been using the Second Amendment right to attack Democrats' bills as taking away gun owners' rights.
Biden said Wednesday at a police reform event that the "Second Amendment is not absolute" and that previous gun safety laws did not violate the amendment's constitutional protections.
"When it was passed, you couldn't own a — you couldn't own a cannon. You couldn't own certain kinds of weapons. It's just always been limitations. But guess what? These actions we've taken before; they save lives. They can do it again," he said.
While partisan gridlock blocks progress on gun control legislation at the federal level, the recent shootings have prompted some states to try to tighten laws.
In New York, Democratic Governor Kathy Hochul said she would seek to raise the minimum age to purchase some firearms to 21 from 18. In California, Governor Gavin Newsom and legislative leaders said they were working to expedite gun legislation, particularly a proposal that would allow private citizens to sue gun manufacturers.
But the Supreme Court is expected to expand gun rights in the coming weeks. The justices are likely to strike down a New York law that requires people seeking a license to carry a handgun in public to show "proper cause".
Other states, including California, Hawaii, Maryland, Massachusetts, New Jersey and Rhode Island, have laws similar to the one in New York. The Supreme Court's decision will be the court's first significant statement on the scope of Second Amendment rights outside of the home for self-defense.