Calls for gun control to no avail: China Daily editorial
Share - WeChat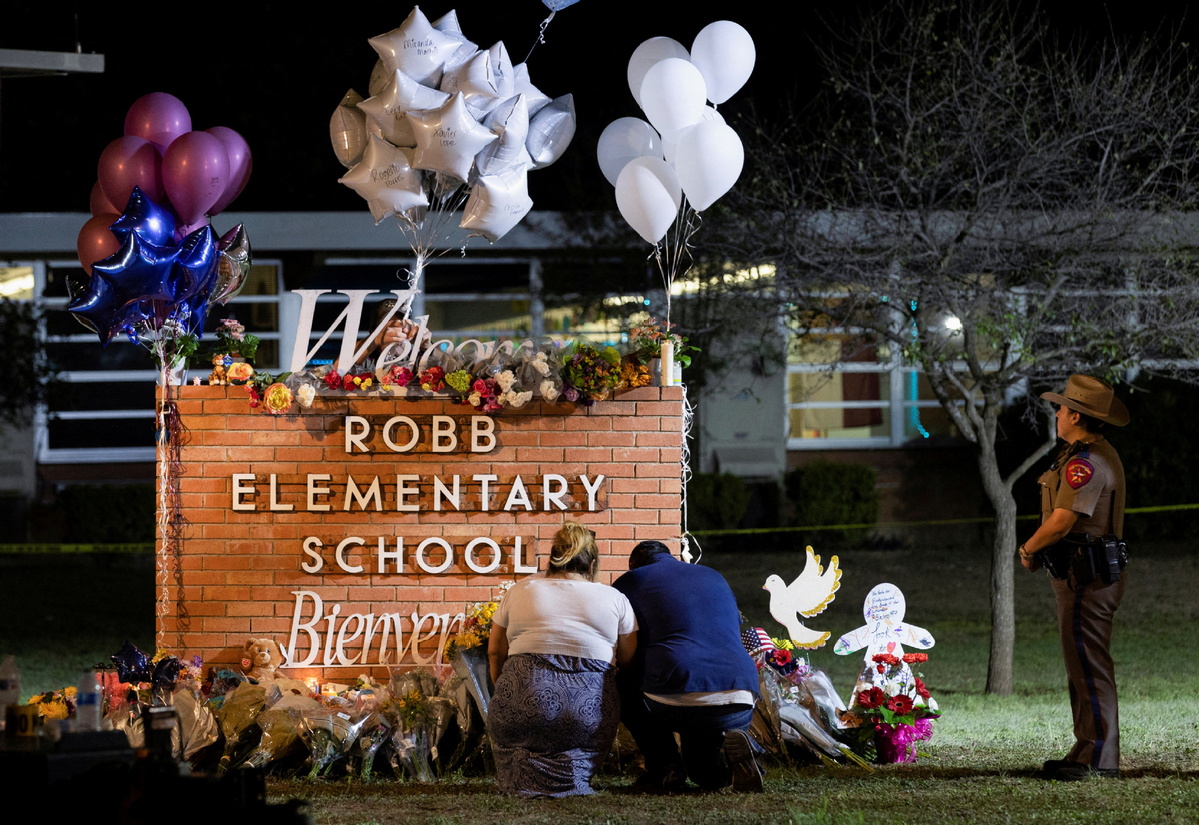 Another horrible mass shooting took place in the United States on Tuesday just days after the one in Buffalo, New York. The perpetrator, a teenager, shot his grandmother first and then killed 19 students and two teachers at an elementary school in the city of Uvalde, Texas.
Speaking on Tuesday night from the White House barely an hour after returning from a five-day trip to Asia that was bracketed by the mass shootings, a clearly shocked and horrified US President Joe Biden said, "And we must ask when in God's name will we do what needs to be done to, if not completely stop, fundamentally change the amount of carnage that goes on in this country. It's time for action." Vice-President Kamala Harris said: "Enough is enough."
Yes, it is high time that action was taken to stop such carnage. But no matter how loud the calls are today for gun control, that remains mission impossible for the US. In 2012, a lone gunman rampaged through Sandy Hook primary school — killing six adults and 20 children. Afterward there were loud calls for gun control similar to those being voiced today. Former president Barack Obama vowed to do everything in his power to act and the Democrats proposed US-wide laws banning specific models of firearms and enhancing background checks. Some of the measures received Republican support, but it proved impossible to get them through Congress and into law.
Something is clearly wrong with the political system in the US that such a popular move cannot be carried out because of the power of the gun lobby.
Almost 20 million guns were sold legally in the US in 2020, and the figure was nearly 19 million in 2021. The total economic value of the firearm and ammunition industry in the US increased from $19.1 billion in 2008 to $63.5 billion in 2019, a 232-percent increase, according to a report by the National Shooting Sports Foundation. The firearm and ammunition industry paid nearly $7 billion in business taxes, including property, income and sales-based levies.
With the huge interests behind the firearm industry, it would be naive to believe that any effective action will ever be possible to put people's lives first. For many US politicians, political activities for vested interests are their political lifeblood.
In addition, wooing voters is a fierce partisan struggle between the two major parties, to the extent that there are those willing to ignore their conscience for votes.
"When in God's name are we going to stand up to the gun lobby?" Biden said on Tuesday.
Not until the political system in the US is reformed to treat its maladjustment.
Most Viewed in 24 Hours
China Views