Millions to 'crash into extreme poverty'
Share - WeChat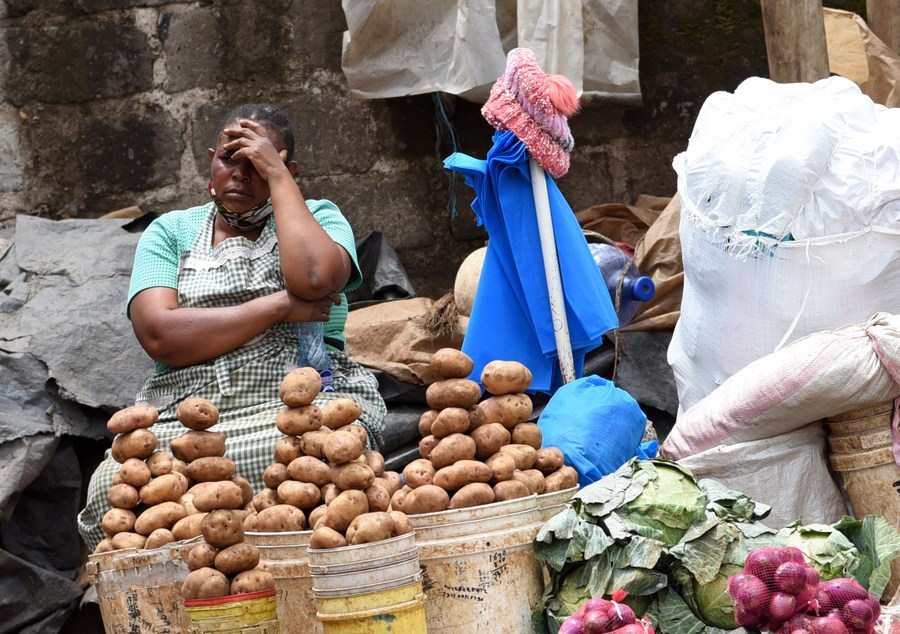 The cost-of-living crisis is being felt across the world with rising energy and food bills, and also the impact of the COVID-19 pandemic as well as the Russia-Ukraine conflict adding to financial woes.
According to a new report from Oxfam called Profiting from Pain, for every new billionaire created during the pandemic, which works out as one every 30 hours, nearly 1 million people could be pushed into extreme poverty in 2022, at almost the same rate.
During a session at the World Economic Forum in Davos, Switzerland, Gabriela Bucher, executive director of Oxfam International, described the current situation as an inequality crisis.
The Oxfam report predicts that 263 million more people will crash into extreme poverty, at a rate of 1 million people every 33 hours, which Bucher called an "unprecedented level because of the rising level of inequality".
That is in contrast to 573 new people becoming billionaires during the pandemic, at a rate of one every 30 hours, the study revealed.
"We have the impact of the food crisis, the hunger crisis," Bucher said. "We know 193 million people are in severe hunger conditions and with so many now impacted by climate change, we have a series of crises that are building on each other and at the moment we definitely need to think differently and act differently."
In the Oxfam report, Bucher noted that across East Africa, one person each minute is likely to be dying from hunger.
Also on the panel of speakers was Achim Steiner, administrator at the United Nations Development Programme, or UNDP.
Steiner told the forum that poverty combined with inequality is an increasing driver of poverty and all that is associated with it.
"We are living through an extraordinary moment where food prices are exploding, energy prices are exploding," he said. "If you take an average income in the African continent … an average African household will spend 40 percent of their income on food, now imagine a poor household, probably 70 to 80 percent of its income (will be spent on food).Any increase in price fundamentally affects that household differently to someone who has a job, who has some savings, who, in a sense, can weather this particular moment."
Steiner explained that the UNDP's Multidimensional Poverty Index looks beyond income, and measures poverty by considering various deprivations experienced by people in their daily lives, including poor health, insufficient education and a low standard of living.
He noted that the index is to understand that poverty is not just about the absence of physical goods or income. "It is essential being able to fulfil human capabilities, to have agency, to exercise choices in your life," he said. "We have a larger and larger number of people in this world who define themselves essentially by recognizing their society as being unfair. This is nothing to do with per capita income…but the feeling of unjustness, being deprived of opportunities."
He stressed that during the next few months, many more people will find themselves below the poverty line and that humanitarian support alone cannot alleviate poverty worldwide.
Meanwhile, Oxfam is urging governments to introduce one-off solidarity taxes on billionaires' pandemic windfalls, to fund support for people facing rising food and energy costs, and a fair and sustainable recovery from COVID-19.
The charity also called for governments to introduce permanent wealth taxes, to rein in extreme wealth and monopoly power, as well as the outsized carbon emissions of the super-rich.
An annual wealth tax on millionaires starting at just 2 percent, and 5 percent on billionaires, could generate $2.52 trillion a year, which is enough to lift 2.3 billion people out of poverty, according to Oxfam.